Despite looming economic concerns and nearing the tail end of an extended growth cycle, the nonresidential buildings industry continues to march ahead with no major slowdown in sight, according to a panel of economists.
The AIA Consensus Construction Forecast—which consists of economic forecasts from Associated Builders and Contractors, ConstructConnect, Dodge Data & Analytics, FMI, IHS Economics, Moody's, and Wells Fargo Securities—is projecting 4.7% growth in nonresidential construction spending in 2018 and a 4.0% rise in 2019. Both forecasts are up from the panel's initial estimate (4.0% and 3.9%) at the beginning of the year.
"At the halfway point of the year, this panel is even more optimistic," said Kermit Baker, PhD, Hon. AIA, Chief Economist at the American Institute of Architects. "If these projections materialize, by the end of next year the industry will have seen nine years of consecutive growth, and total spending on nonresidential buildings will be 5% greater—ignoring inflationary adjustments—than the last market peak
of 2008."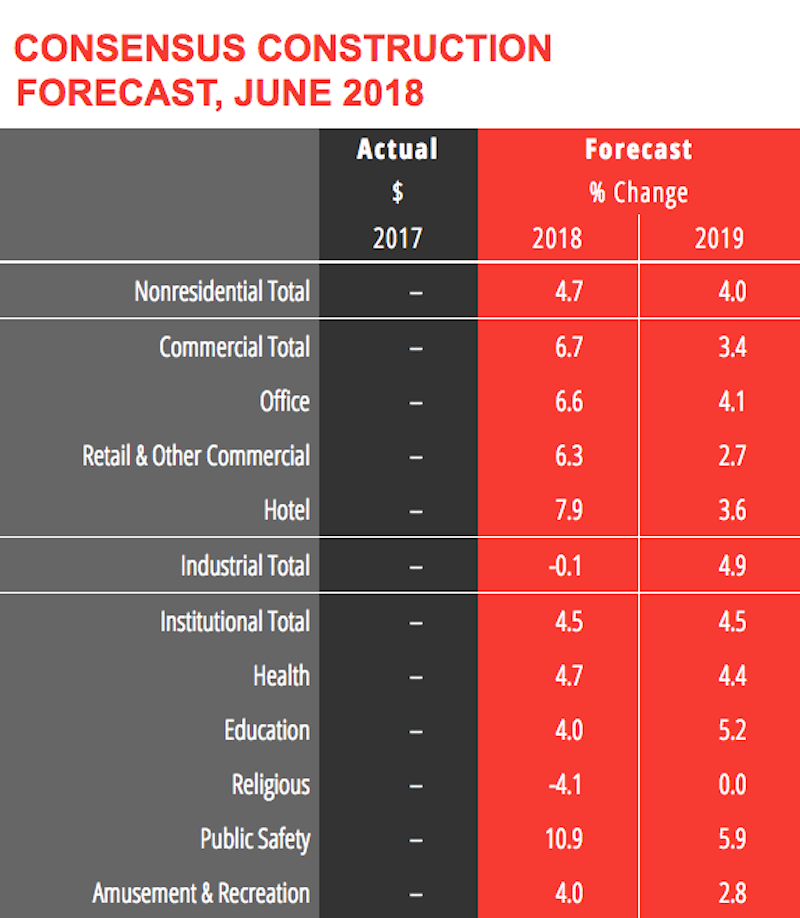 At the midpoint of the year, the AIA Consensus Construction Forecast Panel upgraded its 2018 and 2019 outlook for the nonresidential construction industry.
Baker and the other economists point to several bright spots for the market:
• The commercial sector continues to overperform. With numbers strong through the first half of the year, the consensus is that spending on commercial buildings will increase 6.7% this year (up from 4.4% projected at the beginning of the year), and 3.4% next year (up from 2.9%).
• More optimism surrounding institutional building activity, with a modest uptick in the forecast.
• Growing workloads at architecture firms. Firms saw healthy growth in both ongoing billings and new project activity last year, and the pace of gains for both of these indicators has remained strong through the first half of 2018.
• Business confidence levels are at their highest scores since 2004. Businesses are generally seeing a more accommodative regulatory environment, and have seen healthy growth in corporate profits.
• Consumer sentiment scores are at their highest level since 2000. The economy is on pace to add almost 2.6 million net new payroll positions this year, exceeding the 2.2 million that were added in 2017.