Project: Mitchell Hall at the University of New Mexico
Location:  Albuquerque, NM
Building Type: Education
Type of Construction: Renovation
Primary Opening Type: Punched Openings
Material Type: Fiberglass
Product Type: Pella® Impervia® Fixed Frame Windows
Architect: The Hartman + Majewski Design Group (dba The Design Group)
Mitchell Hall is one of the oldest classroom buildings on the University of New Mexico's campus. Constructed in 1950, the two-story, Spanish-style concrete structure hadn't received a major remodel since it was built. As a result, Mitchell Hall was one of the most energy-inefficient buildings on campus — with 60 year-old single-pane steel-framed windows contributing to its high energy usage and uncomfortable interior environment.
The Design Group's mission was to reintroduce Mitchell Hall as a 21st century education facility that emphasizes student and faculty collaboration through improved technology, amenities, comfort and infrastructure operations. At the core of this mission was the desire for greater environmental sustainability, while preserving the historic integrity of the building. The project achieved a LEED® Silver rating. Along with a more efficient mechanical system and enhanced lighting control including usage sensors, fixed frame Pella Impervia fiberglass composite windows helped contribute to specific LEED points on the project.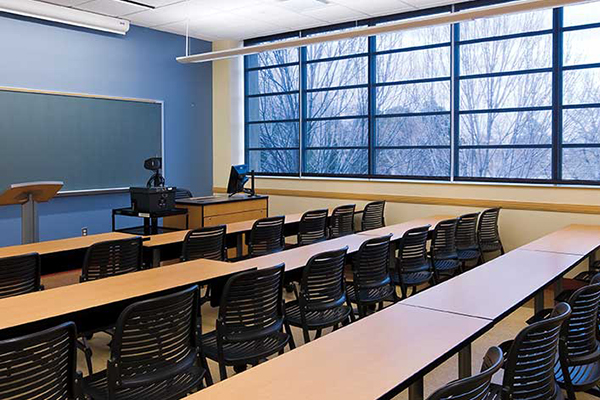 Because Mitchell Hall was designed by an important regional architect and under consideration for historic registry, careful attention needed to be made with the replacement window choice. The original steel windows had narrow sightlines — they were stacked vertically with 1" widths in between glazings. The project team's plan was to replace them with aluminum windows. However, Pella was able to replicate this look with windows made from its patented five-layer Duracast® fiberglass composite material and Low-E insulating glass. Pella Impervia windows provided this project better thermal efficiency and durability than aluminum — and they provided a substantial cost savings over the aluminum windows originally specified. To preserve the historic character of the building, Pella provided fixed windows with applied muntins and sightlines that created an acceptable match to the original windows.
By renovating an existing building rather than building new, large quantities of resources were preserved and saved from the landfill. And an important piece of The University of New Mexico's history was preserved and given a strong future. Learn more about the installation details.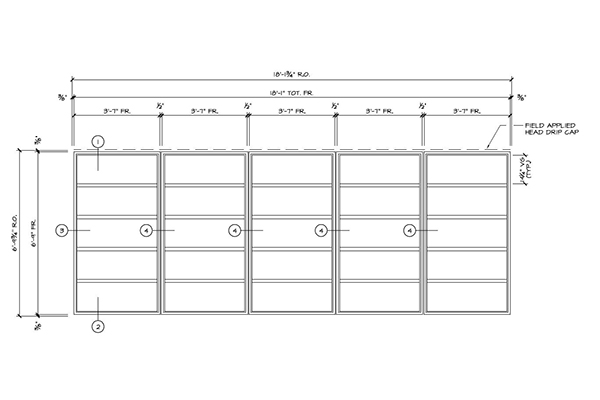 Learn more about Pella EFCO Commercial Solutions.