Theaster Gates is an award-winning artist whose installations, sculptures, and performance works have been exhibited at the Whitney Biennial, the Milwaukee Art Museum, the Seattle Art Museum, the Museum of Contemporary Art, Chicago, and the Museum of Contemporary Craft, Portland, Ore.
He has been Director of Arts & Public Life at the University of Chicago since 2006; he is also a tenured professor in the Department of Visual Arts. In 2011, he was a Loeb Fellow at the Harvard Graduate School of Design.
His life and work are being celebrated in a new book, Theaster Gates, by Carol Becker, Lisa Yun Lee, and Achim Borchardt-Hume (Phaidon Press, 2016).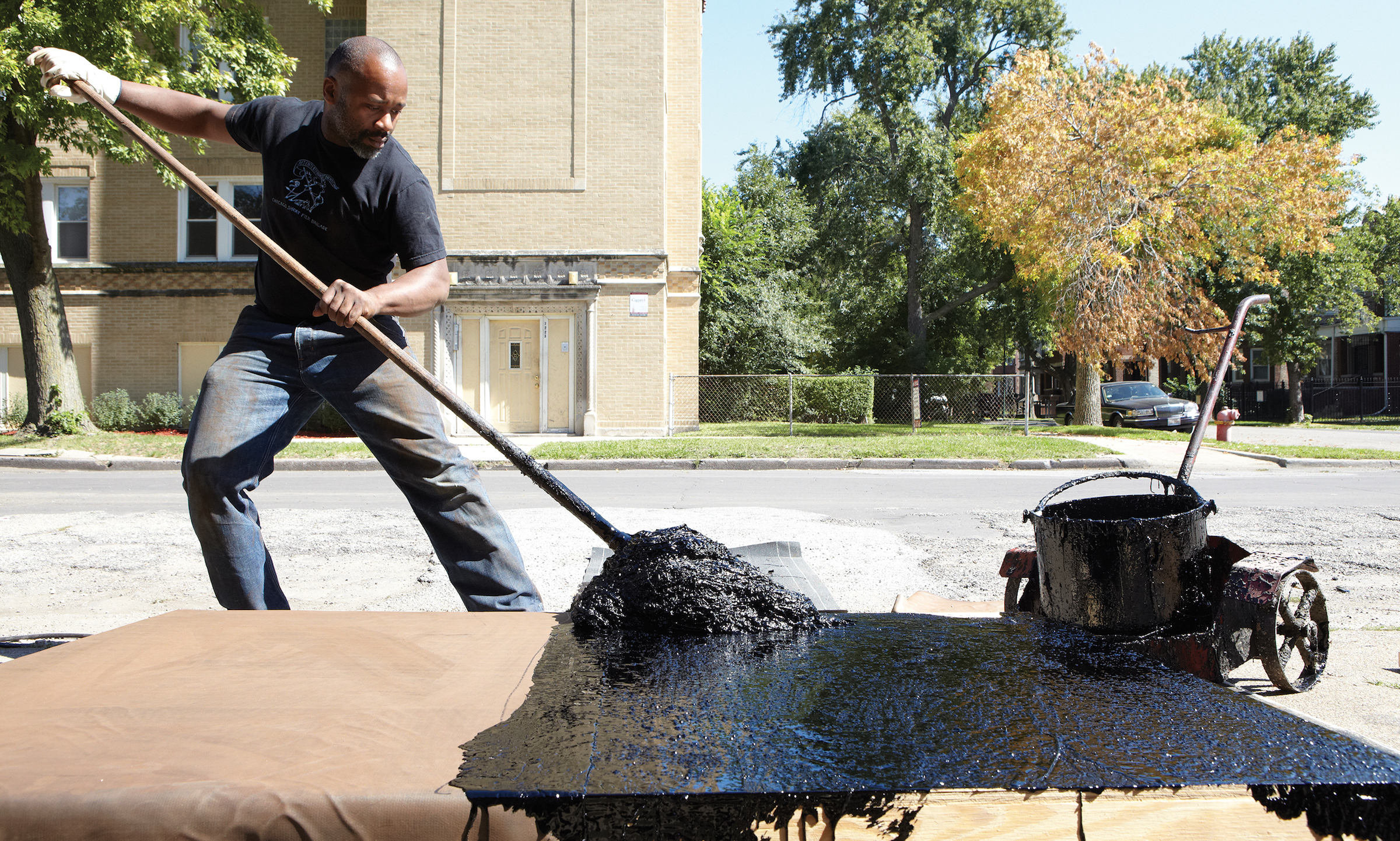 Theaster Gates, creating one of his tar paintings, a tribute to his father, a roofer in Chicago. "I invest a lot of time in these paintings," he says. "I love constructing them. They're symbolic of a moment when black men were extremely capable builders and built this country." From Theaster Gates / Courtesy Phaidon Press, 2016/www.phaidon.com. Click to enlarge.
ONE BUILDING AT A TIME
Theaster Gates, Jr., was born in 1973, in Chicago. His parents came to Chicago from Mississippi in 1955, as part of the Great Migration of six million African-Americans to the North after the war. Gates claims he gained his "first art practice" working with his father, a roofer in the city.
BD+C MOVERS AND SHAPERS

The People, Institutions, and Movements that are influencing design and construction in the U.S. and around the world.

Dan Gilbert – Detroit's Catalytic Converter
Judith Rodin – Crusader for Resiliency
Bruce Katz – Urban Evangelist
Millennials – The Disruptors
Alloy LLC – Vertical Integrator
Jerry Yudelson – Green Giant
The PANAMAX Effect – The New Panama Canal
Theaster Gates – Real Estate Artist
Gates calls himself a "real estate artist." He applies his gifts as an artist to reclaiming threatened artifacts, structures, and institutions of cultural importance to African-Americans.
His Rebuild Foundation, which he established in 2010, turned a derelict savings-and-loan building into a repository of African-American history and culture. The Stony Island Arts Bank will eventually house the library of John H. Johnson, founder of Ebony and Jet magazines.
In Chicago's Grand Crossing neighborhood, where he lives, Gates has built the Dorchester Art + Housing Collaborative, which provides 32 townhouses for artists. The Listening House, another of his restorations, houses a collection of 8,000 LPs preserved from Dr Wax Records, a famous vinyl record shop in Hyde Park that closed in 2010 after 50 years in business. He has created an "Arts Block," featuring a restored fine-arts bookstore and a café that houses an arts incubator and currency exchange. 
His best-known venture is the Dorchester Projects. In 2008, when the housing bubble burst, two of every five properties in Gates's neighborhood were vacated. The artist bought an abandoned two-story building on South Dorchester Avenue, retrieved 60,000 glass lantern slides discarded by the University of Chicago's art history department, and created a slide library and resource center in the building.
He filled the second floor with the architecture, design, and planning books salvaged from a bookstore that had closed after 50 years of business. Recently, he rehabilitated an Anheuser-Busch warehouse in the neighborhood into a 28,000-sf studio.

Left, The Johnson Publishing Company Library Collection (2012), installation view at White Cube, London, 2012. Center, Stony Island Arts Bank, 2013. Right, Dorchester Projects, acquired 2009 for reuse as an alternative cultural space and home for recovered collections. From Theaster Gates / Courtesy Phaidon Press, 2016/www.phaidon.com. Click to enlarge.
SPREADING HIS WINGS
Gates's portfolio extends beyond Chicago. On a visit to North Omaha, Neb., he learned that not one of the 30 African-American artists there had been accepted in the Bemis Center for Contemporary Art's residency program. Gates convinced the mayor to donate a building, which he helped refurbish. It is now Carver Bank, a space for local black artists.
Four years ago, he and a team of carpenters, artisans, and members of his jazz ensemble, the Black Monks of Mississippi, dismantled the interior of a building he had renovated in Chicago and used the materials to renovate a derelict, 187-year-old hotel called the Huguenot House, in Kassel, Germany. (Gates compares the forced migration of the Huguenots in France to the forced migration of Africans to the Americas.) The 30-room building became a residence, music and film hall, and yoga studio.
"The city is my medium," says Gates, referring to the intersection of art and urban revitalization. "If the city is ill, then I have a subject. I have a patient. And that's exciting."