In the 30 years following the Great Fire of 1871, Chicago built 169 public schools to serve the city's exploding population. One of these was the James Mulligan Public School, named for the Union general who led Illinois' "Irish Brigade." He died in 1864 of wounds sustained in the Second Battle of Kernstown, Va.
Designed by Charles A. Rudolph, FAIA (1854-1901), the fifth architect of the Board of Education, Mulligan Public School greeted its first 918 students in September 1890. Its three classroom floors, poised atop a raised basement and ornamented in the Italianate and Queen Anne detailing of the time, were borne on walls of dark-red pressed brick and yellow Joliet limestone.
Twenty-four classrooms measuring 27X34 feet and 14 feet high  were illuminated with bounteous sunlight from 10-foot-high windows. This emphasis on interior spaciousness, natural light, ventilation, and sanitation was in keeping with the 19th-century "school hygiene" movement, whose roots can be traced to the work of prolific author and educator William A. Alcott.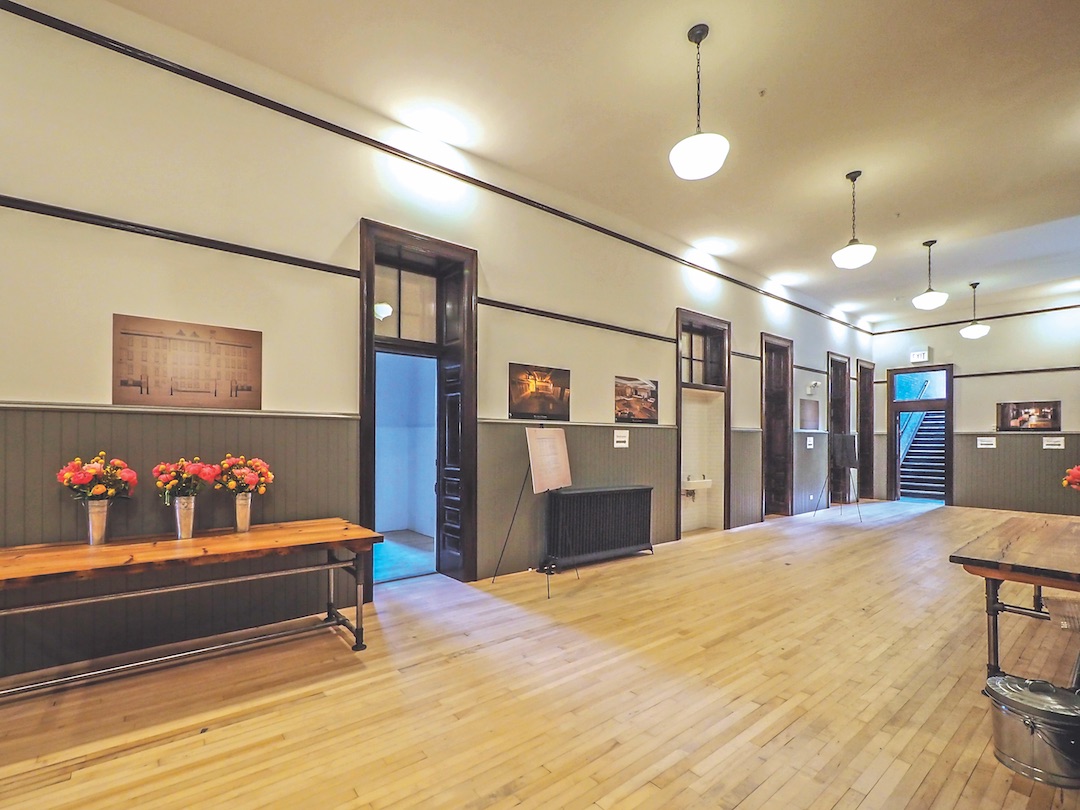 National Park Service guidelines for historic tax credits precluded changing the hallway dimensions. Original water fountains were saved. Radiators were reinstalled for aesthetic effect (the building has a new central HVAC system). Maple floors and dark pine wainscoting were completely refurbished off site. Doors were backed with gypsum board to yield a one-hour fire rating. Tables were made from salvaged wood and iron tubes. New light fixtures emulate the originals.
In his 1832 Essay on the Construction of School-Houses, Alcott, a distant relative of Louisa May Alcott (of Little Women fame), railed against schools that were "dark, crowded, ill-looking … filthy huts." Schools, he said, should be "places of voluntary and cheerful resort."
Mulligan School educated the children of the city's Lincoln Park neighborhood for a century until it was decommissioned in 1991. A private arts school tried to make a go of it, but the building was shuttered for good in 2003. It sat vacant until 2013, when Svigos Development, Inc., a family-owned firm in Buffalo Grove, Ill., bought it for $4.025 million.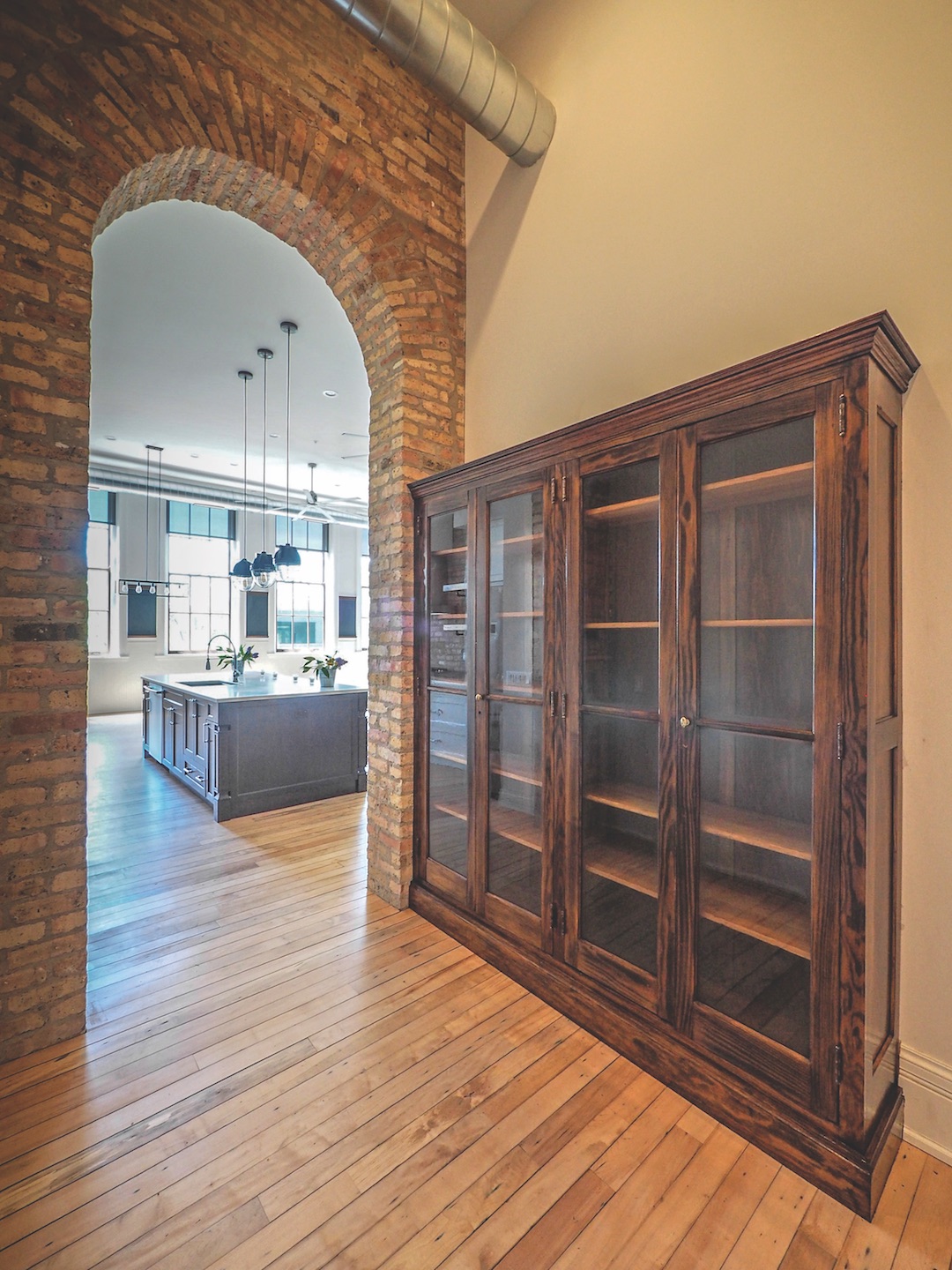 View to typical residential unit (left) through a decorative brick arch. The storage cabinet is typical of the many artifacts that the Svigos team salvaged and restored following the 2014 fire. Furniture, cabinets, wood flooring, and wainscoting were shipped to a temporary workshop in Niles, Ill., where workers brought them back to nearly original condition. These features became major selling points for prospective tenants.
Svigos brought in Bauer Latoza Studio as architect of record to secure city building permits and file for historic tax credits, with the intention of refashioning the old girl—who, despite her years, "exhibited a very high degree of architectural integrity," according to a later assessment—into luxury apartments.
The city conferred landmark status on the school in April 2014. Crews had the restoration well in hand when, in the wee small hours of Tuesday, November 18, 2014, disaster, in the form of fire, struck.
A DAY OF 'DEVASTATING' FIRE AND ICE
The fire lasted most of the day. Firefighters doused the building for 16 hours; freezing temperatures turned it into an "ice castle," according to the fire chief. The roof and other parts of the building were completely destroyed.
"The fire screwed everything up, but the water damage was the most devastating thing," said Nick Vittore, Svigos's Vice President of Management. It took weeks for the building to thaw out. "We had to scrape it down to the bare necessities."
The post-fire demolition work threatened the approval from the Illinois Historic Preservation Office and the National Park Service for a 20% federal historic tax credit—crucial to the project's financing. "The owner had to keep going back to them because there was a gray area about what you had to restore," said Ken DeMuth, Partner, Pappageorge Haymes Partners, and the Architectural  Preservation Consultant on the project. "If a wall was destroyed by the fire, did it have to be rebuilt? Or could it be treated as though it had never existed?"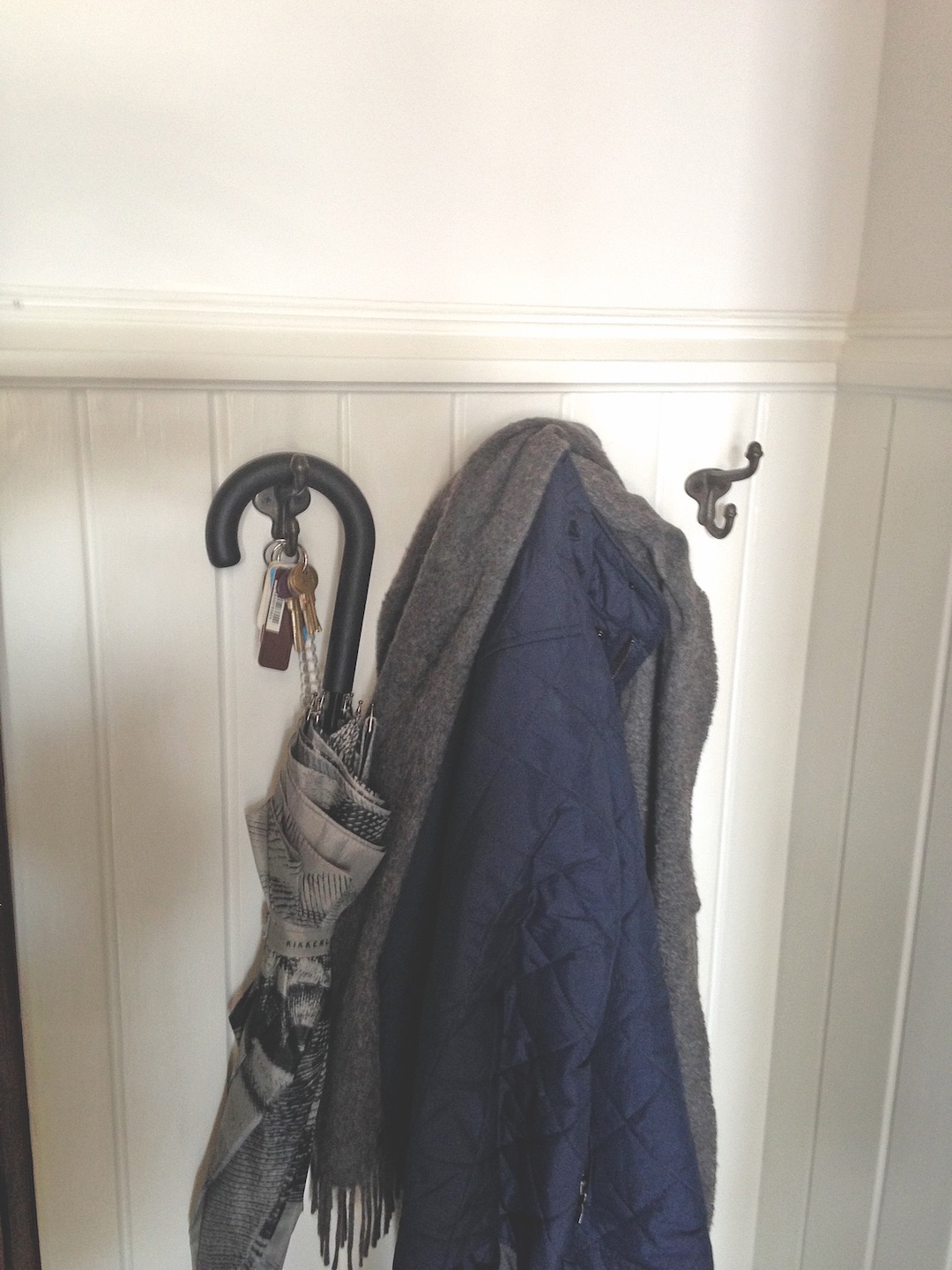 Coat hooks reclaimed from children's cloakrooms were a big hit with tenants. "They'd say, 'That's just like the one I had in elementary school,'" said Svigos Development's Nick Vittore.
After "a lot of meetings, a lot of debate," the authorities allowed the restoration work to continue. Svigos crews pulled out what Vittore called an "unbelievable" volume of maple flooring and wainscoting and hauled it to a workshop outside the city, where it was dried, stripped, treated, retooled, and retongued for later use. Cabinets, doors, slate chalkboards, paneling, radiators—anything salvageable—were cleaned and restored.
Safety grilles that once covered windows were turned into railings for the walkways on the rooftop deck. Red grandis, an eco-friendly substitute for mahogany, was used for the window replacements. Missing rooftop terra cotta finials were refabricated. "We tuck-pointed every single surface," said Vittore.
See Also: $53 million Chamberlain apartments will comprise six buildings, three new and three renovated
"Because Svigos self-performed so much of the work, I think they survived the fire much better than other developers would have," said DeMuth. "Other owners would have demolished it or gutted it, but you go in there now and you don't see any evidence of the fire." In fact, the only hint of fire damage I saw during a recent tour were a few character-building scars on an otherwise beautifully restored laboratory cabinet gracing one of the apartments.
Mulligan School Apartments was completed in the spring of 2017; all 24 apartments were leased in less than six months. "I was surprised at the market's response to the historic aspect of the building," said Vittore. "They loved the refinished cabinets."
Meanwhile, Svigos Development is repurposing two other Chicago public schools that were among the 47 CPS elementary schools decommissioned—amid a huge public outcry—by the Board of Education in 2013.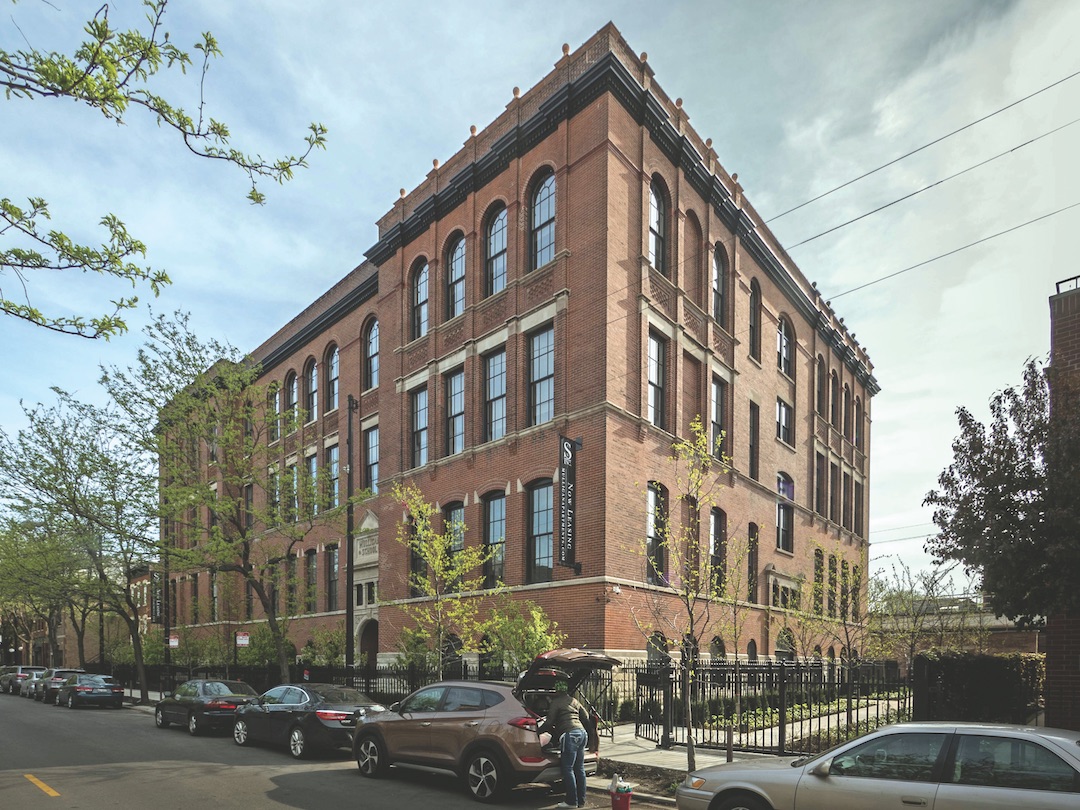 Mulligan School Apartments occupy a 25,000-sf lot between Sheffield Avenue and the CTA elevated line in Chicago's Lincoln Park neighborhood. Mulligan School (1889-1890) was granted city landmark status in 2014; it contributes to the Sheffield Historic District, which is listed on the National Register of Historic Places. The landmark designation resulted in a 20% federal tax credit and relief from city permit fees.
Vittore said the Mulligan project has informed the new work. "We know that type of building better now, because we had to do it twice," he said. "With Mulligan, we left the plaster up, but on these next two jobs, we're replacing the plaster with drywall. It makes it a cleaner job site."
Last October, Mulligan School Apartments received an "adaptive reuse" award from the Landmarks Commission of Chicago, in part thanks to the developer's almost manic insistence on preserving materials. "It was inspiring. They threw nothing away," said DeMuth. "In so many historic preservation projects the material is all new, and so much of the original is lost. When you do preservation work, it should be more than whether the building looks good. It should tell a story."
More than a century after the  bell first rang at Mulligan School, this lovely historic relic continues to tell its story—now as a place of voluntary and cheerful resort for its modern-day occupants.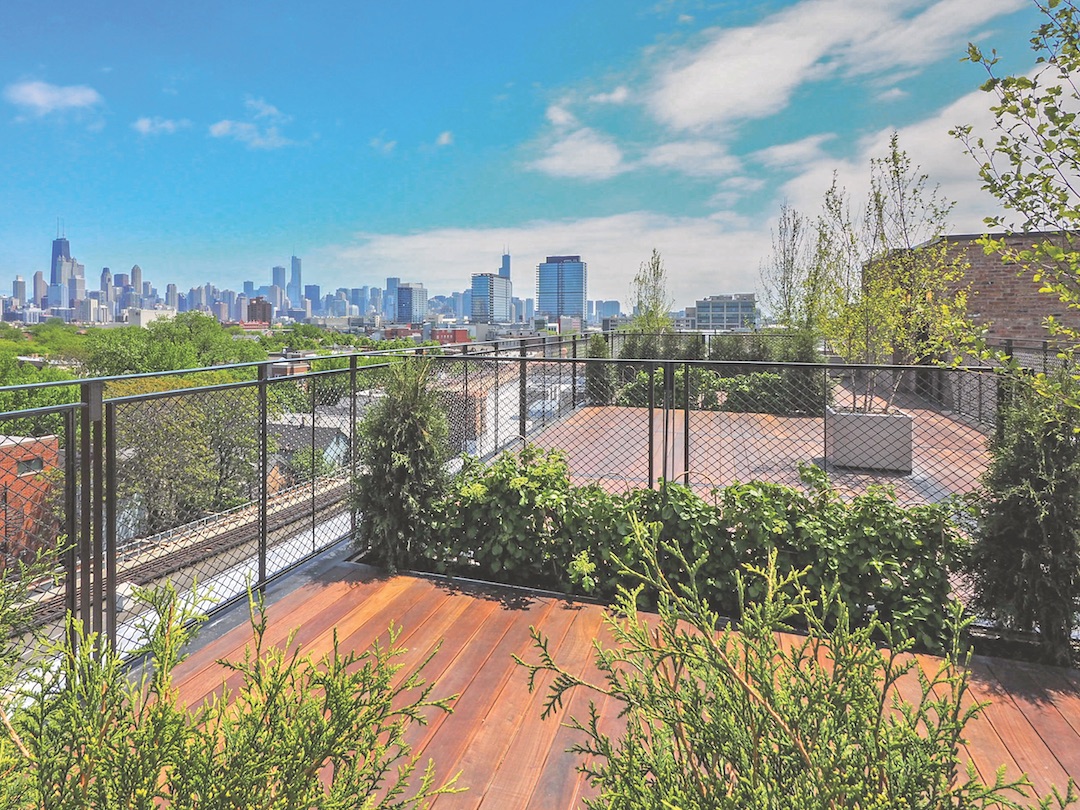 View from the rooftop deck, which overlooks the CTA tracks; the "L" was built in the 1890s, after Mulligan School was completed. Apartments on the CTA side of the building leased faster than those on the street side. Airtight windows, insulation, and the brick façade mitigate noise intrusion into these units. Ipe was chosen for the deck for its fire resistance and low maintenance.
PROJECT TEAM | MULLIGAN SCHOOL APARTMENTS
OWNER/LANDSCAPE DESIGNER/General contractor Svigos Development, Inc.  DESIGN ARCHITECT/HISTORIC PRESERVATION CONSULTANT Pappageorge Haymes Partners  ARCHITECT OF RECORD Bauer Latoza Studio  MEP ENGINEER Calor Design Group PHOTOGRAPHS Pappageorge Haymes Partners