After another year when the growth in multifamily housing exceeded expectations, apartment demand and property values could keep rolling through 2017.
"The forces that have produced the best multifamily market in recent memory remain largely in place," says John Affleck, apartment research strategist for CoStar Group.
In a recent report from Real Capital Markets, 49% of investors polled said that multifamily remains an ideal investment in commercial real estate, and that the market doesn't look like it will be slowing down any time soon.
The National Association of Home Builders expects multifamily starts to rise to 384,000 units, or 1,000 above last year's number. Robert Dietz, NAHB's chief economist, believes this pace is being driven by demographics and the balance between supply and demand.
CoStar actually forecasts that sales volumes, units per sale, and price growth of multifamily properties will finally level off this year from record highs. However, CoStar also acknowledges the sector's momentum, where—through the third quarter of 2016—multifamily had the lowest vacancy rate (5.2%) of all major property types, and had seen rents rise by 3.9%.
Aggressive pricing aside, the sector's record of steady rent growth and high occupancy with low volatility continue to make apartment properties an ideal defensive asset as the economic cycle extends into a seventh year, Affleck says.
CoStar predicts that the national vacancy rate for multifamily properties will increase to 5.6% this year and to 5.7% in 2018. Rental rate growth should moderate to 2.3% this year and 2.1% next.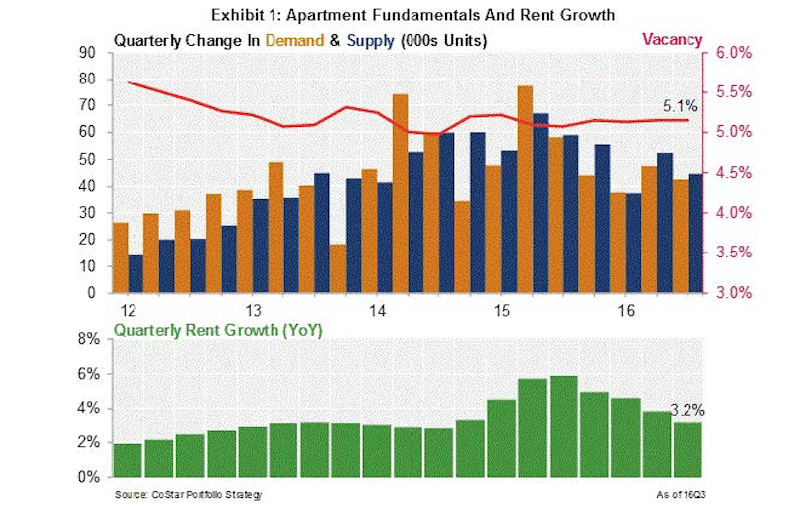 Looking at last year's performance, CoStar foresees rent growth slowing and supply still exceeding demand in multifamily. Image: CoStar Portfolio Strategy. 
David Brickman, Executive Vice President and head of Freddic Mac's multifamily business, foresees a spike in renter households, spurred on by positive job growth and a stable economy.  In addition, home prices are on the rise, which might cause renters to further postpone any residential purchases. And aging baby boomers continue to downsize into rental units.
Fannie Mae is a bit more conservative in its estimates about multifamily growth over the next two years. But Kim Betancourt, Fannie's Director of Economics, doesn't expect any moderation to be long lasting.
"Considering that rent concessions have declined steadily for nearly seven straight years, and that their current level is now below 1%, it is probably only a question of 'when' and not 'if' concessions begin to rise again," Betancourt says.
CoStar's Affleck sees the "unprecedented propensity to rent, even among the most affluent" as "the chief risk to this cycle," because higher rents will inevitably coax more renters to consider homeownership, especially if interest rates stay relatively low.