Virtual reality (or VR) has been all over the news lately.  Parents with teenagers might think VR is only affecting the gaming world, but they would be surprised to learn that VR is about to disrupt the architecture, engineering, and construction (AEC) spheres, transforming the process by which we design and build buildings. Getting familiar with VR is the first step. In a world with many plays on '-reality' (in addition to VR, there's AR and MR just for starters) what do they all mean and how best can they be deployed?
To begin understanding this disruptive power, it's important to know that VR and Augmented Reality (AR) devices have the potential to be the ultimate design tool for architects and designers. Not only can you visualize three-dimensional (3D) designs, designers can now immerse themselves in a 3D environment to experience the space, feeling and understanding the scale of things as they move around the space. Even though VR technology itself is not new, having a VR system that is relatively cheap yet powerful enough is a new and revolutionary development. Very soon, every architect, designer, contractor, builder and their respective clients will be using VR to experience spaces prior to their construction. And it's not just the final design they will be able to experience – it will increasingly be used as an integral tool throughout the design and construction process. VR can be used while designing, planning, and even simulating the complex construction process long before a single brick is laid.
Curious to learn more? We've broken down the essentials so that you too can get a handle on this brave new (virtual) world.
TETHERED OR MOBILE?
VR requires the use of goggles or a headset. As soon as you put a pair of these on, you are visually isolated from the physical world and virtually transported into a simulated world that you see through the lens. VR goggles are the perfect tool for bringing your audience into an imaginary world, and they allow your 'world' to be presented anywhere. There are two basic categories of VR system: mobile VR and tethered VR. The quality of the experience and the portability of the system differentiate these two.
MOBILE VR
Mobile VR uses goggles that are easy to transport and distribute. Many people have familiarity with this type of experience already – the viewfinder relies on a mobile phone to display the virtual environment. Mobile VR offers great convenience for traveling teams that need to present to clients and stakeholders at different sites. They are light to transport, fit easily into a carrying bag, and are simple to setup. However, the performance of mobile VR is limited by the graphic processing power of the mobile phone it uses. The quality of the mobile VR pales in comparison to a tethered VR system when it comes to image quality and frame refresh rate. Think small (files): Mobile VR is great for viewing 360 panorama images and smaller 3D models (under 5 million triangles).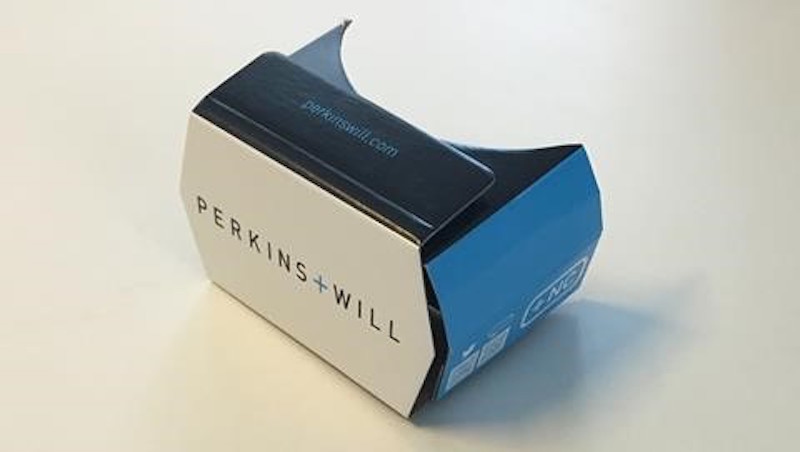 Google Cardboard is one of the most affordable options for mobile VR. At Perkins+Will, our project teams even have branded cardboard viewfinders for client leave-behinds. Typically, teams will use Cardboard for viewing 360degree rendered panoramas images. Using a web-based Panorama viewing service such as Roundme or Autodesk's Panorama, project teams can simply send a link allowing anyone to view a portfolio of panorama images by combining the Cardboard viewer and the user's own smartphone. The quality of the virtual experience is limited by one's smartphone power, meaning you're experiencing 60 frames per second.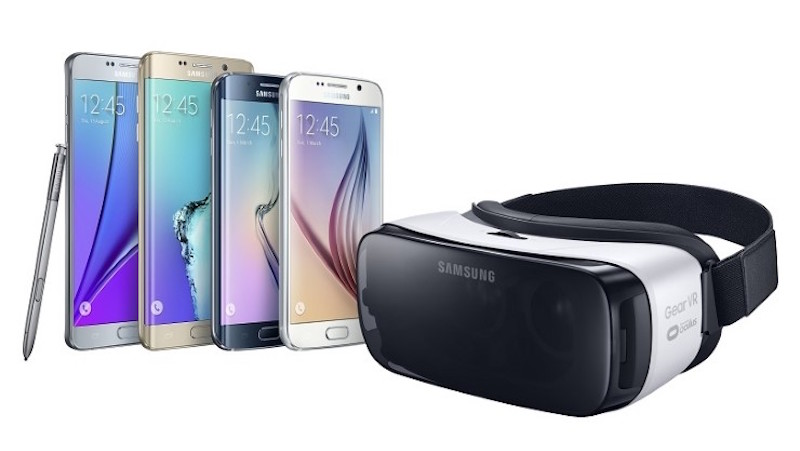 A step up from the cardboard VR, architects can use Samsung's GearVR to achieve a higher quality of experience (think 60 frames per second). In addition to viewing panorama images, you can also navigate inside a 3D model. We now equip most of our offices with a pair or two of GearVR, used by project teams to showcase their interactive 3D designs. The process of getting 3D models from software such as Revit or SketchUp to GearVR has been simplified using cloud-based VR services. We receive valuable design comments and feedback from our clients thanks to them wearing the GearVR and experiencing these environments. While the client is immersed, the rest of the audience views their experience on a large screen, understanding exactly what they're seeing and by extension what their feedback relates to. In sum, this method expedites the design review process, providing faster feedback, leading to a shorter approval timeframe and more accurate capturing of client concerns.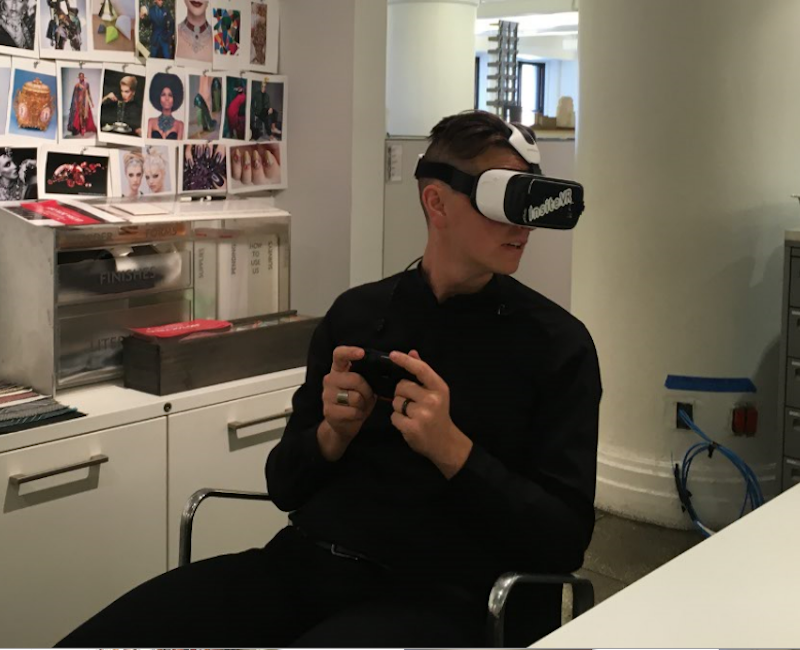 Tethered VR
If mobility is not so critical, a tethered system can offer a higher fidelity experience. A tethered VR system uses goggles or a headset run by dedicated graphics PC or laptop. Typically, the machine needs to be VR-certified in order for the system to run smoothly. With a tethered VR system, users can experience a refresh rate of 90+ frames per second and a much larger model size than a mobile system can handle. The smoothness of the VR experience is directly tied to the power of the machine's graphics processing capability. For our purposes, teams have been setting up tethered systems with machines that have multi-core CPU, 32+ GB RAM, and a single or double GTX1060 or higher graphics card. There are two common tethered systems: HTC Vive and Oculus Rift.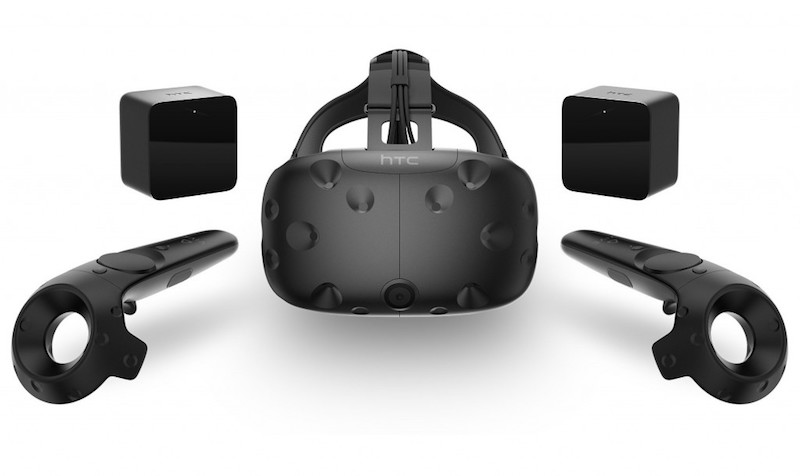 The HTC Vive is currently the only room-scale VR system on the market. The user's position is tracked within a room and provides them with a fully immersive experience. The user can simply walk around a real, delineated space measuring up to 15'x15' and explore the virtual environment. With two hand-held remotes, the HTC Vive also offers hand tracking, enabling users to see their 'hands' inside the virtual world as remote controls. This ability helps enhance the feeling of being present within the virtual space.  Compared to other VR systems mentioned, users of HTC Vive have had the fewest complaints of motion sickness. The HTC Vive website has a list of Vive-ready PCs with the proper computing power. Creating this room-scale environment requires mounting lighthouse boxes on the walls of a space to track the user. In case wall mounting is not desired, use a pair of tall tripods with swivel heads which can hold the boxes that are placed in the diagonal corners of the space.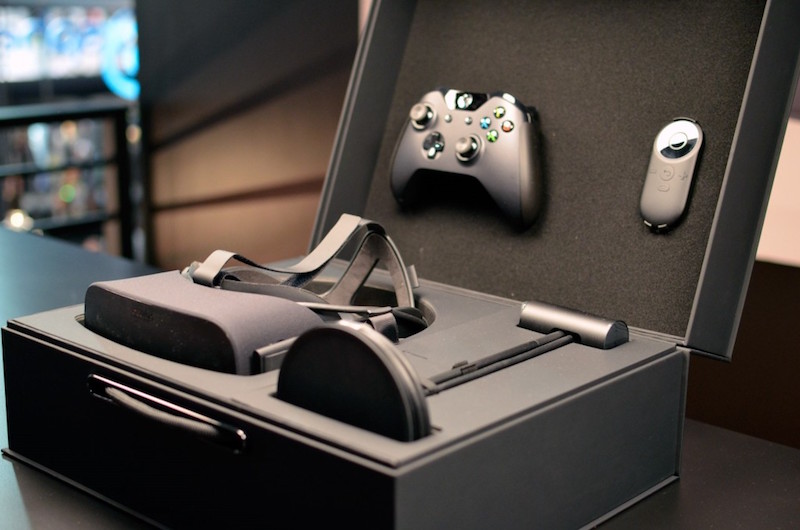 The Oculus Rift is similar to the Vive but offers more of a seated-or-standing experience within a smaller area than the Vive's. Oculus is on-par in terms of resolution and refresh rate as the HTC Vive system, meaning it also needs a VR-ready PC to power it. The Rift currently uses an Xbox controller to navigate within a space, but the Oculus Touch controller has been promised in the near future. Visit the Oculus website for their preferred PCs.
Using Oculus and Rift has helped us in ways previously unavailable to designers. One project team in our Atlanta office offered their healthcare client a virtual mock-up using the Vive system. We deployed it to the client's design team in order to experience a highly rendered patient exam room to review the room's layout and material finishes. The room was small enough for the client to actually walk around and inspect in full detail.  Another team in New York used the Vive as an exploration tool to help designers verify their design intent as they were modifying it. Using the VR system in live design, they were able to jump in and out of the VR space and validate the look and feel of a complex ceiling and wall panels. The VR system enabled them to catch nuances that may have been missed by looking at plans, elevations, and sections. Even for designers familiar with working on 3D models, they too were surprised that walking through the virtual space allows them to gain a whole different perspective that the screen view does not allow. As a result of using the tethered VR systems, our clients are more engaged, better informed, and have a much more realistic expectation of the final product that they are getting.
Augmented Reality
Augmented Reality (AR) enhances our lived experience by overlaying virtual information and objects on top of the physical world. Unlike VR, you are not isolated from the physical world. AR first appeared to the world as desktop applications with webcams, transitioning into mobile device apps when smartphones became ubiquitous. Pokémon Go and Snapchat are good examples of AR applications you may already be (too) familiar with. Google Glass made a big splash as an AR device, but it's popularity was overshadowed by the public's concern about privacy.  The latest AR buzz is all about the Microsoft AR headset named the Hololens.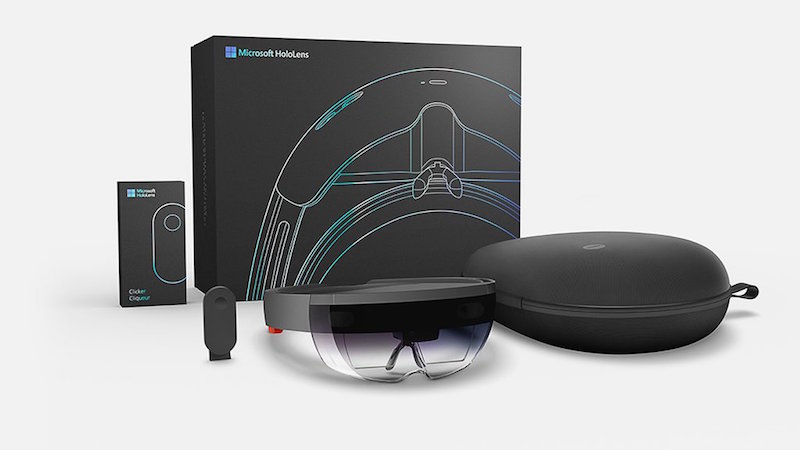 The Hololens is truly a one-of-a-kind augmented reality tool. As a fully standalone unit, the Hololens does not need any external PC to power it. With a pair of Hololens, one can see virtual objects appear as holograms on top of real world objects and one can interact with these holographic objects directly using their gaze, voice and gesture control. It also has an amazing spatial mapping capability which starts by scanning your surrounding area, storing it as a map, and reconstructing it as a virtual model which can interact with any virtual objects that exist inside the mixed reality (or MR, last acronym for the day) world. In this mixed reality, you can simulate how a virtual object would interact with the physical objects in the real world. Place a full size virtual sofa in the corner of a room and see if it will fit in that corner or not. Open up your 3D BIM model on-site, overlay it directly over the wall that is being built, and cross check to see if the built elements matches with the design model. Turn on your x-ray vision and take a peek at the MEP and Structural data that goes behind that gyp board wall.  Using the built-in cameras on the front of the Hololens, you can share what you are seeing with remote consultants as if they are right there next to you. The possibilities are endless. At Perkins+Will, we are actively researching and developing various Hololens apps to augment our design and construction process with the use of AR devices.
As you can see, there are many points of entry if you are looking to enter the virtual reality market, depending on your need and budget. We understand the large-scale impact this technology has and will continue to have on our industry, and will continue to share ways that technology is helping create a better future reality for us all.