When AEC aviation professionals talk about the work they admire, JetBlue's Terminal 5 at JFK International Airport in New York stands out as a facility that continues to evolve as market conditions change.
Its chameleon-like nature was evident in the opening last November of a $200 million extension to handle much-coveted international arrivals. A willing mutability could also be seen in the spacious roof deck garden that T5, as it is known, debuted on July 1, which provides a sense of place that other airports are striving to duplicate.  
In the early 2000s, as the Gensler-designed T5 was being planned, the security screening area had been programmed to include lots of self-service kiosks for issuing boarding passes. By the time the terminal opened in October 2008, however, JetBlue's business model had shifted toward leisure destinations, which meant families traveling with loads of luggage.
5 trends in air terminal design and construction
1. Flexibility must anticipate change and possible future use.
2. Technology is putting a new zip in passenger processing.
3. Terminals must be designed for calmness and "enhanced waiting."
4. Airports need fast links to their downtowns.
5. Financing is opening up new possibilities—at last.
That same year, the iPhone debuted, and presented a mobile platform for online check-in and digital boarding passes. The area was reprogrammed, at relatively little cost: the kiosks were moved to the side to make room for baggage checking and stanchion queues.
That kind of flexibility is critical today, as airports burst at the seams with passenger traffic. "Airports want sustainability, maintainability, value for their dollar, and flexibility they can grow with," says Susan Baer, former Director of Aviation for the Port Authority of New York and New Jersey, now Principal and Global Aviation Planning Leader at Arup, a member firm in the T5 Building Team.
Several factors weigh in as airport officials rethink their spaces, starting with how to make security checkpoints less stressful so passengers don't rush for their gates and bypass revenue-generating retail, food, and beverage concessions.
The growing presence of jumbo jets like Airbus's 800-plus-seat A380 airliners is having a ripple effect on everything from gate sizes to the capacities of hold rooms and other service facilities within terminals, says Robert Chicas, HOK's Director of Aviation and Transportation.
He notes that one of HOK's major projects, a 1.7-million-sf terminal at Salt Lake City International Airport, will have 72 gates, compared to 84 in the terminal it replaces. SLC expects to serve 30 million passengers annually by 2034, versus 21 million last year. Bigger planes require taller gates and longer bridges. "It's not a matter of gate count as much as the gauge of the plane," explains Chicas.
"Airport design is now demand driven," confirms Anthony Mosellie, Partner in Kohn Pedersen Fox's Global Aviation Practice. KPF's recent projects include the massive 7.6-million-sf Abu Dhabi International Airport Midfield Complex. Design is also a function of do-it-yourself technology that enables passengers to do their own ticketing, luggage check-in, flight tracking, and even pre-board food ordering.
AEC firms identify five trends that could impact what airport terminals look like, how they are built, and how they'll be operated.
[1] Flexibility must anticipate change and possible future use.
Airports are looking for new ways to give terminals the ability to respond to market currents. By "flexibility," Chicas says he means not painting yourself into a corner by laying out a terminal too rigidly. He refers to HOK's redesign for Indianapolis International Airport, where the concourse was built without columns. This configuration admits more natural light into the building and makes the space more adaptable to future usage changes.
Dwight Pullen, Director of Skanska's Aviation Center of Excellence, says he's seeing airports like Hartsfield-Jackson Atlanta International going with larger, centralized security checkpoints to better handle the passenger crunch during peak periods.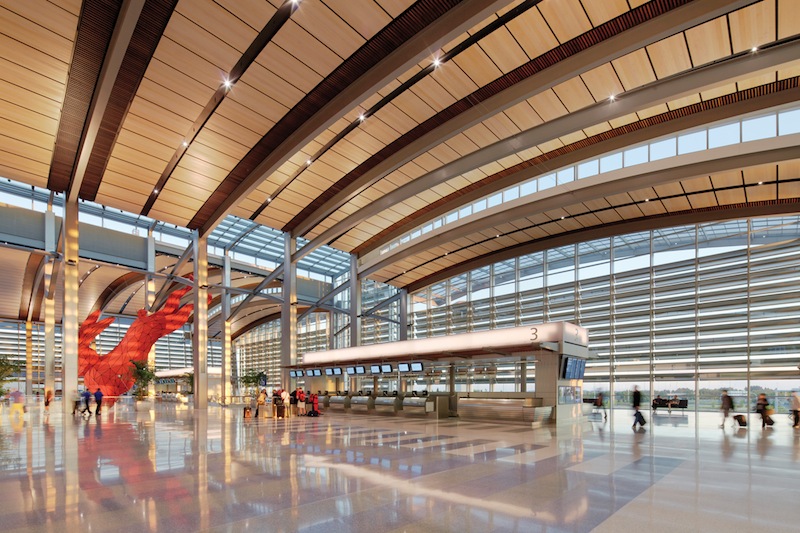 Corgan's design for Sacramento's International Airport included a spacious ticketing area. Photo: Tim Griffith
Balfour Beatty Construction, a member of the Building Team working on the $2.69 billion Terminal Renewal Improvement Program at Dallas–Fort Worth International Airport, opened up space for the security checkpoint area within American Airlines' Terminal A by removing escalators and installing new and faster elevators that can carry up to 20 luggage-lugging travelers.
Karl Joeris, Balfour Beatty's Vice President of Operations, notes that before 9/11, airports typically had smaller security checkpoints that were often perpendicular to the flow of the building's traffic. In its DFW redesign Balfour went with smaller checkpoints whose traffic flow matches the flow of the terminal in general, and doesn't back up into the concourse as much.
[2] Technology puts new zip in passenger processing.
With more passengers checking in via mobile devices, and with self-service luggage check-in and boarding around the corner, airports can re-evaluate their space allocations. "Technology is streamlining check-in and bringing self bag-tagging closer to reality," says Dale Kain, Project Director at PCL Construction, the GC for LAX's new 800,000-sf Midfield Satellite Concourse.
Designing airports to facilitate "flow-through" ticketing would also make it easier and faster for passengers who already have their documents to reach their gates quicker. Dynamic signage would direct these customers to less-clogged security checkpoints.
Tom Rossbach, Aviation Buildings Market Sector Director for HNTB Architecture, says his firm designed San Diego's Terminal 2 West with an elevated "smart curb" 80 feet from the terminal. The smart curb has its own tensile fabric canopy with full ticket counters, self-service kiosks for check-in, and baggage conveyors at the curb. Flight and gate information are posted, and group check-in is provided for air passengers connecting to cruise ships. Passengers can proceed across a bridge to the terminal and straight to security.
Jayne O'Donnell, Turner's Vice President and General Manager, also sees airports moving toward technology-enhanced screening and boarding. She cautions, however, that many passengers, especially aging boomers, still want to deal with a human at airports.
Several sources point to "common use" gates that are shared by multiple carriers. In Abu Dhabi, Kohn Pedersen Fox designed the airport in an "X" shape that will enable the terminal to extend to 49 gates and accommodate 59 aircraft at any given time. This airport will have the capacity to handle 50 million passengers per year.
In the future, experts say, airline travelers will be able to print out their own luggage stickers—or, better yet, buy luggage embedded with ID bar codes or RFID chips. 
[3] Terminals ARE beING designed for calmness and 'enhanced waiting.'
Turner's O'Donnell says airports have come to rely on "non-aeronautical" revenue—parking, food service, retail, etc.—to finance operations, upgrades, and expansions. They are trying to create what HOK's Chicas calls "hospitality-like" environments that put passengers in the right frame of mind to spend money before they board.
"It's all about 'enhanced waiting,'" says Chicas. "The thinking is that a relaxed passenger is a happy passenger."
San Francisco International Airport pumps soothing music into its security checkpoint area. Atlanta's Hartsfield-Jackson enlarged its "redress" and "composure" areas on the other side of security checkpoints, where passengers can take a deep breath and put on their shoes, belts, and coats.
Airports are being built or remodeled so that customers see planes on the runway as soon as possible; this apparently has a calming effect on travelers, says Kelly Locke, LEED AP, Preconstruction Director for Austin Commercial's National Aviation Division. Brian Kelley, AIA, Principal with Corgan Associates, adds that effective wayfinding, ample daylighting, and greater proximity to bathrooms and other amenities can help keep passengers calm and collected as they walk to their gates.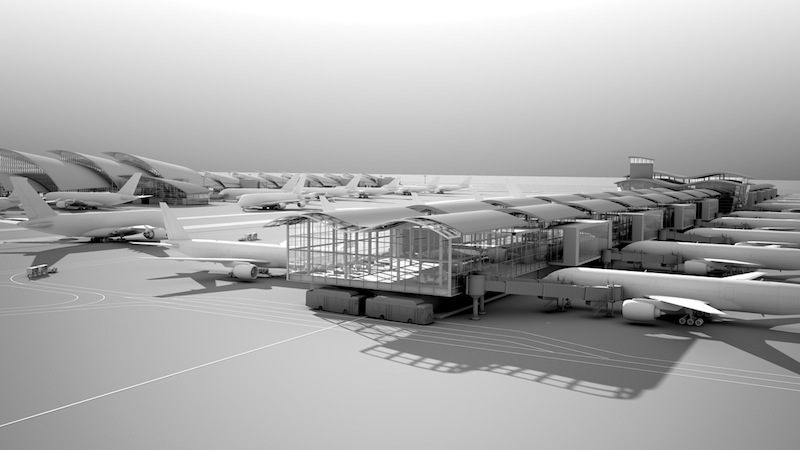 LAX's 800,000-sf Midfield Satellite Concourse is designed to handle jumbo jets like the Airbus 380 and Boeing 747-8i, which require higher gates and larger passenger hold areas. Rendering Corgan MediaLab
Along the way, passengers are likely to encounter higher-end retail shops and restaurants. Mosellie of KPF quips that the Heathrow/LAX model—"a shopping mall that you happen to park planes next to"—is gaining acceptance in Europe, Asia, and, to some degree, at U.S. hubs.
Once passengers get to their gates, they are finding hold rooms—the seating areas near gates—that are larger and more amenable to their needs. Kelley says airports are equipping holding areas with stronger WiFi capability, mobile device chargers, and workstations. They're also positioning hold rooms closer to food service vendors. At JFK and Minneapolis–St. Paul International, for example, passengers can order food via online and have it delivered to the gate. Mobile apps like AirGrub and B4YouBoard perform similar functions.
Airports are designed to create a sense of place for their "guests." JetBlue's roof deck and Great Hall, with stadium seating for concerts and other events, is one example. The new international airport in Queenstown, New Zealand, has gate lounges that offer "stunning floor-to-ceiling alpine vistas," according to Airport-World.com. Abu Dhabi's airport will feature a 90,416-sf indoor park with Mediterranean plantings and desert landscapes.
Mountain ranges form the backdrop for Salt Lake City's airport, whose color scheme and artwork "celebrate the landscape of the place," says Chicas. The terminal redevelopment for Long Beach, Calif., includes a 21,000-sf garden area with palm trees.
[4] Airports need TO HAVE fast links to their downtowns.
"Any proper airport plan needs to make connections to the urban core," asserts KPF's Mosellie.
In June, Toronto began express rail service between Pearson International airport and Union Station. Construction is under way of a 22.8-mile commuter rail transit corridor that, when it opens next year, will operate between Denver International Airport and that metro's downtown Union Station. HOK's plan for Indianapolis' airport includes securing a right-of-way for rail service to connect to downtown.
Investing in mass transit options is another way airports can burnish their customer service image. "Your flying experience begins when you leave your front door, and ends when you arrive at your destination," says Chicas. "You remember that trip by its weakest link."
[5] Financing is opening up new possibilities for air terminals.
In May, the Port Authority of New York and New Jersey announced plans to get started on a new $3.6 billion main terminal at LaGuardia Airport. That project had been held up for years, as New York had to pay for the multibillion-dollar reconstruction of the World Trade Center and the start of the $5.5 billion replacement for the Tappan Zee Bridge.
Turner Construction's O'Donnell says that state authorization of airport funding "has really taken a hit" in the past few years. So cities are banking on airlines, which after decades of bankruptcies and consolidation, are raking in cash again. The airlines know they have to get more involved in helping finance airport terminal construction and remodeling. "At least domestically, the airlines are realizing that they are part of the solution," says Corgan's Kelley.
The LaGuardia project is financed via a public-private partnership between the Port Authority and a consortium led by Vantage Airport Group called LaGuardia Gateway Partners, which includes Skanska, Walsh Construction, Parsons Brinckerhoff, HOK, and Meridiam Infrastructure. AEC sources say P3s have panned out for some domestic terminals, notably JFK's Terminal 4, and are gaining popularity.
Pullen notes that airports are demanding more collaboration from their delivery partners to complete projects expeditiously. PCL's Kain and HNTB's Rossbach say that, for bonding and political reasons, AEC firms often form joint ventures on airport projects. (PCL, Turner, Corgan, and Gensler have established a joint venture to design and build LAX's Midfield Satellite Concourse.)
In June, the Metropolitan Washington Airports Authority awarded a multi-year reconstruction and renovation to the joint venture AIR Alliance, comprised of AECOM and PGAL, for Terminals B and C at Ronald Reagan Washington National Airport.
CLEAR SKIES AHEAD FOR Airport TERMINALS
AEC firms are uniformly positive about future aviation work. Turner's O'Donnell sees "huge opportunities" for airport construction going into 2016. She says there are a number of hubs that are discussing capital plans in the billions of dollars.
Much of this work will be renovations and additions. In June, the city of Phoenix awarded Faithful + Gould a contract to perform facility-wide assessments of its three airports, from which it would provide the city with comprehensive capital planning forecasts. Austin Commercial was just awarded a contract for a 300,000-sf expansion of San Francisco's airport, in addition to its $500 million addition/expansion to Terminal 3 at Phoenix's Sky Harbor Airport. Skanska and HOK are engaged in the $122 million modernization and expansion of Tampa International Airport. Balfour Beatty is evaluating a $700 million proposal to replace Houston's Bush International terminal.
Construction opportunities could be even more fertile outside of the U.S., says KPF's Mosellie, especially among oil-rich Middle East countries looking to supplant hubs in Europe. China and Hong Kong are planning large airport expansions to compete with the Mideast, he says.
Arup's Baer believes that airports with a mix of international travel are in the best position for success. "It's a global world and a global economy," he says, "and the only way you can get to most places is by plane."
---
THE FUTURE OF AIRPORT TERMINALS...continued
Check out these additional reports for more on terminal design and construction:
"Arup experts discuss how airports can manage growth," www.BDCnetwork.com/ArupSalon
"Surveys gauge user satisfaction with airports," www.BDCnetwork.com/AirportSurveys
"Rental car facilities expanding at U.S. airports," www.BDCnetwork.com/AirportRentals
"Small and regional airports in a dogfight with mega-hubs," www.BDCnetwork.com/SmallAirports
For a list of the technical experts consulted for our report, visit: www.BDCnetwork.com/AirportExperts