The Additive Manufacturing Team at Marine Corps Systems Command (MCSC) and Marines from I Marine Expeditionary Force recently teamed up at the U.S. Army Engineer Research and Development Center to 3D print a barracks.
The team used a computer-aided design model on a 10-year-old computer, concrete, and a 3D printer to create the 500-sf building. The job took 40 hours, but the Marines claim if there was a robot to do the mixing and pumping, the building could easily be created in one day. Typically, it takes 10 Marines five days to build a barracks out of wood.
See Also: Dubai plans to 3D print 25% of every new building by 2025
According to Capt. Matthew Friedell, AM project officer in MCSC's Operations and Programs/G-3, nothing like this has been done before. "People have printed buildings and large structures, but they haven't done it onsite and all at once. This is the first-in-the-world onsite, continuous concrete print," Friedell said in a release.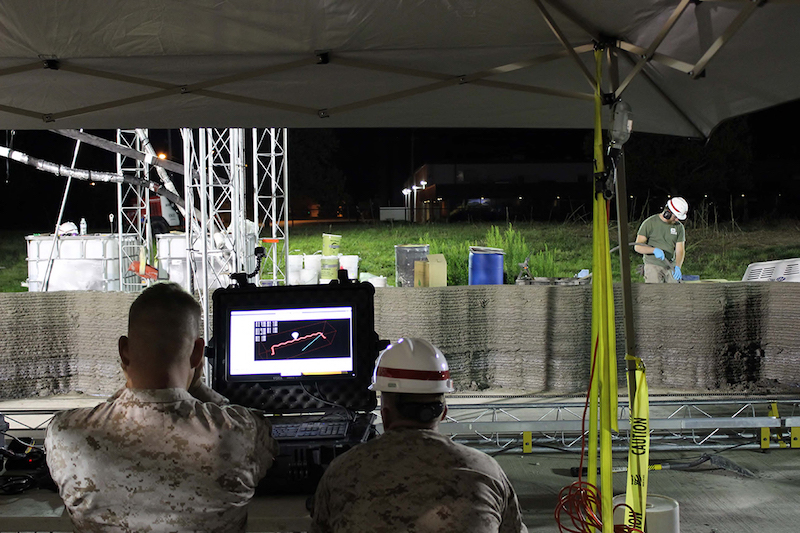 Courtesy Marine Corps.
Not only does using a concrete printer expedite barracks construction, but it can also help keep Marines safe. "In active or simulated combat environments, we don't want Marines out there swinging hammers and holding plywood up. Having a concrete printer that can make buildings on demand is a huge advantage for Marines operating down range," says Friedell.
The Marine Corps is currently staffing a deliberate urgent needs statement and concept of employment for this technology. The results of the field user evaluation will inform future requirements to give the Corps a concrete construction additive manufacturing program of record.
For more information, click here.