When completed in 2019, the HKS-designed L.A. Stadium at Hollywood Park will be the largest stadium in the NFL, covering about 3 acres and 3 million sf. The stadium will include permanent seating for 70,000 fans while offering the flexibility to expand to host more than 100,000 fans.
The new stadium will provide an outdoor feel thanks to its ethylene tetrafluoroethylene (ETFE) roof, the same material used for the Minnesota Vikings new stadium, which was also designed by HKS. The ETFE canopy will allow the venue to host events year-round and provide an outdoor feel while protecting guests from the elements.
A perforated metal skin, comprising more than 75,000 individual panels, curves around the stadium and the ETFE canopy and will create an open-air environment. Each panel will be uniquely sized and have a distinct perforation pattern. The metal skin stretches beyond just the stadium and also covers outdoor plaza spaces and 'rooms' to blur the lines between indoor and outdoor. Included in the stadium's design are a performing arts center and a large public gardens.
The stadium is already slated to host Super Bowl LV in 2021. Turner and AECOM will lead the project's construction and Kroenke Sports and Entertainment is managing and developing the project.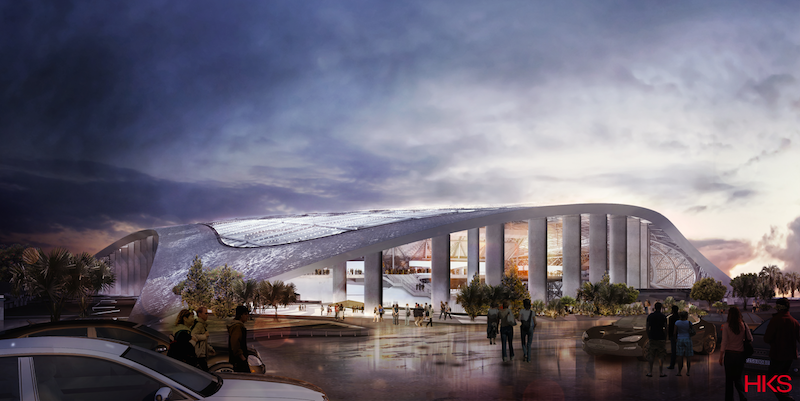 Courtesy of HKS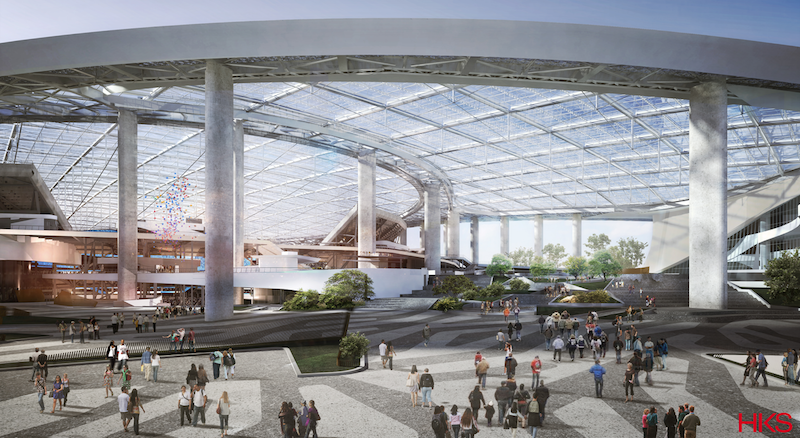 Courtesy of HKS