4240 ARCHITECTURE Its NZE "Aestus" visitor center won "Architecture at Zero" competition.
ACAI associates Streamlined FARO scanning process to align with contract requirements and as-built needs.
ADACHE GROUP ARCHITECTS Expanded capabilities with Lumion fast rendering.
ADRIAN SMITH+GORDON GILL Simulating building performance via HadCM3 weather files.
ALSC ARCHITECTS Completed first "progressive" design-build project: Airway Heights (Wash.) recreation center.
API(+) Created 10,000-sf prototype grocery store for Walmart China, in Shenzhen.
ARCHITECTURE, INCORPORATED Employed panelized construction and proprietary metal pan-formed floor systems on multifamily and hotel projects.
See also: Top 150 Architecture Firms - 2018 Giants 300 rankings
See also: Top 110 Architecture/Engineering Firms - 2018 Giants 300 rankings
Sponsored by SageGlass 
ARIA GROUP ARCHITECTS Applying iAccess to better manage projects.
ARRAY ARCHITECTS Offered certified course in Lean design to clients, partners, and consultants.
ASHLEY MCGRAW ARCHITECTS Designing high-performance projects based on Passive House principles.
BALLINGER "B:Flex" program lets employees customize their schedules for smoother work-life balance.
BERGMANN Using 3D model printing for client presentations.
BERMELLO AJAMIL & PARTNERS Implemented UAVs into the firm's design process.
BERNARDON Exploring intergenerational living concept for multifamily residential.
BOSTWICK DESIGN PARTNERSHIP Checking project milestones with Lean Last Planner and Intentional Design Process.
BRPH Created "Design Thinking," a human-centered design methodology for design-build project planning.
BSB DESIGN "SWAT approach" brings 3-8 staff to the client's location over 3-4 days to hammer out design decisions with the client.
CANNONDESIGN Finalized three mergers (FKP Architects, Bennet Wagner Grody Architects, Assembly Design Studio); launched an in-house business incubator.
CASCO + R5 DESIGN AGENCY Added civil engineering services to its portfolio.
CLARK NEXSEN Adopted Kanbanize for Lean project management; using local fab shop to build large-scale models and mockups.
C.M. ARCHITECTURE Celebrated its 40th anniversary.
CORGAN Created "Work.Life.Now" app to develop workplace solutions.
CURTIS + GINSBERG ARCHITECTS Fostering Passive House design in New York City.
DATTNER ARCHITECTS Developing customized workflows to enable faster zoning studies, using digital base map data.
DGA Implementing G Suite and other online tools to maintain and share project meeting logs.
DIAMOND SCHMITT ARCHITECTS Pioneering integrated project delivery in Canada.
FGM ARCHITECTS Named John Dzarnowski president; appointed Andy Jasek to run new office in Milwaukee.
FRANCIS CAUFFMAN Created "Cognition" system for standardizing and codifying its entire delivery process; hired Mark Harbick, IIDA, LEED AP, to head NYC office's Corporate Workplace Practice, R&D, and marketing.
FXCOLLABORATIVE Rebranded under new flag (formerly known as FXFowle).
GBBN "Design Expeditions" brings employees from all four offices to one location to study, sketch, and document buildings and spaces.
GENSLER With Humanscale, created "Summa" executive chair for corporate offices.
GLAVE & HOLMES ARCHITECTURE Teaming with other firms on new university projects in Florida and North Carolina.
GREENBERGFARROW Four international offices—Mexico City and Monterrey, Mexico; Bogota, Colombia; Shanghai—produced 10% of 2017 firm revenue.
GWWO Employing video game engines to enhance BIM models for construction verification in the field.
HARLEY ELLIS DEVEREAUX Investing in reality capture technology.
HASTINGS+CHIVETTA Flying drones to capture data for use by its construction administrators in the field.
HDR Its HDR Data Wrangler, an add-on to Rhinoceros, intuitively assigns, structures, catalogs, and queries design data for improved decision-making during design.
HOEFER WYSOCKI ARCHITECTURE Implemented Deltek Talent Management portal to optimize its human resources staffing.
HOIST ARCHITECTURE Changed to a blind first-round review of job applicants to improve fairness in its hiring practices.
HOK  Proprietary parametric modeling/optimization tool "STREAM" speeds up engineering analyses, saving millions in project costs.
HUCKABEE Completed research projects on furniture, teacher mobility, and student engagement in K-12 classrooms.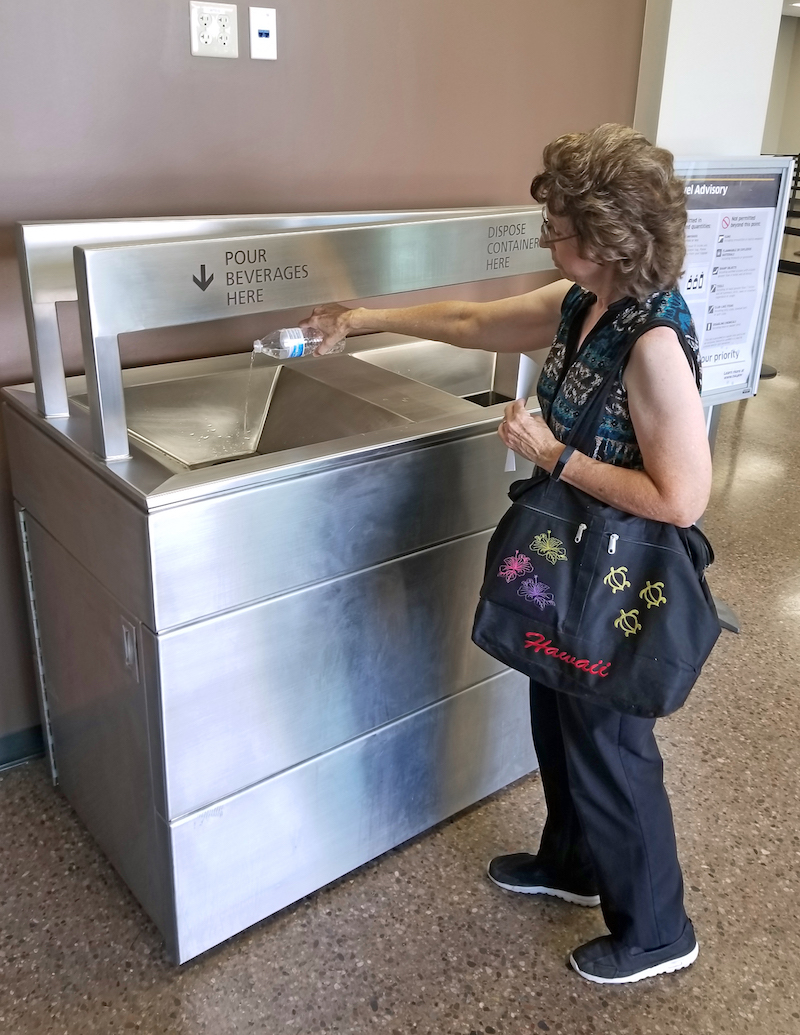 DWL ARCHITECTS + PLANNERS installed this new "no plumbing" mobile liquid-trash combo cart in its renovation of Phoenix-Mesa Gateway Airport. It allows easy disposal of liquids at security checkpoints. Photo: Phoenix-Mesa Gateway Airport.
HUNTONBRADY ARCHITECTS Latest focus: next-generation outpatient centers.
IA | INTERIOR ARCHITECTS Creating custom infographics to help assess data on trends and opportunities for future designs.
INVENTURE DESIGN Developed InVisioning—object-based 3D CAD software—to show client how a space will look at any time in project life cycle.
JLG ARCHITECTS New president: Michelle Mongeon Allen, AIA.
KAHLER SLATER Using Bluebeam for real-time site documentation, and Enscape to create real-time renderings at client meetings.
KAMUS + KELLER INTERIORS | ARCHITECTURE Consolidated LA operations in a larger space in the city's Financial District.
KATERRA Acquired Michael Green Architecture and Lord Aeck Sargent.
KIRKSEY ARCHITECTURE Opened an office in Austin, Texas; hired Crystal McDonald, CPA, as CFO.
KITCHEN & ASSOCIATES Embedding staff with project teams to provide continuous review during design process.
KTGY ARCHITECTURE + PLANNING Created new R+D Studio devoted to multifamily and mixed-use development research.
LEGAT ARCHITECTS Acquired Legat Kingscott design studio, Columbus, Ohio.
LEO A DALY Developed cost-modeling tool that links Revit models to analytic cloud-based dashboards.
LPA INC. Implemented firm-wide Project Performance Focus Groups in its six regional studios.
M+A ARCHITECTS Set research partnership with The Ohio State University on how and where education is being delivered.
MBH ARCHITECTS Refocusing retail portfolio to serve high-end jewelry, banking, and healthcare clients (e.g., Invisalign).
METHOD ARCHITECTURE New offices: Austin and Dallas.
MILLER DUNWIDDIE Prevented interference with MSP airport LIDAR system by switching from metal cladding to terra cotta.
MITHUN Funding internal R+D grants in holistic design, biophilia, NZE, and resilience.
NMR ARCHITECTS + ENGINEERS Added new features to its proprietary project management software, "Alliance 2 Build"; implemented professional development plans for staff.
O'CONNELL ROBERTSON Reorganized its design studios to share resources more effectively.
PAYETTE Integrated multivariable energy-sensitivity analysis into workflow; first used for Cornell School of Engineering master plan.
PBK ARCHITECTS Acquired SIM Architects, San Francisco.
PERKINS EASTMAN Released white paper on adaptive reuse of commercial buildings into K-12 schools.
QUATTROCCHI KWOK ARCHITECTS Opened second office (Pleasanton, Calif.); design lead for "Folia," a two-story, turnkey prefab classroom building for schools lost to wildfires.
QUINN EVANS ARCHITECTS Developing protocols for documenting existing and historic buildings in BIM, based on IFC information exchanges.
RDG PLANNING & DESIGN "RDG Design Residency" brings grad students from diverse backgrounds to Des Moines to collaborate on a community-based design effort.
ROSSETTI Developed "Inverted Bowl": leans upper-bowl arena seating forward to bring fans closer to the game.
SALUS ARCHITECTURE Introduced modular walls plus vacuum sewer system in clinic setting; obviates need to drill through slabs.
SASAKI Created 5,000-sf "Incubator at Sasaki": R&D studio + co-working area.
SHEPLEY BULFINCH Proprietary "Baseball Cards" self-evaluation tool enhances the process for assigning staff to new projects.
SHIVE-HATTERY Adopted "One-Firm Firm" approach (per David Maister) to connect offices; acquired a drone, licensed a drone pilot.
S/L/A/M COLLABORATIVE Data mining teams are enhancing its focus on analytics and predictive analytics.
SMITHGROUP Installed new heat recovery/rejection system to recycle heat from DC Water's treatment plant to condition the 150,000-sf HQ building.
STEINBERG HART Merged with RJC Architects, San Diego.
TAYLOR DESIGN Its "Method Cards" card deck instills behaviors across the firm to enhance creative processes.
TETER Developed "TETER U" to offer in-house courses on Revit, project financial management, mentoring, etc.
TPG ARCHITECTURE Developed "team of teams" strategy to knock down silos, quickly respond to client needs.
TRICARICO ARCHITECTURE AND DESIGN Secured unique prototype work in several project categories; reevaluated financial operations for competitive purposes.
VOCON Hired part-time staff in 13 cities to support national client base.
WARE MALCOLM Acquired WorkSpace Plans, a building measurement services company.
WATG Customizes "project microphases" for each project based on client priorities.
WDG ARCHITECTURE Conducting research on emerging trends in space planning, creative programming, technology, and sustainability for multifamily projects.
WIGHT & COMPANY Employing its proprietary "SPARK Sessions" with clients to accelerate project design and development.
WILSON ASSOCIATES Formed an alliance with Zaha Hadid Architects and Arcplus Group to offer IPD to clients; opened offices in Tokyo, Bangkok, and London.
WOLD ARCHITECTS Researching (with Concordia University) the correlation between space design and student engagement and learning.
WOOLPERT Developed automated robotic technology to measure the grade of a heaving factory floor to the submillimeter level; using drones to generate 3D base models.
ZGF ARCHITECTS Expanded use of computational design across 65,000 building
elements.