New research from the Society for Marketing Professional Services Foundation (SMPS Foundation) finds that average AEC firm hit rate—measured most commonly as the total number of proposals submitted to the total number of projects won—falls within the 37-44% range, depending on the discipline. Engineering firms have the highest average hit rate, at 44.2%. Construction firms have the lowest average hit rate, at 37.9%.
The 22-page report, Measuring for Success: A Look at Hit Rates & Other KPIs in the A/E/C Industries, evaluates the tools and processes that AEC firms use to track marketing success. The findings and analysis are based on a survey of 303 U.S.-based AEC firms conducted by the SMPS Foundation in conjunction with the Southern Illinois University Edwardsville Master of Marketing Research program.
"While there are many variables in tracking hit rates throughout AEC industries, there is a benefit to having a metric for evaluating a firm's progress," wrote the report's authors. "The hit rate provides a baseline over time for firms to improve their success rate and should be used in conjunction with other key performance indicators such as profitability, market trends, and backlog."
The report addresses a variety of topics, including:
• Methods and metrics AEC firms utilize to track their success of winning projects
• How firms use the hit rate metric to improve future performance
• Alternative key performance indicators
• Effectiveness of hit rate and other KPIs
• Barriers to developing a benchmarking standard for AEC firms
• It concludes with takeaways and action steps for AEC firms.
SMPS members receive a complimentary download of the report once they log on to smps.org.
Nonmembers may download the report with a donation of $24.95 until January 31, 2017.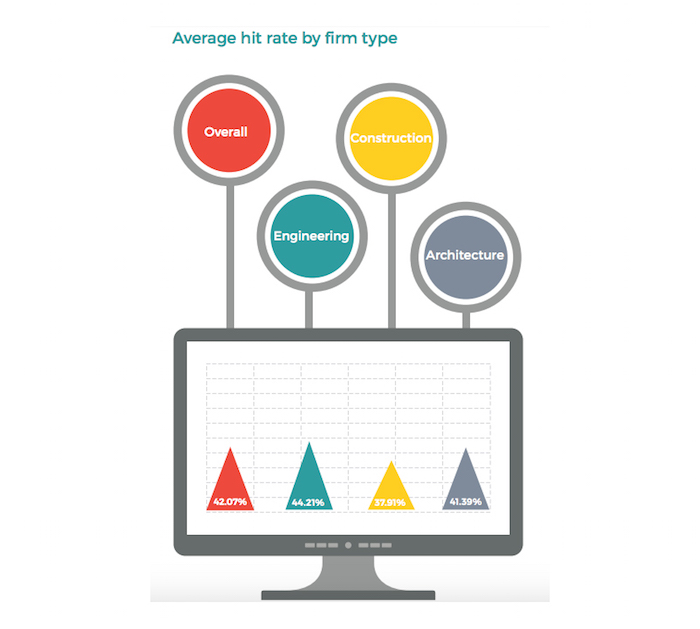 Source: SMPS Foundation