During my nearly two decades working in land development, I've seen plenty of trends come and go. However, some things – like the resurgence of downtown – have staying power, becoming more of a movement than a trend. I relocated to Nashville from Orlando, Florida, in 2013, and I can tell you firsthand that even though these are two very different cities, the rebounding popularity of each urban core is a common thread, as it is with so many other cities across the country. People are flocking back from the suburbs, and there's an associated amount of pressure (at least among us in land development) to manage the increased density and design new development that does more than just keep up with demand. We want to anticipate what residents will need to live well.
American urban studies author Richard Florida, in a speech in 2012, commented "this rush to density, this idea that density creates economic growth is wrong." He added: "It's the creation of real, walkable urban environments that stir the human spirit. Skyscraper communities are vertical suburbs, where it is lonely at the top. The kind of density we want is a 'Jane Jacobs density.'" The highly influential (and controversial) Jane Jacobs advocated for urban cores defined by a variety of building types, a wide range of experiences, and a sense of place. Stacking people on top of one another isn't the solution. Good land development requires a lot of effort.
It's important to understand why density feels different in different places. Chicago, with its vast high-rises, might feel much more crowded than Washington, D.C., a city with strict building-height limits and a focus on green space. In fact, D.C. is only slightly less dense. It also may surprise you that Seattle, a very outdoor-oriented city with abundant trees, has a density virtually identical to Baltimore, a city dominated by concrete and asphalt. People-focused development supporting walkability, livability, sustainability, and a connection to nature is the key to managing density.
How does success begin? By being friendly. Pedestrian-friendly. Bike-friendly. American Disability Act-friendly. Dog-friendly. You name it. (And yes, even car-friendly.) The point is to develop cities in an inclusive way. Create spaces that the public can engage with, no matter who they are and no matter what mode of transport they're using to get around. This friendliness can come in a variety of forms.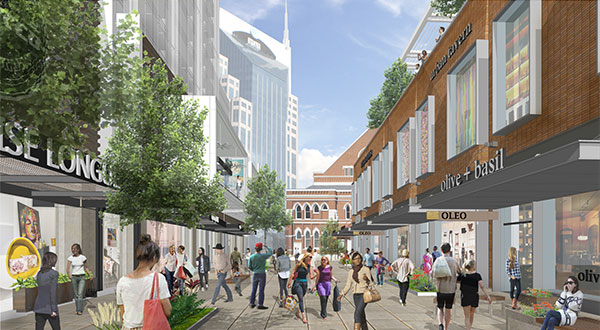 Wide sidewalks
How do you feel when someone stands too close behind you in the checkout line? When you're sandwiched between two strangers on an airplane or in a subway? No one likes to feel cramped and claustrophobic. Wide sidewalks are a subtle but impactful way to improve a person's experience of a city, decreasing their likelihood of bumping and jostling fellow pedestrians, and providing some breathing room to take in the sights and sounds around them.
Functional crosswalks
Poorly functioning crosswalks are stressful at best and dangerous at worst. "Push to walk" buttons and their accompanying audio signals for the visually impaired should be in good working order. Residents and tourists alike need to feel confident in their ability to navigate and explore a city, safely sharing the roads with cars.
Inviting streetscapes
The café tables lining Europe's sidewalks are iconic because they allude to culture and camaraderie. The hotels and boutiques along Miami's South Beach foster a sense of action and excitement. City streets should be dynamic and inviting, not only providing a route to and from destinations, but serving as destinations themselves.
Refuges
Just as access to daylight helps people thrive in an indoor environment, access to nature helps people thrive in an urban environment. The therapeutic quality of nature is difficult to argue against. Its benefits have been proven in numerous scientific studies and there's an abundance of anecdotal evidence, too. Henry David Thoreau went to the woods because he "wished to live deliberately" and "to suck out all the marrow of life." Ralph Waldo Emerson wrote that the outdoors brings eternal youth. For many of us, the draw toward nature is likely less dramatic but still innate. As a city's density grows, so does the need for green space to counterbalance the concrete around it. 
As our cities become more dense, we must embrace the chance we have to address density the right way. I look forward to collaborating with my GS&P colleagues to proactively design buildings, hardscapes and landscapes that are defined by the people who use them, rather than the other way around.
About the Author: Jessica Lucyshyn is a Senior Civil Engineer in GS&P's Nashville office, bringing nearly 20 years of land development and engineering experience to the firm's Land Planning market. She has delivered a broad collection of project types, including residential, institutional, commercial, industrial, theme park and resort developments. Jessica is a proven leader with the ability to manage project schedules and personnel to achieve project goals. Outside of the office, she enjoys spending time outdoors with her husband and their four children, as well as volunteering at her children's school and the family's church.