MULTI-PHASE TOD COMPLEX OUTSIDE PORTLAND, ORE.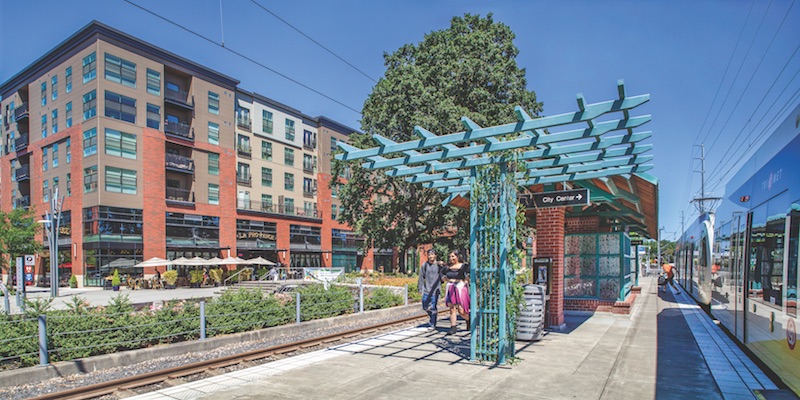 Photo:: Peter Eckert.
The Platform District at Orenco Station is a 135-acre transit-oriented development in Hillsboro, Oregon's fifth-largest city. The TriMet MAX Blue Line light rail connects to downtown Hillsboro, to downtown Portland—14 miles away—and to the airport. It consists of a 5.5-acre public plaza (by landscape architect Walker/Macy) and three mixed-used buildings designed by Leeb Architects: the 343,500-sf Rowlock (shown here), with 255 apartments and townhomes; Hub 9 (124 apartments, 168,000 sf); and the 339,200-sf, 230-unit Vector, which provides the park-and-ride component at the transit stop. The Orenco TOD totals 609 residences and 25,000 sf of retail space.
CO-DEVELOPERS COMPLETE PHASE 3 OF INLAND EMPIRE Transit COMPLEX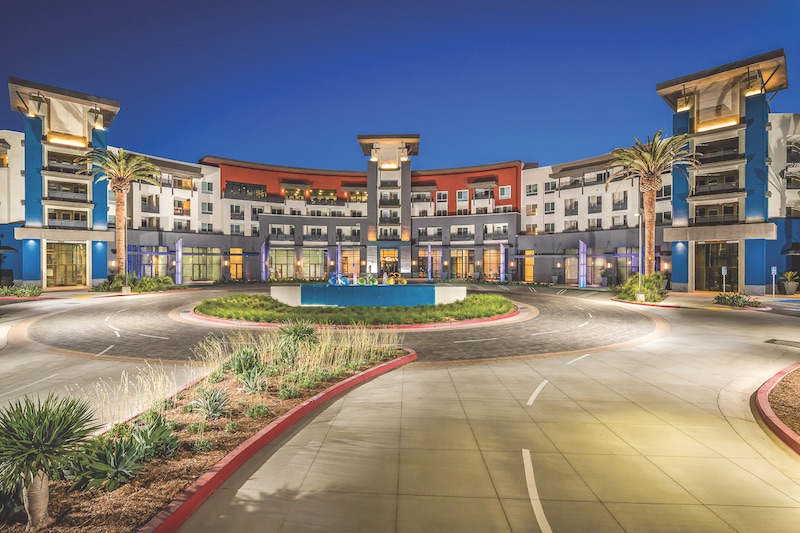 The Metro is the third phase (286 units) of a buildout of a total 868 luxury apartments in Corona, Calif., just a half mile from the North Main Metrolink station. The Riverside County enterprise has 70,000 sf of retail space. Each apartment has a balcony/patio and Nest climate controls. There's a dog park, WiFi/game lounges, a cabana-lined pool and spa, and rooftop deck with views of the San Gabriel Mountains. Wermers Properties and Watermarke Properties were the co-developers.
leed gold tod HIGH-RISE opens in ARLINGTON, VA.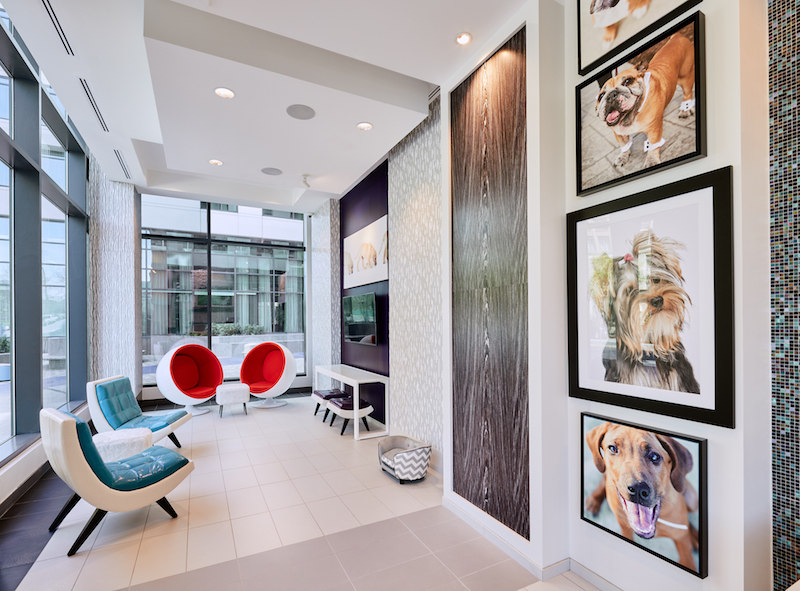 The Latitude, a 12-story mixed-use luxury apartment community, has 265 market-rate rentals and 14 affordable units. The LEED Gold project is located directly across from the Virginia Square–George Mason University Metro station in Arlington, Va. Designed by architecture firm Davis Carter Scott and interior designer Linowes Design Associates and built by general contractor CBG, the property has 3,011 sf of retail space, 2,675 sf of ground-floor cultural space, and a 12,000-sf public plaza and walkway. The original owner, Penrose Group, sold the property in March to Texas-based REIT Monogram Residential Trust for $143 million.