Developing nations in today's world have a distinct advantage over cities that developed decades or even centuries ago. They are able to look at the cities that came before them, examine the problems they faced, and build the solutions into their developing cities before they even have a chance to make themselves known.
Take Naypyidaw, for example, the capital city of Myanmar. With a population just under one million people, the city is relatively small. But that doesn't mean they aren't building for the future and anticipating growth, as evidenced by their highways, 16 lanes wide in some places, which remain as empty and desolate as a supermodel's dinner plate. Sure it might look silly and overly ambitious now, but when the population does begin to skyrocket, the methods to their madness will be quite clear.
Many cities aren't built to handle the growth if and when it does arrive. Exhibit A, New York City. More specifically, New York City's Pennsylvania Station. Completed in 1910, the station was originally designed to accommodate 200,000 people, but today, more than 650,000 people pass through the station on a daily basis, according to ArchDaily.
So while Stanford White, the building's original architect, didn't have a crystal ball that would have allowed him to create a structure for the 21st century back in the early 20th century, the situation with Penn Station is far from hopeless.
Governor Andrew Cuomo has presented plans to give Pennsylvania Station and the neighboring James A. Farley Post Office the 16-lane highway treatment and turn this overcrowded transportation hub into a free flowing 21st century work of art.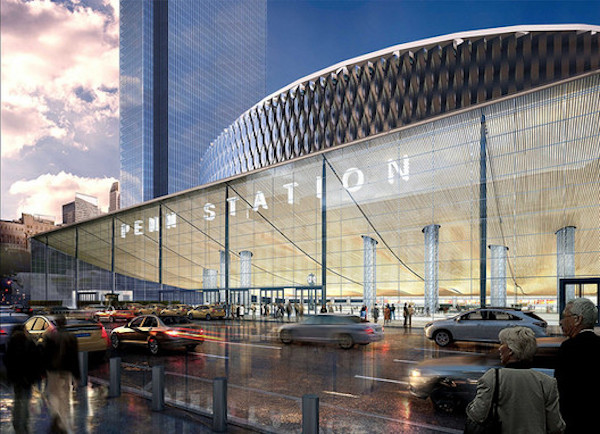 © Governor Andrew Cuomo
Though an official architect has still not been chosen, the projects plans have been detailed. At a cost of $3 billion, the project envisions a modernized station that will connect underground with the Farley Post Office, which is located across 8th Avenue from Penn Station. This new, connected area will be known as the "Empire Station Complex."
"We want to build Penn Station to be better than it ever was, and that is exactly what we are going to do. This proposal will fundamentally transform Penn Station for the 21st century, and we are excited to move forward with the project in the days to come," said Governor Cuomo in his presentation on the project.
In addition to the new connection with the Farley Post Office, Penn Station will be undergoing quite a bit of renovation of its own. ArchDaily reports that the plan calls for existing corridors to be widened, ticketing and waiting areas to be reconfigured, connectivity to be enhanced, and retail opportunities to be expanded.
The plans for the Farley Post Office have it to be redeveloped into a 210,000-sf train hall for Amtrak that will service passengers of the Long Island Rail Road, New Jersey Transit, and the new Air Train to LaGuardia Airport. This new train hall will increase the station's size by 50%.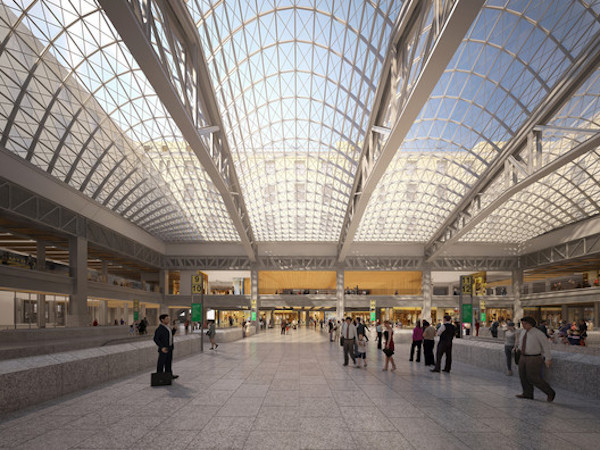 © Governor Andrew Cuomo
Included in this new facility will be more concourse and circulation space, retail space, and modern amenities such as Wi-Fi and digital ticketing, and 30 new escalators, elevators, and stairs to help passengers get to where they need to be quickly.
While an iconic architectural design is important, the Governor is also hoping for it to be very energy efficient and incorporate plenty of natural light.
Despite the lack of an official architect, the project hopes to break ground this year and be completed by 2019.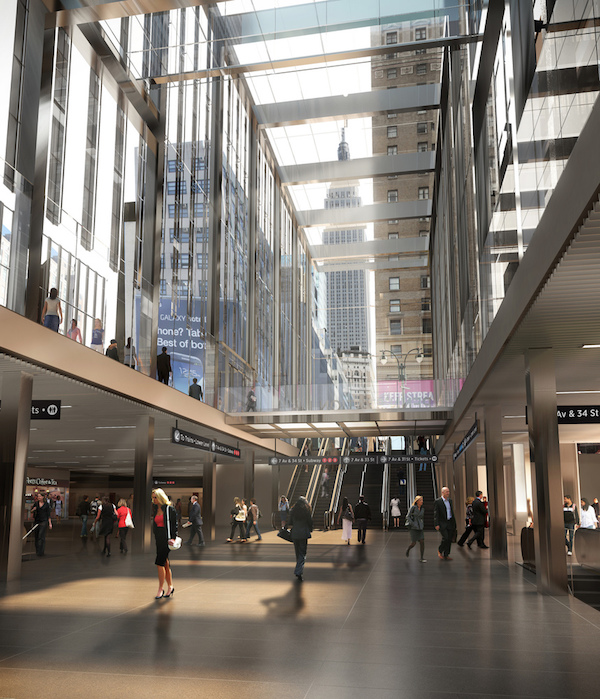 © Governor Andrew Cuomo