With two-story windows facing an outdoor Olympic-sized pool, the fitness center at the Inspire Southpark apartment complex in Charlotte, N.C., is a stunning showpiece. It's no accident the 4,350-sf fitness facility is located right near the leasing office. The developers, Bond Companies and Morgan Holdings, view amenities, especially fitness, health, and wellness facilities, as central to the appeal of their multifamily properties.
"We actually design around the amenity spaces," said Ryan Morgan, Project Manager with Morgan Holdings. "We're trying to establish communities with micro-experiences." Inspire Southpark, along with the 366-unit Spoke Apartments, in Chicago's River West area, caters to active adults who want a variety of exercise options.
Morgan said he sees some multifamily developers building fitness centers "just to check a box." That won't work with Millennials, many of whom grew accustomed to top-notch fitness facilities in college. Baby Boomers, too, are committed to fitness, health, and wellness.
An October 2017 survey by the National Multifamily Housing Council and Kingsley Associates found that 55% of renters said they would not sign a lease in an apartment building that lacked a fitness center.
Fitness facilities offer multifamily dwellers expedience and value, said Rob Bond, President, Bond Companies. "If we can save someone a half-hour by not having to commute to a health club, that's a real convenience," he said. This is especially true if the facility matches or exceeds the local upscale fitness spa and is free to tenants.
Creating a stellar fitness center often requires the skills and expertise of an outside design consultant. "We'll never be as good at it as the people who do it all day long, every day of the week," Bond said.
Fitness equipment distributors and fitness facility designers can advise on sizing, configuring, and outfitting fitness centers. Karl Smith, DHEd, Director of Residential Well Living for developer Cortland, typically seeks bids from three leading fitness equipment distributors when designing fitness facilities for a new apartment complex. Engaging with these firms is a great way to stay current with fitness trends, what competitors are offering, and how your next multifamily offering can differentiate itself in the fitness realm, he said.
Correctly sizing the space for the number and type of residents is crucial. For Bond, the rule of thumb is at least 10 sf of fitness space per dwelling unit. When planning new properties, Cortland, which owns 137 rental properties in 21 markets, uses a formula that includes average number of adults per unit and the percentage of those projected to be regular gym users. In renovations, the size of the fitness area is usually restricted to the existing space, said Smith, but on rare occasions it may be possible to knock down a wall to gain more space.
New and renovated fitness areas should have a minimum of two distinct areas—one for strength training and cardio equipment, another for classes such as Zumba, Nia, Pilates, and yoga. Ideally, the classroom space should be in a dedicated room; where closed-off space is not feasible, providing open space within the strength/cardio area is an alternative. Cortland specifies a minimum of 500 sf to be allocated for open class space. Some properties provide residents free classes as an incentive.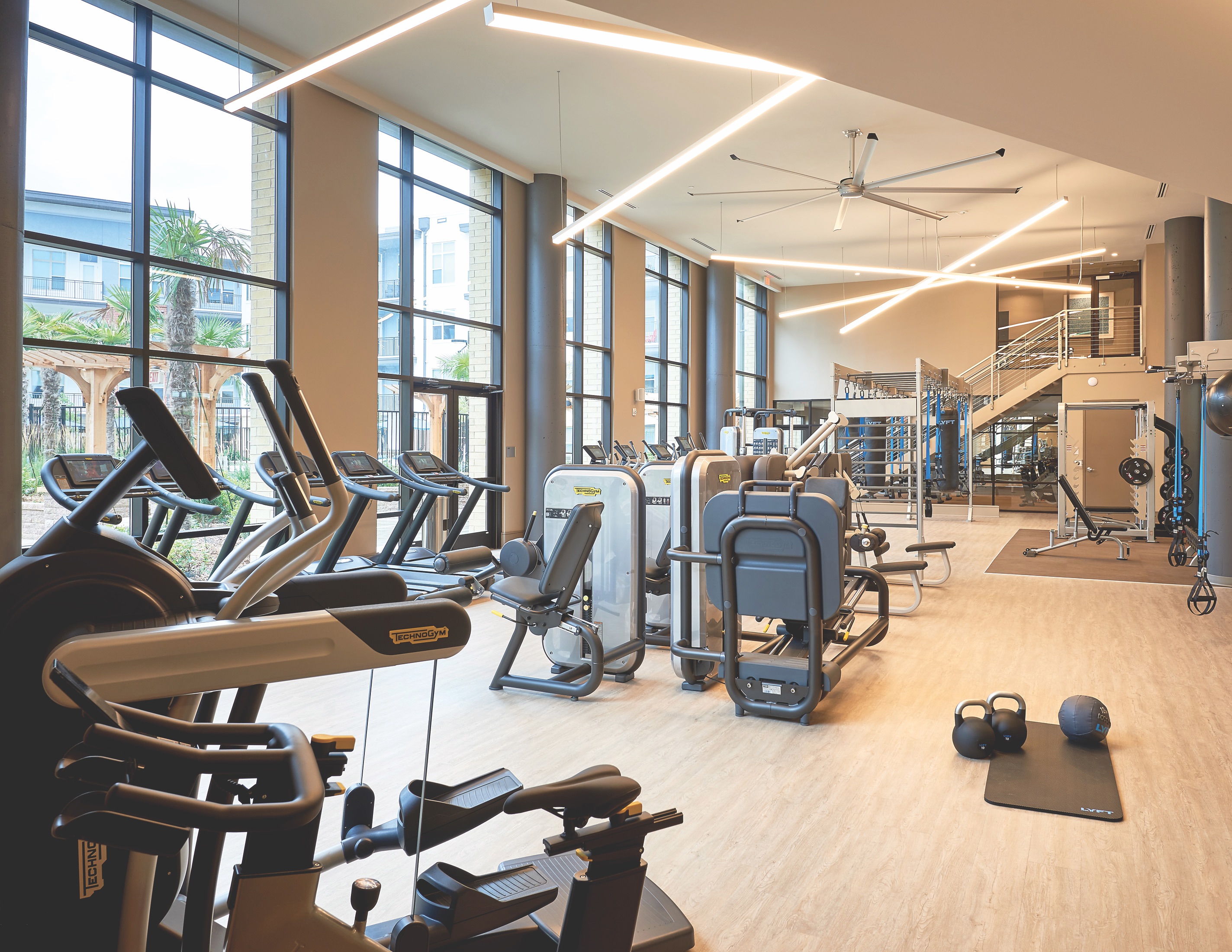 Inspire Southpark, Charlotte, N.C., has  a wellness center with vaulted ceiling, indoor/outdoor yoga rooms, and a WELLBEATS spin room. The adjacent spa offers nail services, massage therapy, and a sauna. A 25-meter pool and one-acre private park add to the property's health and wellness theme. Photo: Dustin Peck Photography.
A well-designed fitness center should have a space set aside for functional training—exercises that allow individuals to perform the activities of daily life more easily and without injuries. Functional training is a hot trend for both young adults and those over 50. Millennials gravitate toward vigorous activities using gear such as infinity ropes, heavy bags, pull-up bars, and jump targets. For seniors, functional training means lighter activity using dumbbells, stability balls, balance boards, and the like. "People 60 and over are not into the fad aspect of fitness and wellness," Smith said. "They're looking for functionality, ease of use, safety, and time efficiency."
Both Cortland and Bond/Morgan properties provide equipment with fitness-on-demand training capability. Touch-screen kiosks on Cortland fitness center walls offer 600 classes on demand. Cortland surveyed 600 tenants and found that 71% said yoga would be  their top choice for active play, followed by kickboxing (56%), boot camp (52%), Zumba (50%), and spinning (46%). Dead last: running clubs.
Cortland relies on design consultants to ensure its fitness spaces not only are ADA compliant but also to "make sure every piece of equipment can fit in the fitness center the way we need it to," Smith said. Certain pieces of equipment can't be placed next to mirrors, as their movement could cause the equipment to collide with the glass.
"The goal used to be to throw a lot of equipment into the fitness center," Smith said. "Now it's more about the functionality and openness of the layout." Smith said it's important to have not only enough equipment but also the right mix of equipment so as to minimize waits. For example, most people use cardio equipment such as stationary bikes for longer periods than they use strength-training equipment. So you need to be aware of the typical turnover time on the equipment you order.
See Also: Topsy-turvy: Creative use of air rights results in a model of urban luxury design
In designing new fitness spaces, keep in mind high ceilings, large windows, and proper lighting. LED tape that can change colors is a great way to set moods, said Morgan. The choice of music must also fit the activity—soothing tones for yoga, upbeat tunes for spin classes. Bright wall colors are usually best for active areas, while more subdued hues are preferable for meditation and yoga spaces.
Flooring also varies according to use. "For yoga, you want a somewhat squishy floor," meaning resilient flooring, Morgan said. Floors in strength and cardio spaces should be firm.
To some, it may seem like spending considerable effort and resources on fitness amenities is wasteful, but that NMHC/Kingsley survey found that 82% of renters said they're at least "interested" in a fitness center when choosing an apartment community.
"We think we're getting payback from the value proposition of our amenities," Bond said. "The idea is to get residents thinking, 'I'm living in a luxury community, why would I want to live anywhere else?"