Amsterdam-based hotelier citizenM has North America in its sites for major expansion that favors modular construction.
Having already opened two modular hotels in New York City, citizenM has two hotels under development in Los Angeles, including a 14-story, 183-ft, 216-key hotel at the intersection of Hollywood and Vine; and an 11-story, 315-room hotel at 4th and Spring Streets in L.A.'s historic Downtown Core.
CitizenM also has revealed plans to open two hotels in Seattle, and single hotels in Boston, Miami, San Francisco, and Washington DC.
See Also: DeSimone Consulting Engineers designs the tallest modular hotel in the United States
In Seattle, construction started in March on the 93,245-sf South Lake Union citizenM hotel, which Mortenson Construction is building with 228 steel-framed modular units that were prefabricated in Poland by Polcom, shipped 9,473 miles via the Panama Canal to the Port of Everett, Wash, and transported by truck to the jobsite.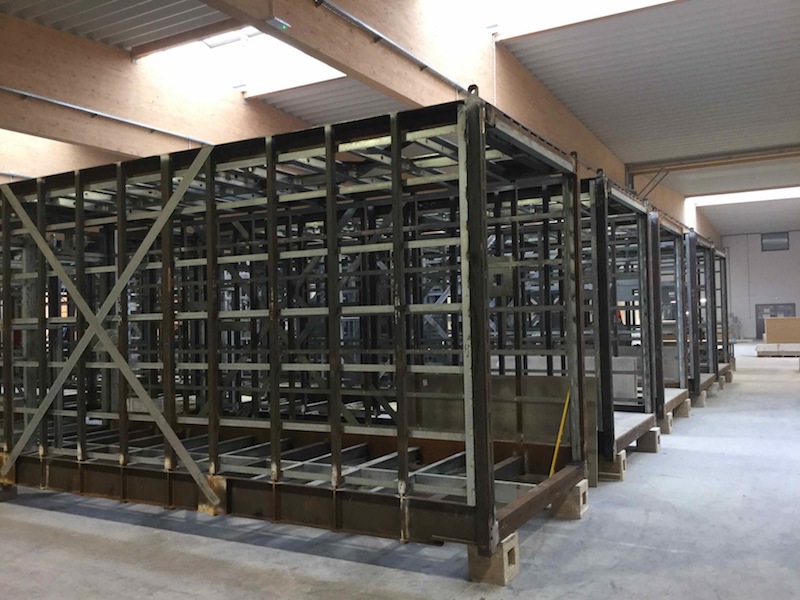 Steel-framed modules are shipped virtually complete, with beds, TVs, millwork, and bath fixtures installed. Image: Courtesy Mortenson
Polcom has supplied steel modules for numerous citizenM hotels in Europe, but wood framing or mass timber have been the more-common materials for modular projects in the U.S., even as height restrictions in most markets still limit the use of wood. "There is a large difference between wood frame modular construction and high-rise steel construction, which is what we are doing here in Seattle and in Los Angeles," says Phillip Greany, Associate DBIA, LEED AP BD+C, general manager of Mortenson's Seattle Operating Group in Kirkland, Wash.
The modules Polcom produces come virtually complete, with beds, wall-mounted TV screens, bathroom fixtures, doors and windows already installed. (The modules are wrapped in plastic and pressured to keep the components in place during transport.)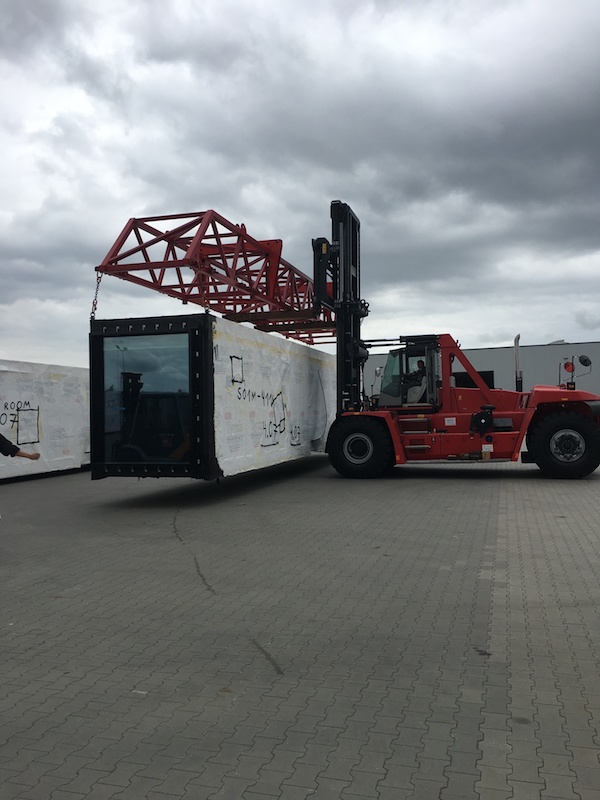 Modules used to build the hotel in Seattle traveled by boat nearly 9,500 miles from Poland to Seattle, where they were trucked to the job site. Image: Courtesy Mortenson
However, citizenM has brought on Gensler to design several of the hotels it is opening in the U.S., to ensure those buildings meet local Building, MEP, and Energy codes. (South Lake Union will be the first modular hotel in Seattle.) "There is also a major ground floor and basement that are conventionally built," explains Greany, and will include an expansive lobby, a 24/7 canteenM food and beverage amenity, and four meeting areas.
He estimates that construction will take 13 months to complete, and that the 264-key Seattle hotel will be up and running by June 2019.