As part of the Giants 300 survey process, a number of engineering and engineering/architecture firms reported innovations, market trends, and new business ventures. Here's a roundup of what they reported:
Hankins and Anderson expanded its services with blast engineering. A recent project success involved a custom solution for analyzing and designing cold-formed roof trusses, which traditionally have not been viewed as capable of resisting blast loads. H&A also increased its capabilities in the early analysis of renewable energy systems and on-site energy storage to meet growing client demand for campus-level micro-grids for increased energy security.
ThermalTech Engineering doubled down on its controls business by expanding its programming capabilities and creating custom monitoring systems that allow its engineers to check on systems several thousand miles away, at little cost.
"We continue to strive to become controls specialists," says Jeffrey Celuch, the firm's President and CEO.
TOP 55 ENGINEERING FIRMS

2015 Revenue
1. WSP | Parsons Brinckerhoff $507,779,000
2. Fluor Corp. $234,170,000
3. Arup $170,601,562
4. Jensen Hughes $126,307,878
5. KJWW / TTG $121,000,000
6. Vanderweil Engineers $110,028,000
7. Syska Hennessy Group $99,432,587
8. Henderson Engineers $94,551,747
9. Simpson Gumpertz & Heger $83,125,000
10. Walter P Moore $72,264,662

 

TOP 35 ENGINEERING/
ARCHITECTURE FIRMS

2015 Revenue
1. AECOM $1,026,350,000
2. Jacobs $852,130,000
3. Thornton Tomasetti $213,548,965
4. Burns & McDonnell $200,748,166
5. Woolpert $115,400,057
6. SSOE Group $109,180,000
7. Affiliated Engineers $108,435,000
8. Wiss, Janney, Elstner Associates $93,520,600
9. IPS $92,543,417
10. CRB $80,967,500

 

ENGINEERING GIANTS SPONSORED BY:
Thornton Tomasetti licensed a NASA-developed fluid structure coupling (FSC) device designed to reduce rocket vibrations, and is adapting it for buildings and bridges. The Fluid Harmonic Damper calibrates the way liquids and structures interact. It is less expensive and more effective than traditional tuned mass dampers, according to the firm.
Thornton Tomasetti and its newly acquired partner Weidlinger Associates launched a company, TTWiiN, focused on developing tools and techniques to solve engineering problems and improve processes. Six products were part of the initial launch. 
As part of its Vision 2025 business strategy program, Syska Hennessy is making a push to advance 3D printing technologies and methods for the building construction market. Its signature project is the recently completed Office of the Future project in Dubai. The firm collaborated with WinSun, Gensler, and Thornton Tomasetti on the pilot project for client Dubai Holding, which has a stated goal of 3D printing a quarter of the city's buildings by 2030. Syska Hennessy is currently working on methods and design approaches for embedding MEP systems within the 3D printing process.
"We knew early on that 3D printing would be a game changer in the AEC space," says Greg Jasmin, Principal and Co-managing Director for the Syska Hennessy Group MENA office in Dubai. "In a practical sense, it allows building in challenging environments to become easier and more cost effective."
Jensen Hughes is working with engineers at Virginia Tech to develop technology for robotic firefighting. The innovations involve mapping and localization within indoor environments containing smoke, autonomous location of fires outside the field of view of the robot, and autonomous suppression of fires. The technologies are being developed for both ground and aerial vehicles. The firm also developed a software tool, called EndSight Software Suite, which utilizes new technology to solve complex site monitoring, compensatory, and impairments needs related to fire protection.
During the past year, Dewberry led an international team in the creation of a modular hospital prototype for developing countries. The World Standard Modular Hospital utilizes a proprietary panel product for the construction that can be executed by local laborers. The prototype is energy and water efficient and effective for use in locations where there is no infrastructure. It is scalable up to 500 beds and accommodates a range of spaces, including patient wards, surgery, emergency, and outpatient care.
KLH Engineers developed a custom, integrated software tool for processing submittals and RFIs. The application has helped the firm reduce the average turnaround time for RFIs and submittals by 60%. The tool also supports proactive management of dates, client requirements, project documentation, and lessons learned on projects.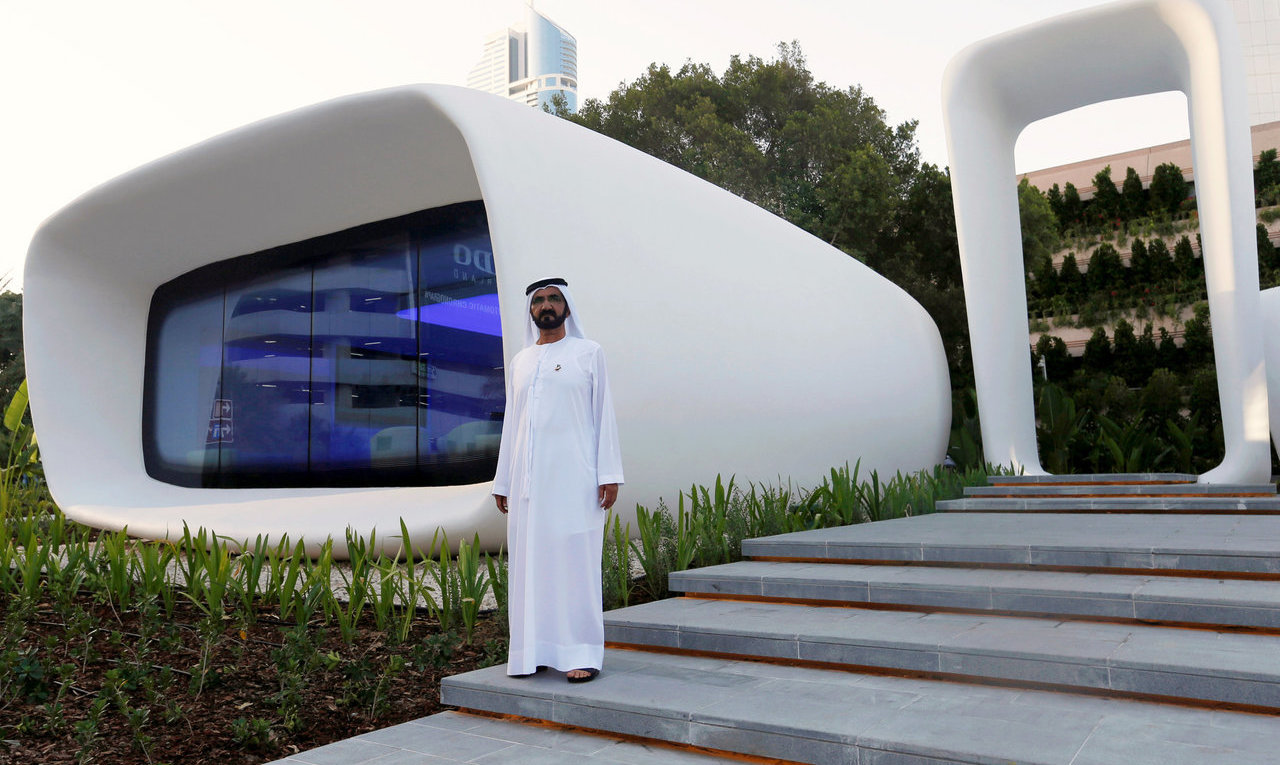 Syska Hennessy worked with Gensler, Thornton Tomasetti, and 3D printing technology firm WinSun to design and manufacture the world's first 3D-printed office building, in Dubai. The project, labeled Office of the Future, opened in May. Pictured: Sheikh Mohammed bin Rashid Al Maktoum, VP and Prime Minister of the United Arab Emirates, and Emir of Dubai. Photo: Ahmed Jadallah, Reuters.
P2S Engineering, SSOE Group, and Woolpert added 3D laser scanning services to streamline and improve the capture of existing conditions on renovation work. SSOE's latest purchase is a short-range, handheld scanner that enables its project teams to capture discipline-specific components of a facility, such as MEP systems. Woolpert developed design workflows to "ingest" 3D scans from a number of technologies—stationary, van, drone, and aircraft-based scanning—into its designs. The firm collects its own thermal and hyperspectral imagery and lidar scans, and interprets them in software such as Revit, Civil3D, City Engine, and Infraworks 360 in an effort to speed and improve conceptual design for clients.
Magnusson Klemencic Associates launched a mentoring program, called Concept Design Master Class, focused on practice development and presentation of structural concepts based solely on conceptual architectural sketches and drawings. Open to all engineering levels, including beginners, the course introduces and explores design decisions commonly required by senior staff early in project development.
Wick Fisher White last year launched a thought leadership and content marketing program that involved producing an educational video series around the firm's commissioning services. Known as qWICK Tips (www.wfweng.com/videos), the 45-second videos cover everything from the RFP process to functional test procedures for equipment and systems.