In 1994, a group of parents founded Stargate School in Thornton, Colo., 10 miles northeast of Denver. And for more than two decades, Stargate has served gifted and talented students from kindergarten through 8th grade.
Last year, Stargate rented space from a nearby church in order to expand its educational services to 9th graders. But that move betrayed Stargate's need for a much bigger facility to realize its goal of becoming a K-12 learning center.
On August 23, Stargate opened a new $51 million charter school located on a 43-acre campus near the intersection of Interstate 25 and 144th Avenue. (Stargate sold its old building to the Archdiocese of Denver, which plans to continue using it as a school).
The project, which broke ground in May 2015, is the largest charter school project in Colorado, and the second-largest to be completed in the nation. It includes two academic buildings (K-6th grade gets 75,000 sf; 7th-12th 55,000 sf), a 25,000-sf field house and weight room; and an amphitheater. The site design incorporates a quad-style campus, and each academic building includes breakout spaces and a learning commons/makerspace for kids to pursue "passion projects."
Stargate added a 10th grade for this school year, when enrollment is 1,175. Stargate will add 11th and 12th grades in 2017 and 2018, respectively, bringing Stargate's projected total enrollment to 1,600. 
The school is chartered by Adams 12 Five Star School District. It was designed by the Denver studio of Hord|Coplan|Macht, and built by JHL Constructors. Inline Management is the owner's rep. "The campus design and the variety of learning spaces we created reflect the innovative educational vision of the school leadership and board members that we worked with from the beginning. They were an inspiration to the design team," says Adele Willson, principal, Hord|Coplan|Macht.
The project was developed through a public-private partnership that includes Stargate, the City of Thornton, the landowner, investors, and the AEC team. It was financed with bonds through a company called Colorado Bond Shares. The school will pay back the bonds out of operating funds.
The new Stargate School is part of a 70-acre mixed-used development in Thornton, where five acres of retail and commercial space are planned adjacent to the educational facility. The Denver Business Journal reported that the other 22 acres are earmarked for future development, although for what has yet to be disclosed.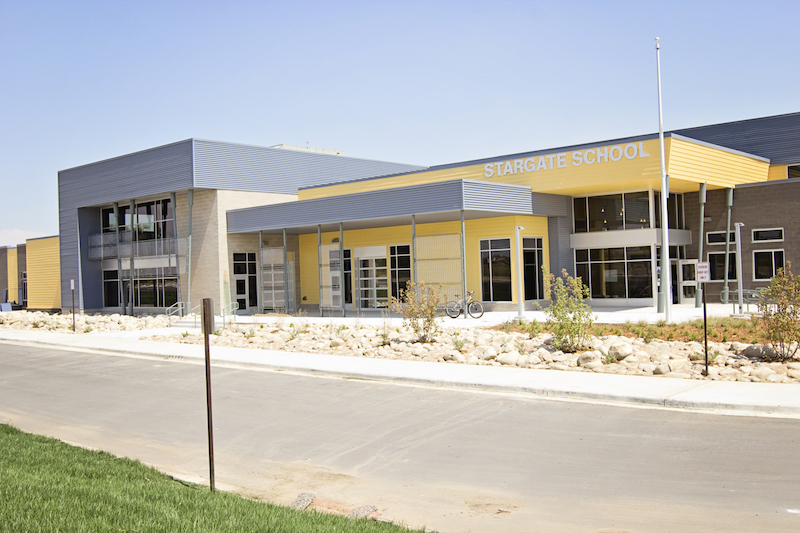 The new school will add an 11th and 12th grade class in the next two school years, bringing its enrollment to around 1,600. Image: Courtesy of Stargate School.