Social media is founded on the principle of mass collaboration. It's about enabling large groups to collaborate in a way that has never been done before. It delivers strategic value to organizations, allowing them to engage their customers in new ways and to delegate work to the community - a community they are in fact generating in the process. It crowdsources knowledge, research, and product development—large Pharmaceutical, Energy and Mining organizations now crowdsource some of their R&D. That would never have happened five years ago.
This movement is being forged by the confluence of pervasive, mobile technologies and networks and the Sharing/ Collaborative Economy.
From the technology side, the future is undoubtedly mobile. In the UK, a report just published by Ofcom shows that in 2014 Smartphones edged ahead of laptops for the first time as the preferred device for consuming information online – 33% of Britons chose smartphones as their technology of choice compared to 30% preferring laptops. This has largely been fuelled by the rapid deployment of high speed 4G mobile networks with 90% of UK homes having 4G access and set to rise to 98% of homes by the end of 2017.
The rapid growth of mobile technologies threatens to push the desktop PC into extinction. When this happens, the most pertinent question for workplace designers will be what is the purpose of the desk, the piece of furniture that has long been the anchor of white collar work?
The truth is that nowadays the majority of white collar work requires one thing and one thing only: connectivity to the online realm. We're living in a world where we don't need to be in the office to do this thing called work. That can happen anywhere at any time.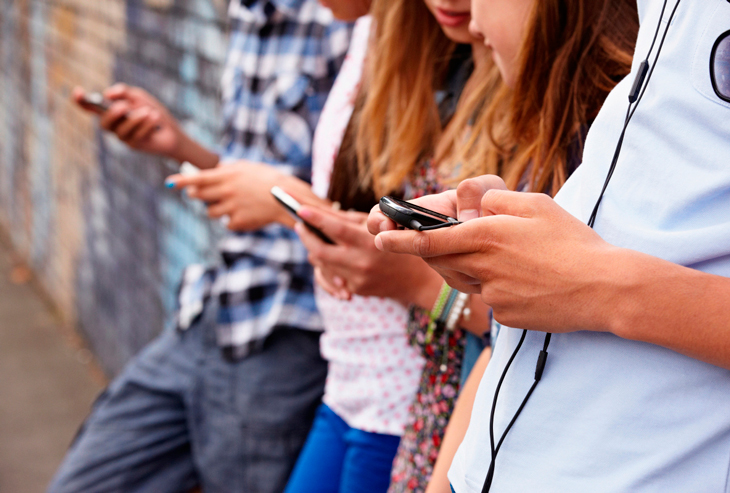 © Gensler
If connectivity is all we need to work, can the digital working environments converge within physical workspaces? The devices we carry around in our pockets are increasingly designed to speak to one another. The baseline connectivity we have is creating a very interesting dynamic and changing how people are interacting with each other and using physical space.
In Amsterdam, the Deloitte office in 'The Edge' building is taking this blended connectivity – between the personal devices carried in people's pockets with the enmeshed Building Management and IT infrastructure – to new levels of sophistication, which results in a very 'blended' experience of the digital and physical workplaces for the users (of both the technology and the space).
By 2020 it is estimated that 40 percent of the whole workforce will be independent contractors, or 'micro workers'. They will typically work from co-working spaces, which are—no surprise—also founded on the principles of sharing. Our research on-co-working shows that 87 percent of people working in them are there primarily to connect with other people of the same mindset. They want to create new products, knowledge and projects, and they understand that these are collective endeavors founded on in-person collaboration with others and not alone.
The co-working culture is now spreading into the corporate sector and influencing how people work and lead. Microsoft is an amazing organization in terms of how they use their workplaces, which are also purposely designed showcases for their technology and culture. They are one of several leading organizations who have unshackled the links between presence (being at your desk) and productivity (completing tasks); instead of being concerned with how often people are working at their desks, they're increasingly concerned about people overworking in the online realm and coach people on switching off and severing online connectivity with colleagues.
So how do you keep people from switching off when they are at work (in the office) and should be switched on? Engage them, and give them more autonomy and freedom of choice.
When people are in environments where they have control over how they are working and thus feel like co-creators of their work environment and not merely like employees, our own research shows they are more effective and engaged.
That's why contemporary business leadership is about creating influence and culture, not focusing on command and control. The world of social media is fuelled by people with a desire to meet others with similar interests. It is about sharing space, knowledge, goods, services and transportation according to specific use and need, and because social media's influence is so broad, people expect a similar sense of shareability at work.
Organizational culture is the ultimate trump card. People are loyal to brands, whether it's an Apple or a Samsung, because they like what they stand for. They are buying what you, as an organization, stand for, what you do and why you do it—and very importantly, how you say it.
The physical workplace that you provide for your employees is your one chance to communicate what you believe in as an organization to everyone who works there. Your physical environment, the tone of your brand, and how you communicate are your values and culture made manifest. These aspects impact performance, employee engagement, and innovation. In our increasingly digital, virtual world, the enduring value in physical environments comes not from the functionality they provide but how they express ideas and kindle enthusiasm, excitement and engagement. People remember places for these reasons.
So what will the workplace of the future look like? Were I to venture a guess, I would say that it doesn't contain many desks. Instead there will be lots of individual spaces for concentration and spaces for collaboration. There are individual acoustically isolated spaces and immersive caves to aid tasks that require "flow state" levels of concentration. There are more staircases between floors. We will be designing healthy work environments that actually encourage more movement, to make people to walk around more, like Steve Jobs famously did. And there's a sense of sharing that permeates the entire environment. It will be what it should have been for many years – a physical representation of your particular organizational tribe, which will enrich your sense of belonging and identity.
That's an idea worth sharing.
About the Author: Philip Tidd is one of the global leaders of Gensler's consulting practice and has spent the last 20 years working across Europe at the sharp end of where business and buildings/spaces meet. He regularly works across the city and office scale and is a passionate believer in harnessing the power of creative insights to solve clients' complex problems. Contact him at philip_tidd@gensler.com.