"Why are these buildings empty?"
A client recently asked us this question in reference to an unleased project in the Bay Area, arguably the hottest real estate market in the country right now and the epicenter of the movement towards creative office. The answer to that question took us on a journey that culminated in "Spec for Tech," a thought leadership presentation on how to build on spec for tech tenants.
Developers and owners are finding themselves in the midst of an attitude shift about the workplace, led by the tech industry and its predominantly millennial workforce. Tenants are looking for Places rather than offices - settings which blur the line between work and life, and where shared purpose is the new normal. For those developing corporate workplaces, this means that the traditional office building is obsolete. The new work environment is inspired by cities and the attributes that all great urban environments share: access, amenities, mobility and proximity.
"We are a tech firm!" This quote came from a financial services client, and has been echoed by other clients around the world, who think of themselves as tech companies. Banks, insurance companies, and even law firms identify as Tech, which has become a short-hand reference to the creative class that wants creative office space.
These firms share with the tech sector common aspirations for their employees and their workplace. In a market saturated with typical spec office space, innovative companies are looking for spaces that reflect their company culture and allow people to work together with a sense of shared purpose. As more companies embrace tech as their identity, the creative office will become their workplace of choice.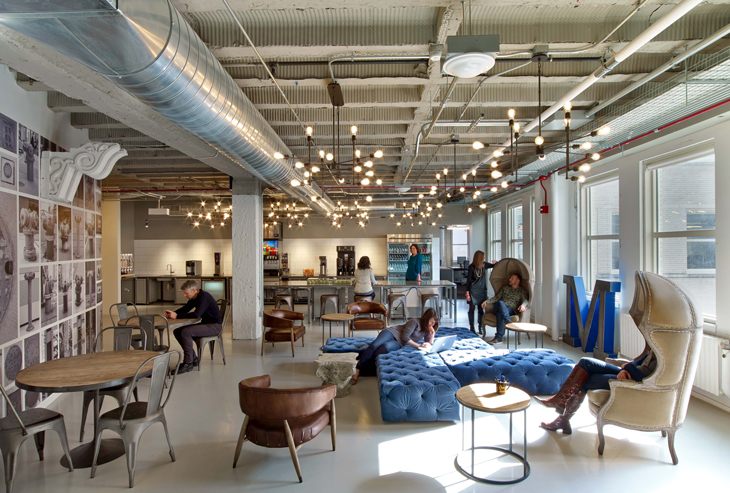 Motorola Mobility office space reflects the company culture and values, and allows people to work together with a sense of shared purpose. Image: Eric Laignel (via GenslerOn).
"How do we get 2,500 people to collaborate?" Companies want their employees together in one location, and that is stretching the boundaries of the traditional campus. How much proximity and access do you need to maintain community, and what's the breaking point? Connection is top of mind for creative tenants because exchanging knowledge and information among employees leads directly to innovation. It's about more than using amenities in a war for talent, and it's more than simply creating large floor plates.
Great office buildings have a lot in common with great cities: a sense of authenticity, culture, and identity. Spec buildings that provide creative office space will differentiate themselves and bring value to the market, to find among their tenants the growing number of firms who are proclaiming, "I am a tech firm!"
About the Author: Ben Tranel is compelled by his belief that architects are stewards of the built environment. As a Principal in the San Francisco office, his role leading architectural projects focuses on the artistry of craft, where a love of detail enhances the human enjoyment of the projects. Contact him at benedict_tranel@gensler.com.