Building owners around the country are facing a dilemma. Half of the country's 5.6 million commercial buildings—including office, hospitality, education and healthcare facilities—were constructed before 1980 and are starting to near the end of their projected lifespan, according to a 2012 survey by the U.S. Energy Information Administration.  
Owners will have to decide whether to renovate these buildings or simply tear them down and start over, a complicated and multi-layered decision. In many cases, the cost of an upgrade and the poor condition of the structure make starting over the logical choice. But it's not always the best option.
With some facilities, a little creativity can save money and salvage a building worth saving. 
In Orange County, stunning modernist buildings designed by Richard Neutra in the 1960s for the Christ Cathedral might have been candidates for a tear down. Instead, the Diocese of Orange and the Christ Catholic Cathedral Corporation brought in LPA to evaluate and rehabilitate the distinctive Arboretum and Tower of Hope. The end result preserves and restores the distinctive architecture, while adding under-floor air conditioning, dual-glazed windows, new LED lighting and a seismic retrofit.
"We were able to extend the life of the buildings for 75 years," says James Wirick, Principal and Studio Director at LPA's Irvine office.
There are no easy answers to the tear down versus renovate question. For building owners, it can be a tough—and costly—decision. Here are a few questions to ask to help navigate the process.
Is there something worth saving?
This is not always an simple question to answer. But it's a good place to start. While historic buildings with big-name architects may call for preservation, the advantages of other buildings are not always readily apparent. In some cases, a detailed analysis can find elements that might have been overlooked in the original design.
"When we begin to reimagine an old building, we're trying to understand the owner's objectives," according to Patrick McClintock, Studio Director and Associate Principal in LPA's Silicon Valley office. "We want to work with the owner to uncover the gifts of the site."
In Santa Clara, California, the owner of 3250 Olcott, a 1970s-era office building, was facing tough competition to attract the new generation of technology companies. LPA was able to transform the existing building with a two-story glass entryway, a new façade and outdoor spaces that take full advantage of the beautiful natural setting. The renovation cost an estimated 60 percent less than the cost of new construction and rents are competitive with the new Class A buildings in the area, according to McClintock.
"Our research was able to identify several features to help bring new life to the building, including a row of mature trees in front that some people saw as an obstacle," McClintock says. Instead, the trees became a focal point of a new courtyard.
"They frame the space and make it special," McClintock says. "Many things that people see as constraints can actually be advantages."
How old is the building?
Before weighing other salient factors, age is probably the most important issue to consider. An old structure is not necessarily bad, but regulatory changes may have made it obsolete and expensive to upgrade to code standards. In recent years, urbanization has spurred municipalities to favor greater density and change development caps; an office that was built when the floor area ratio (FAR) was 1.0 is no longer maximizing the value of the site now that the FAR is 5.0. 
A major renovation is also likely to trigger tough energy efficiency requirements, which are set at the state and local level. On the national front, the American Disabilities Act (ADA), which passed in 1990, mandates that buildings be upgraded with access for the disabled and other accessibility features. And if a building is more than 50 years old, it may need to be evaluated as a historical resource, which may result in preventing an owner from demolishing or substantially altering it.
"The older the building is, the more expensive it is to renovate," Wirick says. 
However, other considerations may be weighted more heavily for a given project. In some cities, a long process of securing entitlements may add cost and uncertainty. A tool for evaluating renovation versus new construction for educational facilities posted in the Journal of Construction Engineering in 2016, discusses "level of effort," which includes not only perceived cost, but scheduling issues, constructability and desired quality. 
What is the condition of the building?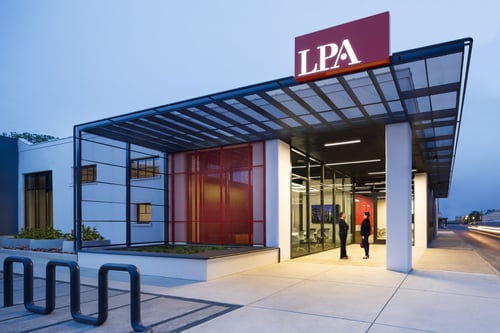 A building that is several decades old may also have gone through one or more interim updates, putting it ahead of the game. An evaluation of the quality architecture and construction should be part of the process. "Good bones" may provide a foundation for renovation, even in much older buildings.
Certain building types also lend themselves to adaptive reuse—turning a building that was originally designed for another purpose to a new use. Old warehouses, with their loft-like structures and large open floor plates, have become attractive candidates for offices. For its San Antonio office, LPA recently renovated a 1950s warehouse which had been vacant for several years, in a redeveloping industrial area. New windows and a roof assembly were installed, and the finishes stripped down to reveal the vintage structure and brick walls. 
"It's considerably cheaper to retrofit these warehouses than to build new, since it already has the foundation and the infrastructure," says Mickey Conrad, Principal at LPA's San Antonio office. "You need to go into these projects with a different attitude, where you embrace the rawness of the project and expose what's there."
What needs to be fixed or upgraded?
At the top of the renovation checklist is an assessment for hazardous materials, primarily asbestos, which was used in nearly every public and commercial building in the U.S. before it was banned in 1978. For wooden structures, termite damage is an obvious concern. But even reinforced concrete buildings can start to fail if the rebar embedded in the concrete starts to rust, a process called spalling, which can begin within 10 to 20 years of construction.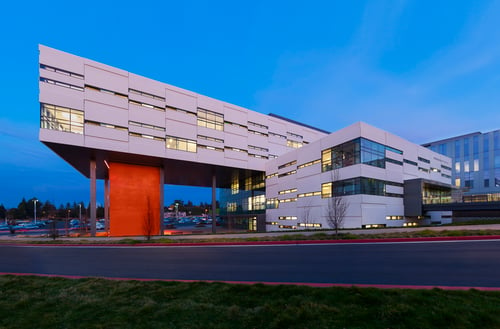 In many cases, it's not always easy to determine the extent of the damage to a building from a cursory study. When LPA began a renovation of a 1970s community center in California, it wasn't until the roof sheathing was completely removed that the true condition of the roof was revealed. "The rafters were toast [from termites]," Wirick says. 
New mechanical systems, energy efficiency improvements and seismic and weather retrofits can all add significant cost to a project, even before aesthetic improvements and additional amenities can be considered.
In some cases, it's simply not feasible to upgrade an existing structure, as was the case of Warren Hall, a 13-story building that defined the Cal State East Bay campus in Hayward, California. The structural reinforcements necessary for a complete seismic retrofit would have been expensive and considerably diminished the amount of functional space in the building. The best course was demolition; LPA designed a new student and faculty building, which created far more value and cost-savings than the potential renovation of the old building. The new building also embraced modern learning environments and created the type of campus connectivity that could not have been achieved by the old building.
Is sustainability a priority?
Sustainability is one of the most complicated calculations for building owners. Because of the embodied energy contained in existing buildings, remodeling is often considered the more environmentally-friendly approach. However, studies show new structures can save energy costs, and there is always the potential of reusing and recycling demolition waste.
The evaluation of sustainability can include a wide variety of factors, says Kimari Phillips, Senior Research Analyst for LPAred, LPA's in-house research department. For a client in downtown San Antonio, research found high walkability, bike and transit scores for the existing building, providing a key benefit for renovating the facility and staying in the original community, Phillips says.
Most building owners are looking at long-term return on investment, which makes it important to conduct a detailed analysis of the potential energy savings. 
"We can use post-occupancy evaluation to see what works and what doesn't work, and where we can find more efficiencies," Phillips says. The AIA Committee on the Environment (COTE) offers a variety of metrics for sustainable design, which can help provide a guide. "We can measure outcomes and link them with the sustainable design intent."
For San Diego State University, LPA renovated Storm and Nasatir Halls, which were built in 1957. In addition to upgrading the classrooms and meeting spaces and code compliance, the design completely upgraded the complex's energy efficiency, including a significant drop in water use and the installation of photovoltaic panels, which helps save the school more than $28,000 a year. The design earned LEED Platinum status for the 60-year-old buildings.