When commercial and residential designers are looking for structural beams that provide stability and strength, engineered wood is an attractive option, offering cost savings and an opportunity to showcase wood's intrinsic beauty. Whether the project's objectives include sustainability, cost savings, or structural alternatives for innovative design, many designers and developers choose engineered wood to help achieve those goals.
Here are a few recent examples of projects that took advantage of engineered wood's performance, availability, affordability, and aesthetics.
Santa Barbara Apartments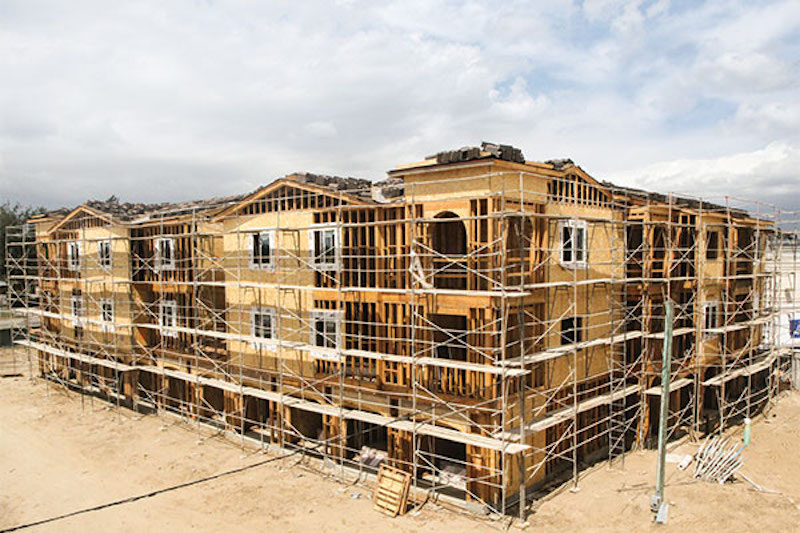 When framing estimates for a new apartment complex in Rialto, California, came in high, developer Barbara Monroy of BM Investments didn't give up. The original project design presented several challenges: the foundation design included expensive grade beams; few of the floor plans stacked, which created a complicated framing plan; and it included costly prefabricated steel shear wall frames surrounding each garage. So Monroy had the project value engineered, and a switch to glulam and wood-framed shear walls got everything back on track.
Learn more about the project, including how the use of glulam created enough cost savings to be equal to one building on Designers Circle.
2125 Franklin Student Housing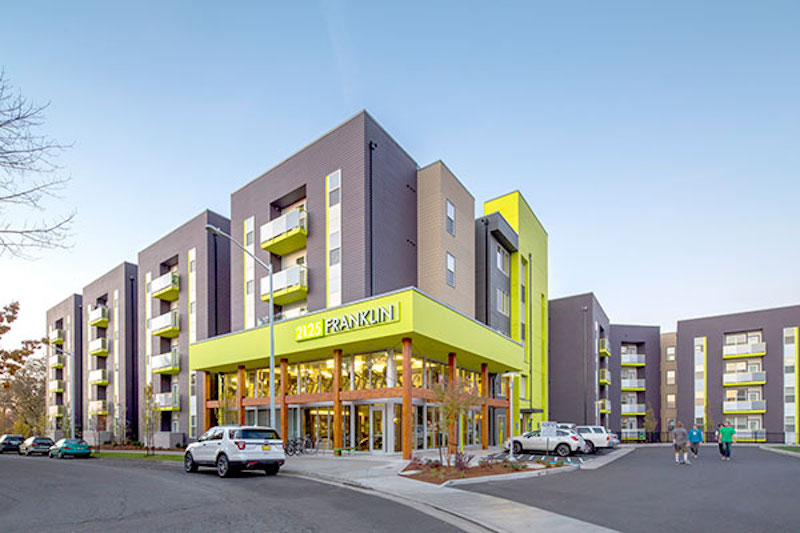 Located in Eugene, Oregon, this all-wood, mixed-used student housing building was designed to articulate the aesthetics of the Pacific Northwest while saving costs and performing a myriad of functions. The first floor houses retail space, a café, fitness area, study rooms, and a parking garage. The four upper floors provide 192 four-bedroom, four-bath units for students at the nearby University of Oregon.
The architect chose glulam beams because they were readily available, cost less than concrete and steel alternatives, and provided a warmth that other solutions could not while fitting "well within the project's budget." Exposed, stained glulam posts provide a visual counterpoint to the bright colors chosen for the façade, and stock glulam beams were chosen to support the 20-foot long spans in the units as well as the door and window headers. 
Read more about this attractive, affordable all-wood student housing project on Designers Circle.
HarborCenter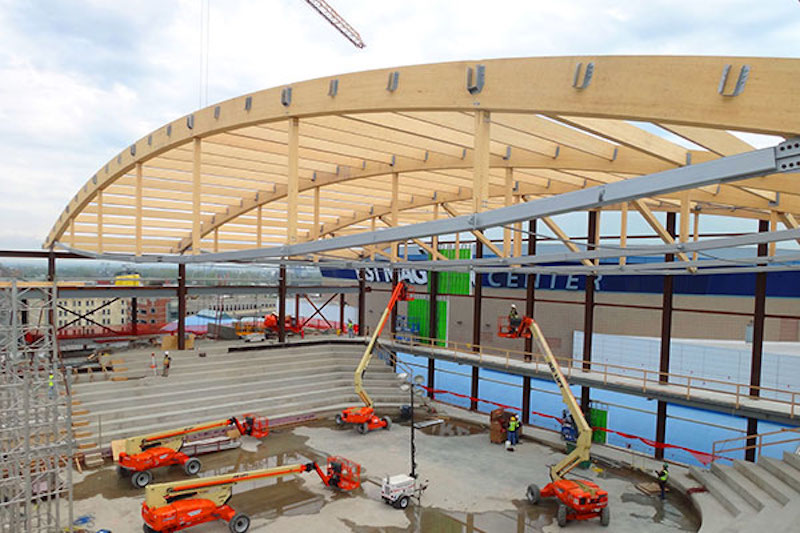 The HarborCenter complex in Buffalo, New York, rises from what was once a parking lot, improving the local landscape and putting the property to better use as a true community space. Two NHL-level ice hockey rinks, making up the top two floors, are the highlight of the complex. A glulam roof system soars above the primary rink, providing a touch of warmth in contrast to the ice below and the concrete and steel elsewhere in the structure. By using hybrid beams, the design team was able to reduce the amount of wood (including the weight) in the structure enough to integrate wood decking in lieu of traditional steel bar joists and corrugated roofing.
"There was a strong desire to use wood," says Ben Downey, PE, senior project engineer, noting wood's aesthetics and sustainability in particular. "We like how it feels, how it looks, and that it's renewable."
Read more about HarborCenter's thoughtful structural design on Designers Circle.
One North Office Buildings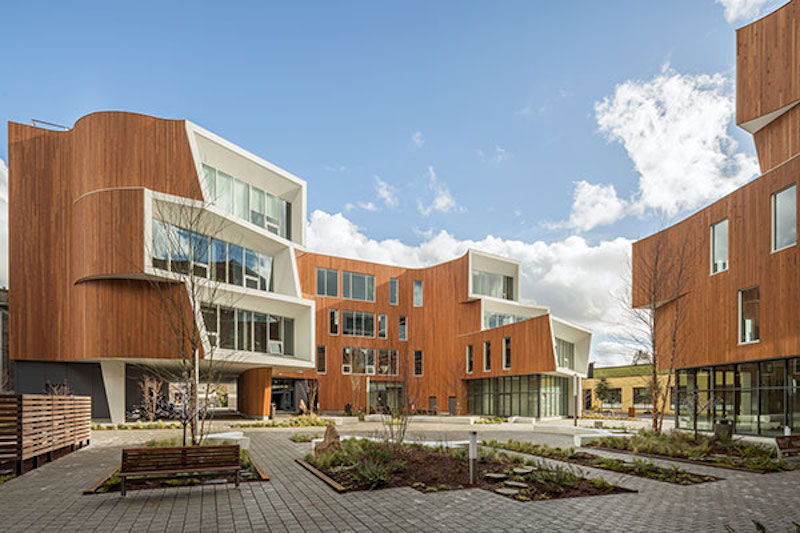 One North Office Buildings in Portland, Oregon, are comprised of three multi-story timber-framed office buildings called The Radiator, One North: East Building, and One North: West Building. The three structures surround a large 14,000-square-foot courtyard, open to the street for use by both tenants and neighbors. The developers wanted the buildings to have a strong sustainability focus and chose glulam to frame the structures to take advantage of the beams' carbon-sequestration capabilities. The glulam framing, which was left exposed to the interior, also met the aesthetic goals of the finished space. 
One North differentiates itself in a number of ways, according to Ben Kaiser, project architect and developer. "We started with the goal to have three buildings that shared resources for the benefit of the block. The courtyard was designed to be a community space, given back to the neighborhood."
Read more about the project, including how glulam played a part in the focus of sustainability of One North on Designers Circle.