In 2010, an unused basement space at the Plaza Hotel in New York City was converted into a diverse specialty food center with engaging counter seats. With its popularity and success, the food hall began to take off. Today, there are hundreds of food halls across the United States with about 15 more planned or in construction as of this year.
We have also seen the trend reach global markets with the completion of the award winning El Palacio de Hierro, Polanco, in Mexico City. Food halls have not only become an economical solution for restauranteurs and chefs experiencing skyrocketing retail prices and rents in large cities, but they also tap into our increased interest in gourmet locally sourced food. The desire for these experiences has extended beyond commercial shopping areas and into sports arenas—going outside the typical food concession experience. We're seeing this request from sports clients, including the Chase Center arena in San Francisco and the Los Angeles Football Club Stadium.
Recently, the Gensler San Francisco Hospitality team conducted a research study on food halls in regards to operation models, food program diversity, location, size, and more. The following post provides a snapshot of our findings.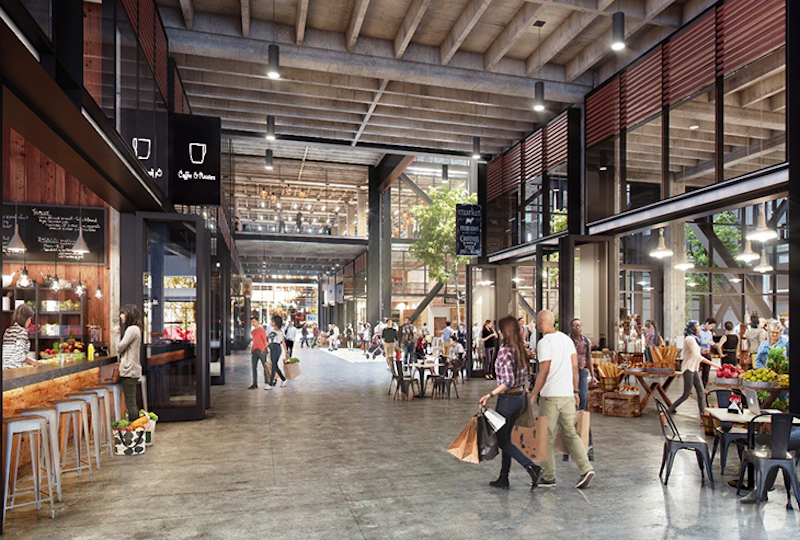 Uptown Station. Rendering: Steelblue.
Small is the new big
Unlike traditional food courts, the sizes of food halls range anywhere from 5,000 to over 40,000 square feet. However, popular size requests are getting smaller, compact enough to fit into existing modest-size urban warehouses or ground floor space of mixed-use residential buildings. Food halls with less than 10,000 square feet (around five vendor stalls) are becoming more popular because they typically offer goods and services that really hone in on what the customer wants and offer unique food curated specifically for the demographic and its culture. Smaller food halls also offer a more intimate dining, shopping and amenity experience and promote a sense of community.
Shacking up
Food halls are becoming more prevalent in the ground floor of mixed-use residential buildings in urban areas. They are becoming a key amenity in both commercial and residential buildings, attracting tenants and residents who are looking for a place that combines live and play with reasonably priced dining and unique food options throughout the day in an approachable environment.
Dine, shop and play
Treated as a true destination for various activities, food halls are more than a place to grab a bite. Recently, these spaces have begun to incorporate unique amenities and programs for customers, local residences, and food and beverage (F&B) entrepreneurs. It's not uncommon to find these spaces equipped with demo and incubation kitchens, event spaces, grocery stores, entertainment facilities for live music, art installations, and more.
Eclectic vs. themed
Many food halls offer diverse cuisine from independent vendors—a mixture of local vendors, larger brand and celebrity chefs. Diversity of options is one of the key factors for success. The extreme opposite is also true. From our study, we found that food halls also have success providing a specific cuisine and overall theme that creates a unique, curated experience for customers. We've seen food halls that are French-themed, offering a café, patisserie and creperie, and we've also seen a beer-themed food hall—the possibilities are endless!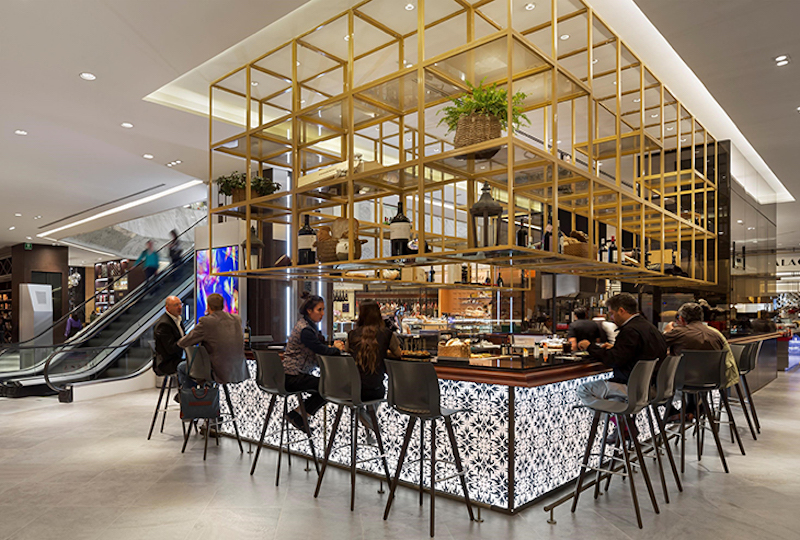 El Palacio de Hierro, Polanco. Paul Rivera.
Taking dining to new heights
The layouts at traditional food courts tend to consist of a large central seating area surrounded by food stalls. This type of layout is quickly fading as more exciting food halls offer counter seating, providing guests with an immersive culinary experience. Instead of offering vast cafeteria style seating space, food halls are providing smaller, more intimate seating pockets scattered throughout the space.
Additionally, counter seating in a food hall is a popular dining and social spot for solo diners and small groups. It's much easier to start conversation and make friends. According to the Hartman Group's study, "Modern Eating: Cultural Roots, Daily Behaviors," 47 percent of eating occasions are alone. Solo diners tend not to make an advance reservation; therefore, counter seats are ideal.
As the requests for food halls increase, we look forward to implementing our key learnings and being tuned into new trends as they happen.