Over the past five years, we've seen a specific trend emerge in the world of higher education. It's the emergence of a relatively small space, called the academic incubator. For Gensler, this began with universities such as MIT and organizations like Chicago's 1871. They were designing hybrid maker spaces that acted as 'bridges' between the worlds of academia and the workplace, and they had the feel of entrepreneurial start-up offices. They may seem like a fad that's spreading lightning-fast through the worlds of business and education, but we think they signal a more important paradigm shift. We see academic incubators as the spark igniting a revolution in design for learning.
Today's students want more from higher education. Degrees and participation in the academic canon are no longer top priorities for college students. Instead, they want to become the next Steve Jobs or Nicola Tesla. They know that a degree isn't required for success in Silicon Valley, because founders at Google and PayPal have said so, loudly.
Yet statistics tell us that higher education still matters. And we know that the few years young people have to focus solely on learning before entering professional life are precious. They're catalytic, transformative—and the way that we design for those years is finally changing, too. Long gone are the days of massive lectures and stationary desks neatly lined in rows. Students can get the world's best lectures online, via YouTube—so universities have to offer more. They need to fuse real-world problems with the kind of nurturing environment dedicated to ideas, wonder and inspiration that drives the best academic inquiry. It's a seismic shift in how universities teach and in how they relate themselves to the world after college, when students make the leap to professional life.
Here are the 10 keys to designing for the future of higher education.
1. Innovate or Die. Online learning didn't kill bricks and mortar institutions, but it did force them to rethink what they offer students that online learning can't. The social interaction that the campuses offer—along with the connections they create between students and faculty, researchers and alumni—are key. What spaces will best foster interaction? The answer is not the traditional classroom or lecture hall.
2. Every school is a "D" school. Business schools are infusing their curricula with a culture that promotes innovation, leverages entrepreneurial skills, and connects smart minds with some of the world's toughest problems. Design thinking is a key component of this mix, and business schools increasingly harness it to drive bigger initiatives.
3. The classroom of the future is Steve Jobs' garage. The innovation launched in Steve Jobs' garage in the early 80's is the stuff of legend; a rough, flexible space gave rise to one of the most advanced technological advances of the century. This isn't a coincidence. In our research, we found that the most successful learning environments are diverse, adaptable, and multimodal. Granted, new learning spaces can be designed with more nuance than a garage, but the goal is to inspire student engagement and fuel the learning process, and that requires room for students to test ideas and get a bit messy as they do it.
4. You don't need books, but you do need libraries. Academic libraries are currently embroiled in a paradox as they struggle to update their use, programming and image for a digital age. With instant access to online information, today's college students often don't need as many printed resources as we once did. Yet, libraries remain vital to college campuses, not only for their physical spaces and resources, but as centers of history, culture and, most recently, innovation. Read more about our research on the role of libraries on university campuses.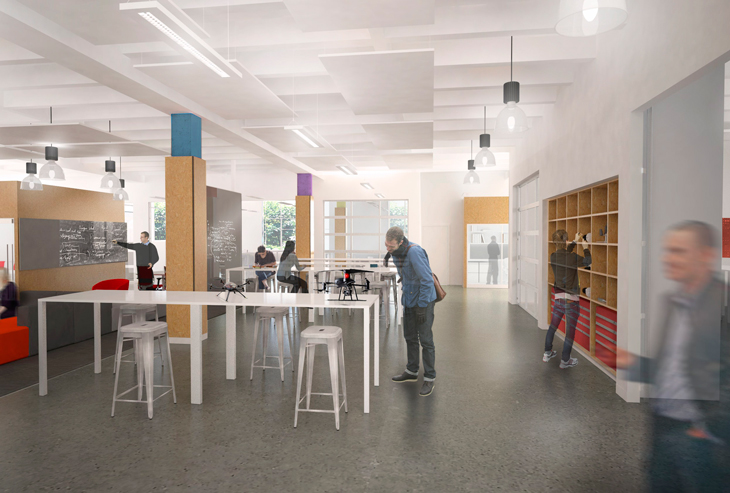 University of Nebraska-Lincoln, Nebraska Innovation Studio, Phase 1 completion August 2015. Image courtesy Gensler.
5. #makeitbreakit. Taken separately, there is nothing new about the elements often included in maker spaces; they all typically exist in distributed locations on campuses. What is novel about the maker space concept is that it provides many different kinds of maker spaces—metal working, wood working, rapid prototyping, electronics shops, and even ceramics, printmaking, sculpting, painting and darkrooms—in a single place so that any idea a student envisions can be prototyped and tested. And perhaps most importantly, it brings people together from different backgrounds with different areas of expertise. Read more about current trends in maker spaces.
6. Build the change they want to see. Campus designs embody institutional values, and students, faculty, alumni and partners want to align themselves with institutions whose values mirror their own. Buildings have an enormous impact on the environment, and institutions can leverage real estate to reflect their core values. Climate change is a key component of this equation, and design can play a key role in achieving institutional goals.
7. If students are start-ups, alumni are VC's. Students angling to launch entrepreneurial ventures—whether not-for-profits or start-up corporations—need financial backing. Academic incubators offer creative, engaging places for students to 'pitch' ideas to alumni mentors or funders, and involve them in their launches. It's no coincidence that alumni are funding academic incubators themselves, a trend embodied in NYU's Leslie eLab.
8. Break down walls. Imagine a classroom. The historic picture that quickly comes to mind is a rectangular room with rows of desks or tables. Our children will not conjure that same image, as forward-looking institutions realize that some of the most important learning on campus happens outside the classroom—in the corridors, on the lawns, in the spaces in between. Designers are finding way to literally break down walls on today's campuses, to promote increased transparency and encourage serendipitous interaction.
9. Think like urban planners. Vibrant communities must be inspiring, healthy, resilient and connected. A university campus—and every component within it—should support these characteristics, too. Central to this approach is considering the interrelatedness of things, and how one element connects with and impacts another.
10. Campus as ecosystem. Building upon the urban planning elements of a campus, many universities are beginning to think of themselves as ecosystems, communities of living things interacting with their environment. The term resonates strongly now in start-up culture, and offers cues to how universities can think of themselves as living, breathing, interconnected frameworks instead of canonic, fixed, or stayed institutions. It's a mindset that embraces change while cultivating inspiration.
About the Author: David Broz is very involved in his community, sitting on nearly a dozen not-for-profit boards and committees, ranging from "Placemaking in the Loop" to "Multicultural Scholars Program at the University of Kansas." A common thread runs through his work and his volunteer efforts: the desire to create great spaces to live, work, and play that respond to today's social and economic realities. Contact him at david_broz@gensler.com.