If a city wanted to replace the amount of cars in its city center while, at the same time, increasing the amount of space available for housing without building on top of green areas, what would be the best solution? In crowded cities without much open land for development, it seems like a tough question to tackle.
Stockholm has come up with an idea that kills two birds with one stone: replace old parking garages with housing, shops, and restaurants. Instead of people driving their cars to the downtown area and parking in a garage, people will now be able to live right in that prime parking location in the heart of the downtown action they crave.
The Stockholm Center Party reached out to Anders Berensson Architects with the request of replacing a parking garage in Stockholm's city center with a skyscraper. The result of this request is Trätoppen (which translates to "the tree top"), a slender, 436-foot-tall, cross-laminated timber (CLT) skyscraper that stands inside an old parking garage while leaving its façades intact.
If you are wondering why they didn't just knock down the garage and replace it, the answer could be found in the fact that the parking garage was designed by Hans Asplund and is one of the most famous in the city. The most unique design element of the parking garage, its façade that exhibits a pattern of numbers relating to the floor you are on, is a characteristic that Anders Berensson Architects decided to carry through to the new building, as well. The wooden façade of the new building will continue the parking garage's pattern of numbers denoting the floor, and, while it will be a bit of an idiosyncratic design element the two structures will share, it will also provide practical benefits as it acts as a sunscreen to keep the building cool and more energy efficient.
Of the skyscraper's 40 floors, 33 will rise above the existing parking garage, with 31 of them being set aside for residential units. Two others will be turned into public terraces. According to a Tech Insider article, each apartment unit will be roughly 850 sf and the public terraces will be on the seventh floor and the 40th floor. Floors zero through six, which will exist within the parking garage, are going to be used for retail stores and restaurants.
The structure has also been designed to cast strategic shadows throughout the day to help cool people and surrounding buildings in the warm summer months. Additionally, the building's numerical façade will reduce greenhouse gas emissions from the city due to the wood's ability to store carbon in its walls, according to the building's architects.
Currently, there is no date as to when construction will begin.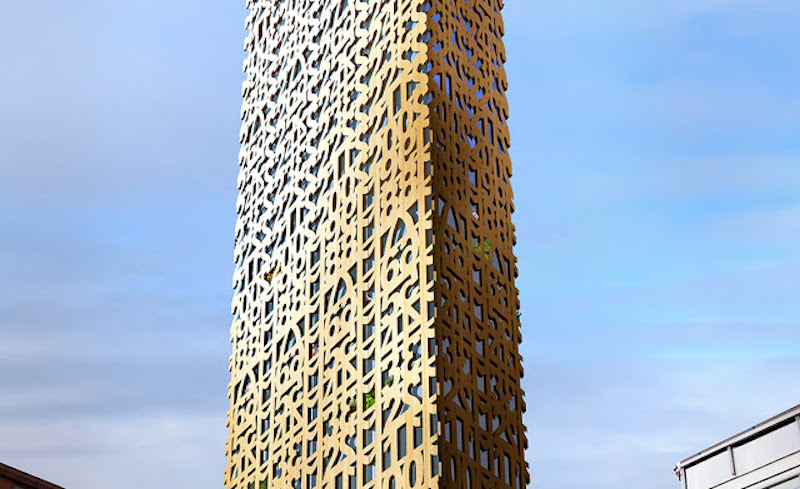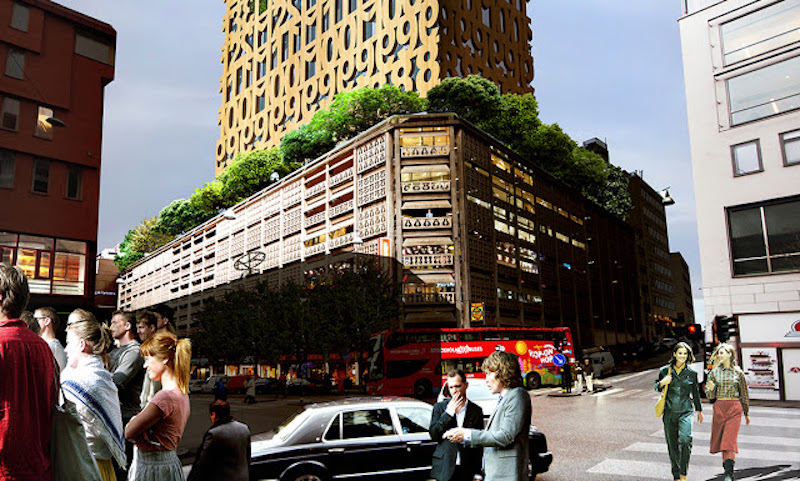 Rendering courtesy Anders Berensson Architects