U.S. architecture, engineering, and construction firms are being stymied by the shortage of experienced design and construction professionals and project managers, according to an exclusive Building Design+Construction survey of 133 C-suite executives and human resources directors at AEC firms.
"Finding good qualified people with experience in running projects is a challenge" is how one respondent summarized the AEC field's shortage of so-called "seller-doers."
Download a PDF of the survey findings (registration required)
Another industry executive worried about the AEC sector's changing demographics, said: "There are not many young people entering the profession, and there is an extreme lack of talented people in the 10+ years' level of experience," said this respondent. "We have no problem hiring college graduates, but keeping them after five years is difficult, and then we start over with a new hire."
KEY FINDINGS FROM THE SURVEY
Four out of five respondents (81.7%) said they anticipate their firms will add at least 5% to their professional staffs over the next two years.
"AEC professionals with 6–10 years' experience" was cited by 24.2% of respondents as the staff category that is more than usually difficult to recruit or hire, followed by "AEC professionals with more than 10 years' experience" (17.1%).
Project managers were deemed the third most unusually difficult position to fill, at 16.3%.
Bringing up the rear: "AEC professionals with 3–5 years' experience," at 13.3%.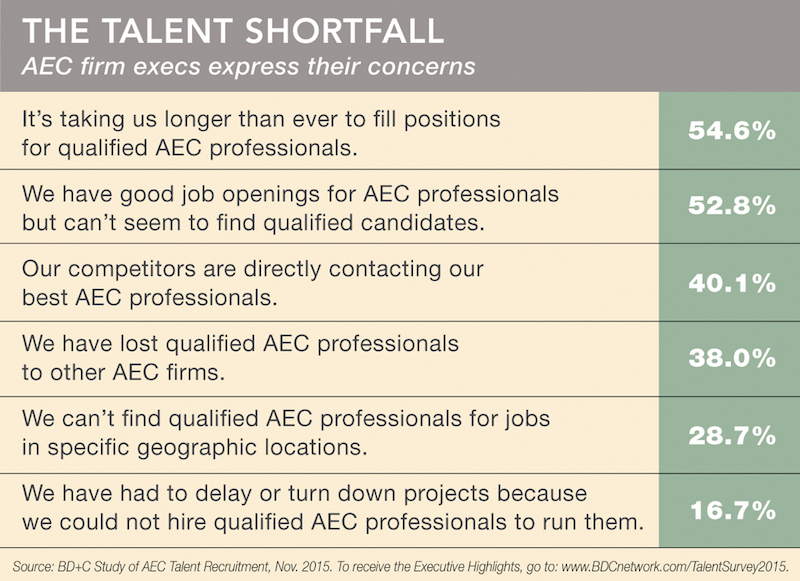 The majority of respondents said the hiring process for key professionals is taking longer than ever (54.6%). Less than one in five respondents (18.5%) 
said their firms have not had serious problems hiring qualified professionals.
"Specialty staff (IT, BIM/VDC, Revit, CAD, etc.)" were determined to be unusually difficult to recruit by 10.0% of respondents.
Nearly six of 10 respondents (58.1%) said it has taken their firms four months or more to place their most difficult positions to fill.
More than six in ten respondents (61.1%) said "flexible work hours" was offered as an incentive to attract qualified AEC professionals.
Nearly seven in ten respondents (69.4%) stated that they used "word of mouth" (not specifically defined) as a recruiting tool. Nearly a quarter of respondents (23.2%) cited "word of mouth" as their firms' most effective recruitment tool.
The majority of respondents (54.6%) agreed with the statement, "It's taking us longer than ever to fill positions for qualified AEC professionals."
More than four in five respondents (81.5%) reported one problem or other in their firms' efforts to recruit and hire the right professionals.
Perhaps most startling of all was the finding that one in six respondents (16.7%) said their firms had delayed or turned down projects because they could not hire qualified AEC professionals to run them.
Respondents offered possible remedies for the talent shortfall. "Competition for talent is high," said one respondent. "Focus by the entire team, including talent recruitment professionals, hiring managers, and company leadership, is key to success."
"Firms need to realize that to attract and retain talent you cannot keep operating your company the same way they have been for the last few decades," said another respondent. "You need to offer more vacation time, flexible hours, good insurance, a good salary. The firms that do this well do not seem to have issues with attraction and retention. Also, we have to be cognizant that these peak times will soon enough swing downward: they always do."
Download a PDF of the survey findings (registration required).