The renovation of Weiser Hall, a Mid-century academic building at the University of Michigan, provides new daylit spaces, community clusters, greater accessibility, and sustainable design features. The building had been mostly vacant since 2014, when the astronomy department moved out.
Weiser Hall is now home to the university's International Institute and associated programs of the College of Literature, Science and the Arts. (It is named after Board of Regents member Ron Weiser, who has committed $90 million to the university.) Improvements include 98,000 sf of barrier-free, gender-neutral, code-compliant space.
Each of Weiser Hall's 10 floors accommodates learning spaces, meeting rooms, glazed offices, conference rooms, and student and staff lounges. The abiding renovation strategy was to open up the space and foster collaboration by reorienting closed offices to face open ones.
The ground floor has been turned into a multipurpose learning space adjacent to a feature stair amphitheater. On the southwest corner, the project team stacked four double-height commons that overlook an area visible from the main pedestrian thoroughfare and quad on the central campus.
Each common space has a two-story biofilter living wall that is connected to the HVAC system. The biowalls remove VOCs and moderate indoor temperatures.
The 10th floor was reconfigured as an event space, art gallery, and boardroom by removing columns and raising a section of the roof.
Thermal-efficient windows and mechanical systems, including chilled-beam cooling, were installed. The brick façade was restored to maintain Weiser Hall's aesthetic alignment with the rest of the campus.
Interiors have been modernized through lighting design and digital displays. Solid walnut was used in the feature stair, doors, and butcher-block millwork.
Weiser Hall is Diamond Schmitt's third project for the university. It was preceded by the Computer Science and Engineering Building and Thayer Academic Building.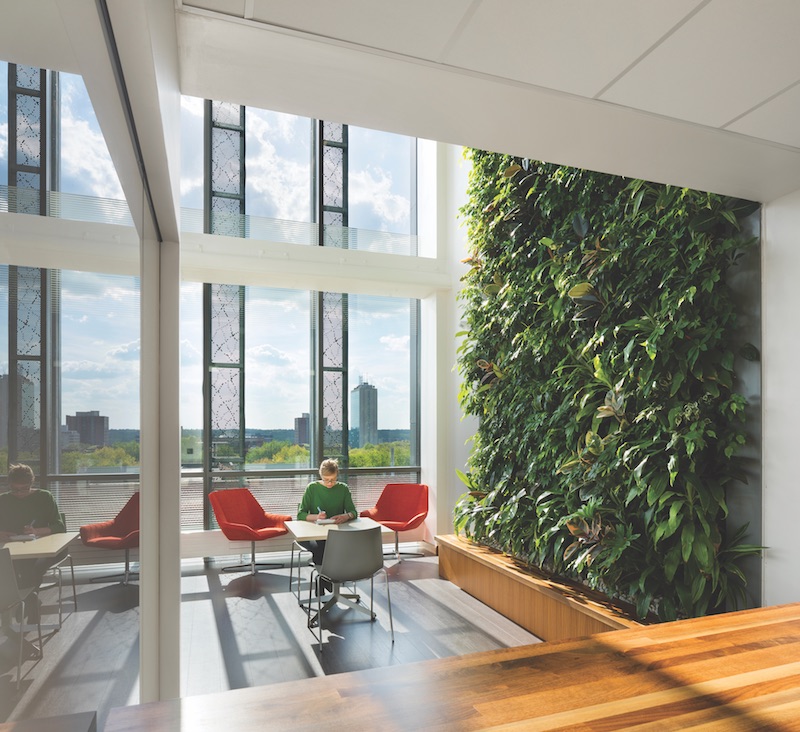 Photo: Tom Arban Photography.
Gold Award Winner
BUILDING TEAM Diamond Schmitt Architects (submitting firm, architect) University of Michigan (owner) EJC Engineers (SE) Crossley Engineering (M/E) DeMaria Building Company (GC) DETAILS 99,500 sf Total cost $37 million Construction time December 2015 to April 2018 Delivery method Design-bid-build