Control. It's what most architects dream of. But designers rarely, if ever, get total control of their projects. That honor goes to whoever holds the purse.
Jared Della Valle is all too familiar with this quandary. Nearly 20 years ago, the Long Island native, trained in architecture and construction management at Washington University in Saint Louis, found himself doing CM work for a developer friend in New York City. At the same time, he and another WUSL grad, Andrew Bernheimer, were entering GSA Design Excellence competitions and picking up whatever renovation jobs they could grab. "It's very hard starting out as an architect," he says. "It's either design competitions or going to your friends for work."
BD+C MOVERS AND SHAPERS

The People, Institutions, and Movements that are influencing design and construction in the U.S. and around the world.

Dan Gilbert – Detroit's Catalytic Converter
Judith Rodin – Crusader for Resiliency
Bruce Katz – Urban Evangelist
Millennials – The Disruptors
Alloy LLC – Vertical Integrator
Jerry Yudelson – Green Giant
The PANAMAX Effect – The New Panama Canal
Theaster Gates – Real Estate Artist
Rather than sitting patiently by the phone, Della Valle decided to try buying and redeveloping buildings on his own. Just two problems with this plan: he knew almost nothing about real estate, and he had no money.
Neither of these obstacles fazed him. Della Valle hired a broker to sift through reams and reams of city tax records—this was pre-Internet as we know it today—in search of viable (i.e., cheap) properties. At the same time, he beat the bushes for leads. "I just kept telling people, 'I'm buying buildings, let me know if you hear about anything,'" he says.
To nail down financing, Della Valle, who also holds an MBA degree, started putting development packages together. "I had my business school friends critique my presentations and look at my formulas," he says. This effort led to work for the Della Valle Bernheimer firm, but just more of the same.
DVB's big break came in 2002. The city's Housing Preservation & Development Department put out an RFP for 10 affordable units in the East New York section of Brooklyn. "Andy and I brought in some of our friends"—Architecture Research Office, Lewis Tsuramaki Lewis, and Briggs Knowles Architecture—"and we treated the RFP like a competition," recalls Della Valle. "We all designed the hell out of it."
Having four firms design five duplexes may seem like wretched excess, but it won them the contract. CPC Resources provided the financing. The contractor, E T Partners, brought the job in at $110/sf construction cost (the land was donated by the city). Thousands applied for the homes, which were capped by the city at $330,000. Glenmore Gardens was occupied in March 2007.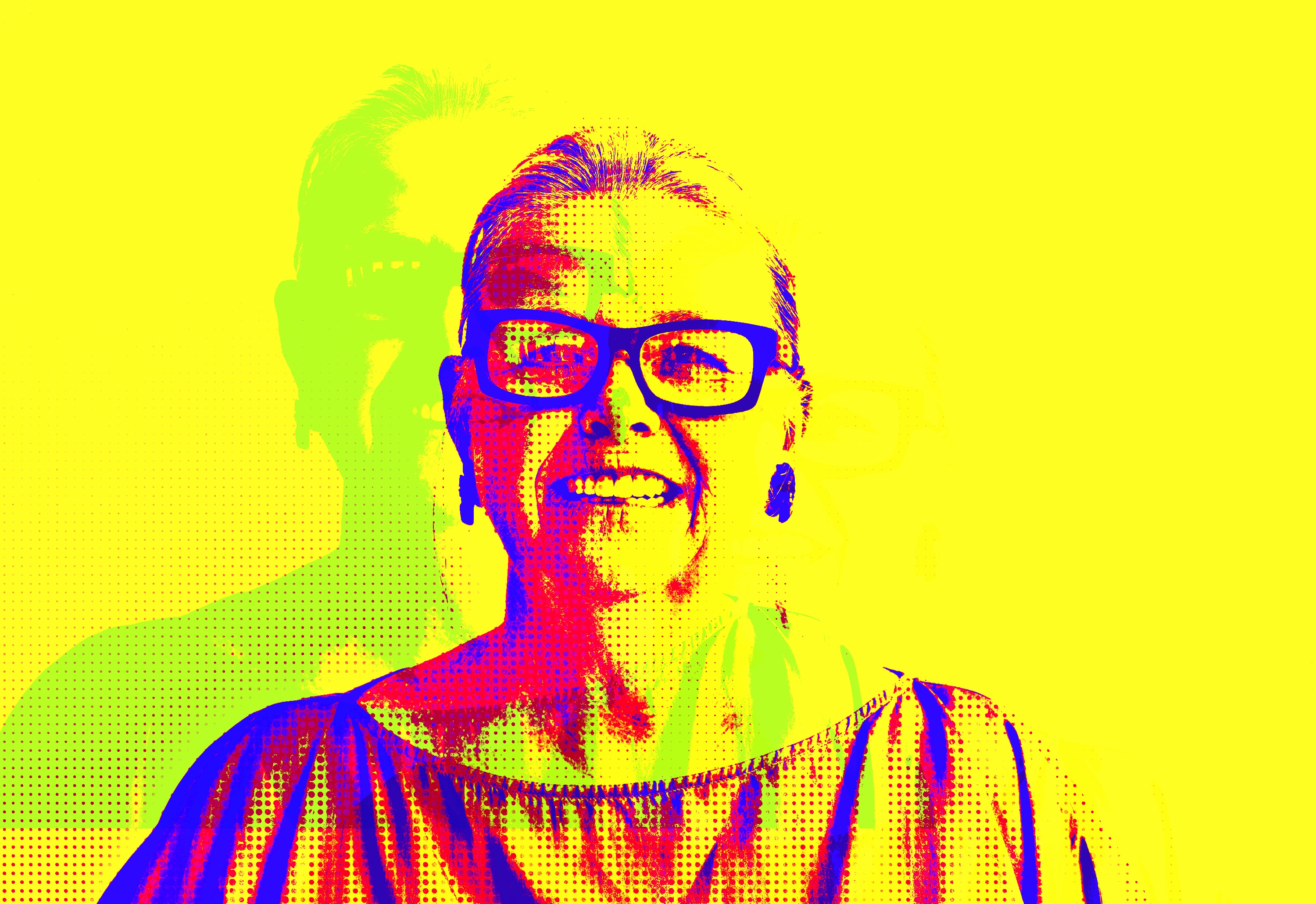 Katherine M. McConvey, CEO of Alloy LLC, has created a new business to provide affordable housing in New York. "It's part of her personal philanthropic mission to invest in the city," says her business partner, Jared Della Valle.
THE INTEGRATION MODEL
In the meantime, Della Valle chanced upon Katherine McConvey, sole owner of KMM, a billion-dollar supplier of wire and cable to telecomm companies. McConvey was living in a building that DVB was converting to condos. She hired DVB to design the penthouse for her. She didn't take the penthouse, but she liked working with DVB. She told Della Valle she wanted to invest in a building with him.
"I worked like crazy on this one transaction," recalls Della Valle. "You never show your proposal to your best candidate first. You show it to everyone else, so you can find out what the difficult questions are."
This time, when he finally showed McConvey his plans for 459 West 18th Street, in the up-and-coming West Chelsea neighborhood of Manhattan, she did take the penthouse. The next day, she wired him a million dollars. Not long after, she asked Della Valle, "Why don't we start a company?"
In October 2006, Alloy LLC was born, with McConvey as CEO, Della Valle as President. "I would find all the projects and manage the day-to-day, and we would piggyback on KMM's infrastructure for HR, accounting, legal, and so forth," recalls Della Valle. AJ Pires, a Penn MArch with a background in real estate, was brought on as a Partner and EVP. (DVB continued until 2011, when Bernheimer left to form his own firm; in 2012, he became Dean of the MArch program at Parsons the New School of Design.)
McConvey's deep pockets gave Alloy what Della Valle calls "newfound capacity." "We could write a check tomorrow on a property," he says. "A small group of people could move very quickly and make the decision."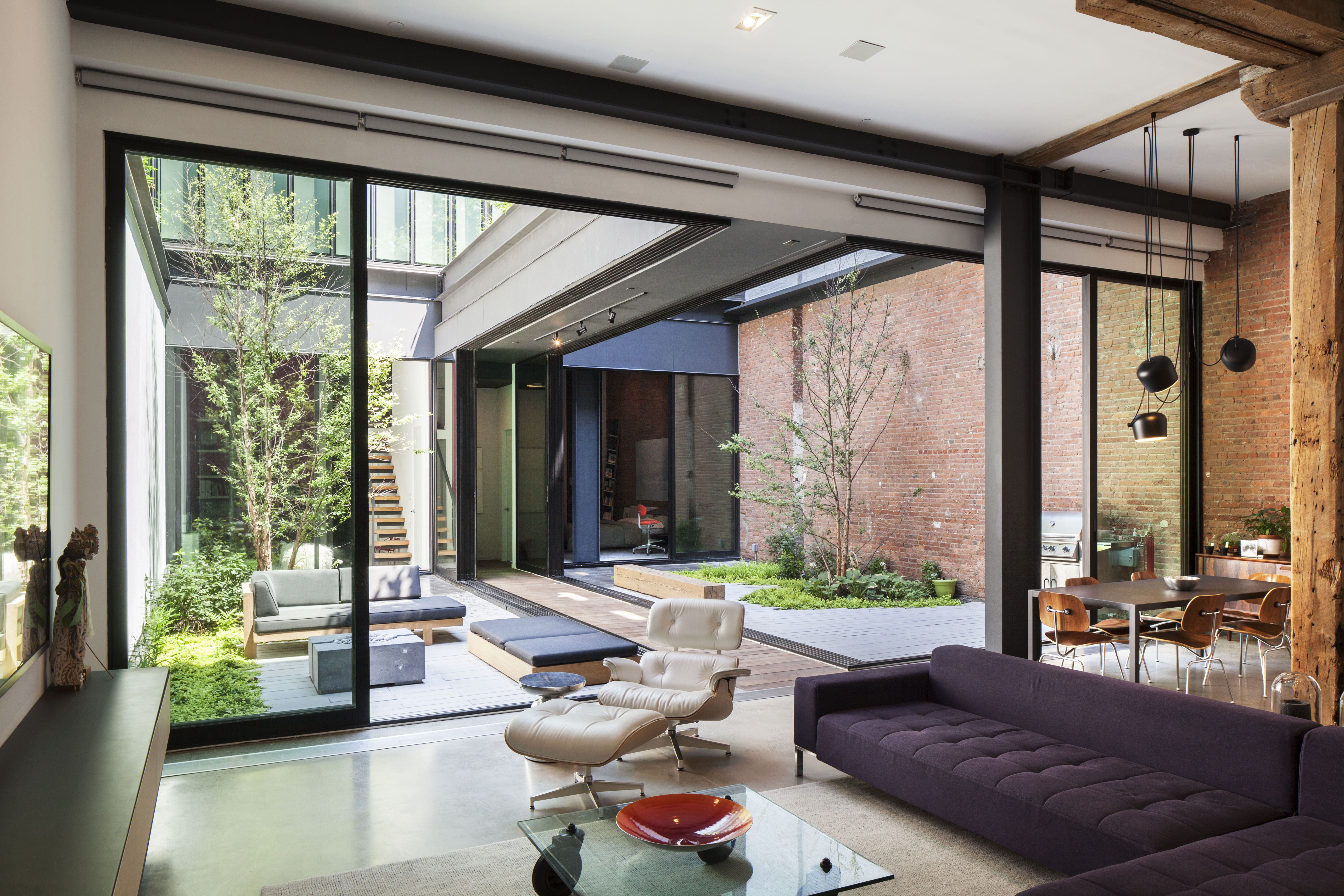 Ground-floor unit of 185 Plymouth Street, in Brooklyn's rapidly developing DUMBO neighborhood. Alloy LLC converted the former Brillo soap pad warehouse into eight lofts and two penthouse units. Click to enlarge.
GETTING READY FOR DECADE TWO
As the firm looks toward its 10th anniversary, in October, Alloy can look back on a number of high-end projects in Brooklyn and Manhattan. Of greater significance than the individual projects is Alloy's business model. The firm's six entities control the entire development process: real estate development, design, construction, brokerage, property management, and community development. Alloy has a select list of AEC firms that it has worked with on an as-needed basis, while maintaining 100% control of its projects.
"We're producing 20, 30, 40 times the revenue of a typical architecture firm," he notes. More important to him is the freedom the model provides to place an "absolute focus" on quality.
Alloy is not the only firm in New York with such an expansive brief. FLANK, founded in 2002 by architects Jon Kully and Mick Walsdorf, offers design, real estate development, marketing, and sales capabilities for high-end projects. DDG Partners, with offices in New York, California, and Florida, provides capital development, design, real estate development, construction, and asset management. Architect Peter Guthrie, Chief Creative Officer, is a Founding Principal.
Alloy has hit a few bumps along the way. The firm bought a property in Hudson Yards in 2007, just before the market crash. The banks stopped lending, and Alloy had a week to come up with $47 million for the closing. Luckily, Boston Properties came to the rescue. Alloy master planned the property, but later withdrew from the project. "As much as we liked partnering with Boston Properties, we would have been a minor player. They would have driven the development," says Della Valle.
Della Valle says the firm has also learned that, for manageability, its sweet spot is midsize projects in the 100,000–200,000-sf range. "That's the difference between being a developer and being an architect," he says. "As a developer, you're taking on risk, and that can be a distraction from the design. You don't want to be doing too many things at one time."
Plans to move the firm from DUMBO to the Gowanus section of Brooklyn recently hit a snag. To comply with a U.S. EPA order to clean up the Gowanus Superfund site, the city has proposed building an eight-million-gallon combined sewer overflow plant on property that Alloy holds under a 99-year lease. Alloy has countered with a plan to donate parkland and construct a commercial incubator on the site to bring jobs back to the former industrial area. Della Valle says Alloy's plan would save the city $100 million, but so far, the city isn't budging.
There's also a sense that, despite its high-minded principles, Alloy's work has been geared toward the wealthy. (The penthouse at 1 John Street recently went under contract for $8.8 million.) That's about to change. McConvey has set up a new business to develop affordable and middle-income housing in the city. "We've already responded to a few RFPs," says Della Valle. "It's all part of Katherine's personal mission to invest in the city."
Della Valle says he has little interest in growing Alloy much beyond the current staff of 18. "We don't want to be 50 people. We have a workforce that's like a Swiss army knife—they can do anything. If we can build 10 or 15 great projects over the course of our careers, that would be plenty," he says.
But he is looking to spread the Alloy model to other cities. "We want to find people who share our values," says Della Valle. "We can provide infrastructure and investment to support them. We want to create a network of younger firms that are clearly design capable and have the capacity and interest to do what we're doing."
ALLOY LLC PROJECTS
(Click boxes to enlarge photos)