In August, Champalar Holdings Pvt Ltd. will open a five-star luxury resort on Huravalhi Island in the Maldives. The venue will include an underwater restaurant, the second of its kind in the world. Both were designed by M.J. Murphy Ltd., Auckland, New Zealand.
General contractor Fitzroy Engineering spent 10 months building and outfitting the restaurant, which was submerged onto piles near a coral reef in the Indian Ocean in March (bottom photo).
The 410-ton restaurant measures 18 meters long by 5.4 meters wide. It is 13 meters tall, about 30% longer than a similar underwater eatery M.J. Murphy designed 11 years ago for the Conrad Maldives Hotel (top photo). The new facility will accommodate 24 diners.
The acrylic arch covering the new restaurant, five meters wide and 130 mm thick, lets diners feel engulfed by the ocean and aquatic life. The end wall has a panoramic, 190-mm-thick acrylic window that allows for spectacular views along the sloping reef. Japan-based Nippura Co. was the fabricator.
A week after the restaurant was submerged, three concrete slabs inundated with live coral were lifted onto steel outriggers. They will create a coral garden to attract fish to the restaurant.
The restaurant will be accessible via a spiral staircase. Most food will be brought in from an on-shore kitchen via dumbwaiter. A small kitchen in the restaurant's lobby will be used to prepare a limited amount of food and drinks.
In February, Tranzcarr Heavy Haulage moved the restaurant the five miles from Fitzroy's factory in New Plymouth, NZ, to Port Taranaki. Two cranes with 400-ton capacities hoisted the structure onto a ship that transported it to the Maldives over a three-week voyage.
The project team included Heavy Force (pilings contractor), Jackson Engineering Advisers (air-conditioning consultant), Stuart McKechnie Architects (interior design), Origin Fire Consultants (fire engineer), and LHT Design (electrical consultant).
Mike Murphy, M.J. Murphy's Managing Director, told BD+C that the final cost of the restaurant itself will fall somewhere around US$6 million, not including the access jetty back to the shore, the above-water lounge-bar, the kitchens, toilets, and A/C plant room building.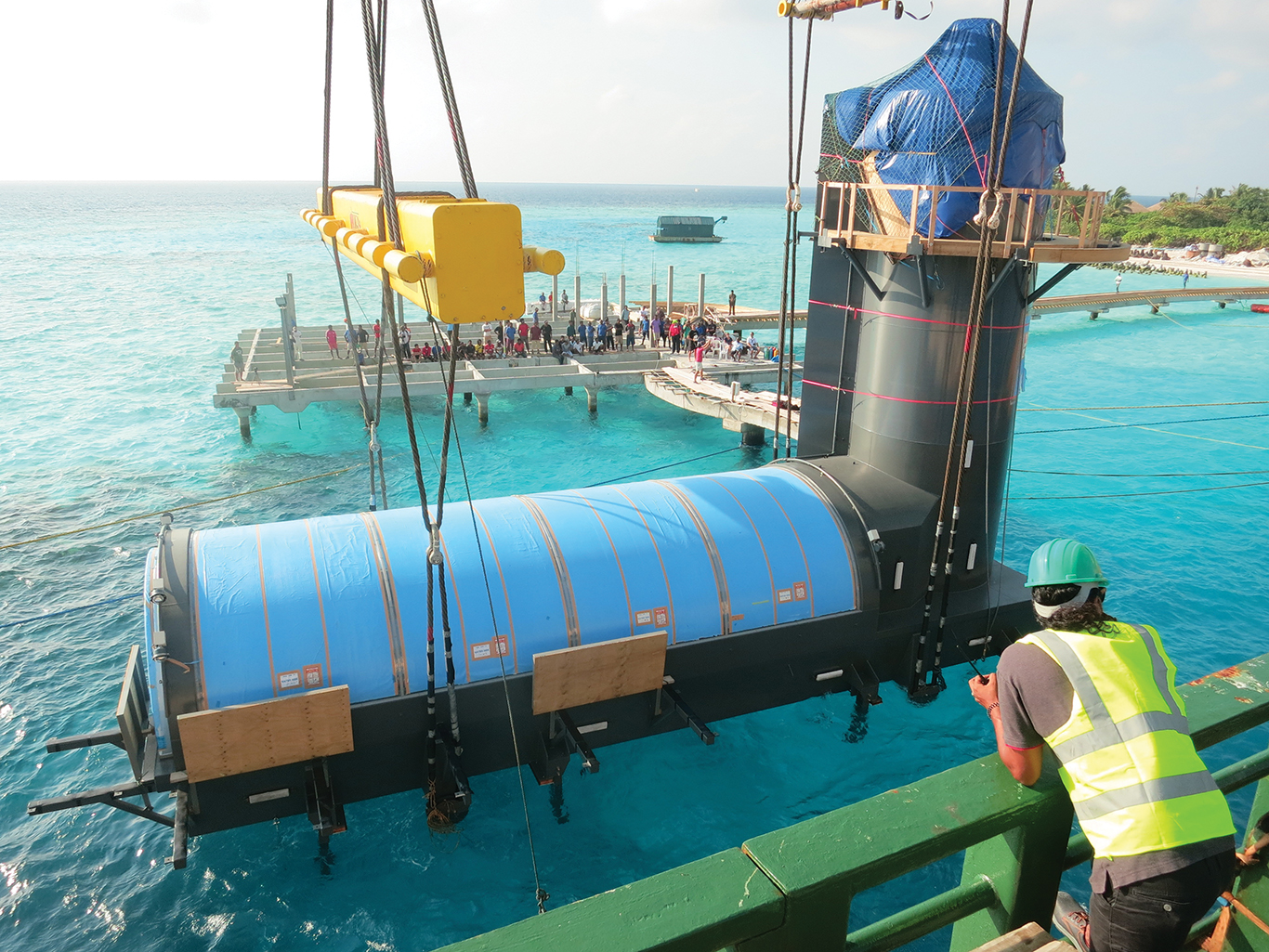 Crews submerging the 410-ton, nearly 100-sm structure. Courtesy MJ Murphy. Click to enlarge.