Data centers are now key economic drivers for metros around the country, which has caused a construction  spurt triggered by generous tax incentives.  
Employment and revenue in the third-party data center sector will continue to rise over the next five years, during which consolidation will reduce the number of providers. And sometime this year, rates and terms, which so far have been favorable to users, are expected to start firming up.
These are some of the predictions in JLL's latest Data Center Outlook, which offers a national perspective on this hot and expanding sector, as well as analyses of data center demand and construction activity in 17 major North American metros.
JLL leads off its report by stating that the data center market "is in continual growth mode." Employment has increased annually by 7% since 2010, and is expected to grow by 3.8% per year through 2020, hitting close to 700,000, according to IBIS World.  
The report quotes 451 Research, which tracks emerging technology segments, that revenue from data centers will grow by 14% annually over the next two years.
In light of such forecasts, JLL notes that state and local municipalities are competing vigorously to bring more data centers to their markets. For example, Missouri passed tax breaks for new data centers that involve at least a $25 million investment and 10 jobs. Texas passed tax incentive legislation that provides 100% exemption of sales taxes on business personal property necessary for data center operation over 10 to 15 years for large data center users.
As was probably to be expected, given historical trends in other industries, larger providers are beginning to dominate this field. JLL expects industry consolidation to place more control in their hands, and also sees the big guys pursuing opportunities outside of North America in markets where demand is increasing. Stockholm, Vienna, Madrid, and Milan are some of the places in Europe where increased investment interest is most evident.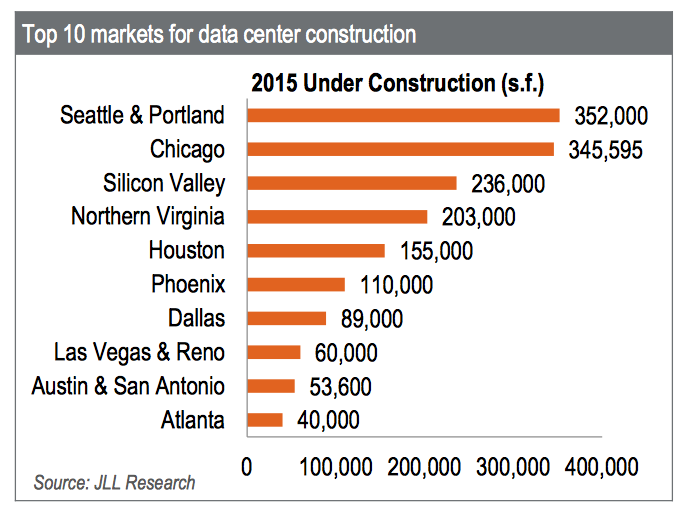 Many metros are using tax incentives to encourage data center construction in their markets. Image: JLL Research
Consequently, smaller and midsize providers are expected to compete by placing more emphasis on their greater geographic coverage and service options. "Providers unable to compete on services will focus on the quality of location, network connectivity, build and price."
JLL identifies the Internet of things, software-defined data centers and disaster recovery as demand drivers. It believes, for example, that the data center market could be at the center of the trend where business-to-business connections rise to 5.4 billion in 2020 from 1.2 billion in 2014.
Renewable energy producers should also benefit from the growing trend of data centers purchasing their long-term power needs from wind farms and other alternative energy sources.
The combination of these and other factors "are pushing public cloud and third-party data center solutions to the top of the agenda for IT decision makers," JLL observes.  "Most are looking to decrease their ownership of data center facilities and deploy a hybrid structure with a mix of on- and off-premise capacity. The uptick in overall leasing volume is causing demand to start to spread out and some emerging markets are seeing more transaction activity."
The report goes on to predict "a large and gradual flow of data center occupancy from enterprise facilities to the third party market over the next several years." It points, as precursor to this transition, to Netflix's recent decision to shut down the last of its enterprise data centers, making it one of the first big companies to run all of its information technology remotely.
The top 10 metros in North America each has more than 20 third party providers, illustrating a level of maturity and competition in the market. "We believe that pricing has largely stabilized and will be firmer over the near-term. However, favorable rates and terms are still available in many markets for the next year or so," states JLL.
On the other hand, report expects supply to increase conservatively in markets where absorption has slowed, as providers look to close the gap between available stock and demand. "We believe providers will be able to firm up pricing in the second half of 2016."
The report offers a breakdown of data center demand in 17 markets in North America.
In Seattle-Portland, which currently has the more data center square footage under construction than any other metro, data center rental rates have not yet increased, as there is still a variety of colocation options for users. JLL foresees a "hot investment market for stabilized core assets." There is high demand for land in data center markets, particularly in the Portland suburb of Hillsboro, Ore.
In Atlanta, the data center investment climate remains hot for providers, and assets are expected to continue to trade hands at attractive cap rates.
Other market highlights include the following:
• Northern Virginia surpassed the New York/New Jersey region in terms of operational data center square feet in 2014 and was on track to lead the U.S. again in 2015.
• In California's Silicon Valley, pricing is expected to trend upward in the second quarter of 2016 due to a historically low inventory of turnkey product.
• Both Houston and Calgary, Alberta, in Canada may see a slowdown in demand due to the decline of oil prices and contraction in the energy industry. However, absorption has remained stable.
• Chicago has seen an increase in leasing from west coast technology companies developing latency sensitive sites for cloud hosting strategies. However, a large construction pipeline in the suburbs is keeping this market as user favorable.
• In contrast to some other markets, providers in Dallas are looking to replenish supply with record development. Conversely, rents have yet to stabilize.
• Reno, Nev., is experiencing an uptick in data center development led by Apple, Switch, and eBay, due to an abundance of renewable power resources.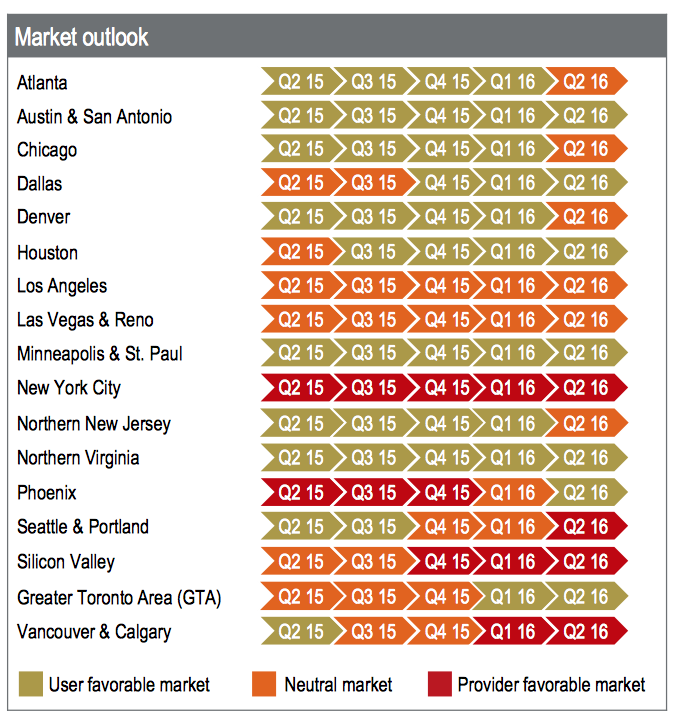 JLL Research expects employment and revenue gains for data centers to continue through 2020. But rents and terms are expected to tighten sometime this year. Image: JLL Research