When Larry Thompson became President of Ringling College of Arts & Design, Sarasota, Fla., 16 years ago, it had 850 students. Thompson recalls worrying, at the time, about the viability of the school's business model. "Private schools that survive are those that move into the top tier," he says.
So his administration drew up a strategic plan in 2004 that focused on investing in technology, and defraying the cost by increasing its enrollment. Within three years, the school had expanded to 11 majors, from seven, and was on its way to growing its student body to 1,300, where it stands today.
To support that growth, Ringling has engaged in an aggressive building campaign, with some projects providing revenue streams.
Its first new building, completed in 2006, was a 75,000-sf student center with a rent-generating residence hall. An entire floor of the facility was allocated for computer animation and game art, which has since emerged as a major program. The walls are decorated with posters of movies that alumni have worked on. "It became an important part of Ringling's branding," says Thompson.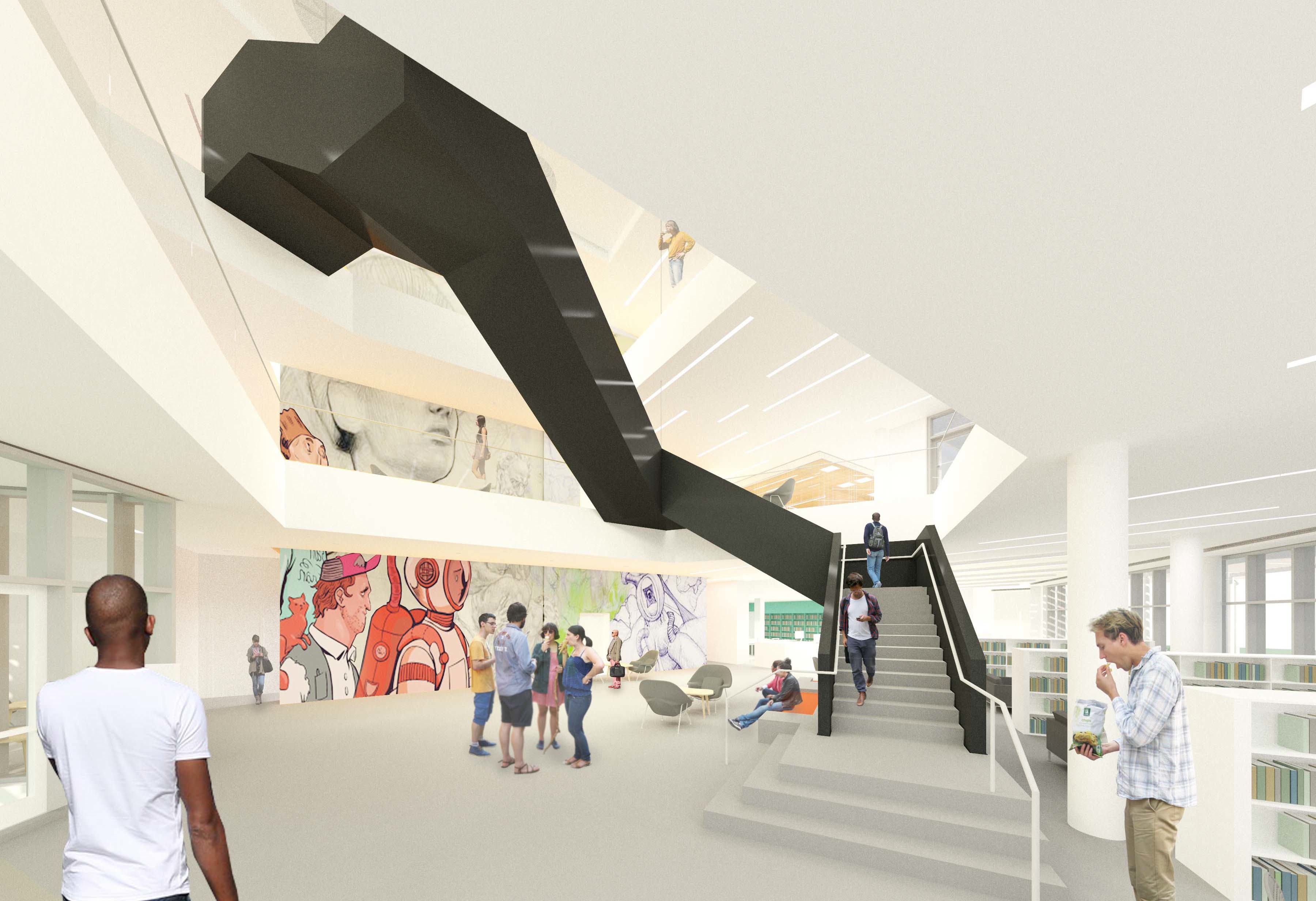 Interior of Ringling's new $18 million, 46,000-sf library. Click image to enlarge.
In 2010, the college completed a 75,000-sf academic center primarily for new majors, which included one of the country's first business-art design programs. One floor of the building is dedicated to motion design, others to graphic design and drawing studios.
Apparently, the school's investment is paying off, as U.S. News & World Report in 2014 cited Ringling as America's "most wired campus."
The college isn't finished expanding, either. It has four construction projects under way:
An $18 million, 46,000-sf library, scheduled to open this fall, that is designed by Shepley Bulfinch to adapt to new technologies as they emerge.
The Richard and Barbara Basch Visual Arts Center, designed by Sweet Sparkman Architects and scheduled to open by year's end. It will house advanced tools and facilities for woodworking, glass, ceramics, printmaking, photography, and digital fabrication, in addition to gallery space.
A 25,000-sf film soundstage and 5,000-sf post-production space, designed by DSDG Architects. When it opens next year, the space will expand the campus's Studio Lab program, which brings industry professionals to Sarasota to mentor students.
The Sarasota Museum of Art, designed by Apex Studio Suarez, with The Lawson Group as architect of record. It is an adaptive reuse of a historic high school that hadn't been used in 20 years. When it opens in early 2017, one third of the 57,000-sf building will be used for museum exhibits, with the rest of the space allocated to continuing education—again, another revenue stream. (For most of its projects, Ringling uses Willis Construction as its GC.)
The museum wasn't in Ringling's original strategic plans. But, as Thompson explains, "it presented an opportunity for us to tap into the Sarasota community," many of whose members collect art and engage the campus.
When Thompson presented the museum project to the school's board, "I told them to think of it as our football field," in terms of revenue potential. "They got it."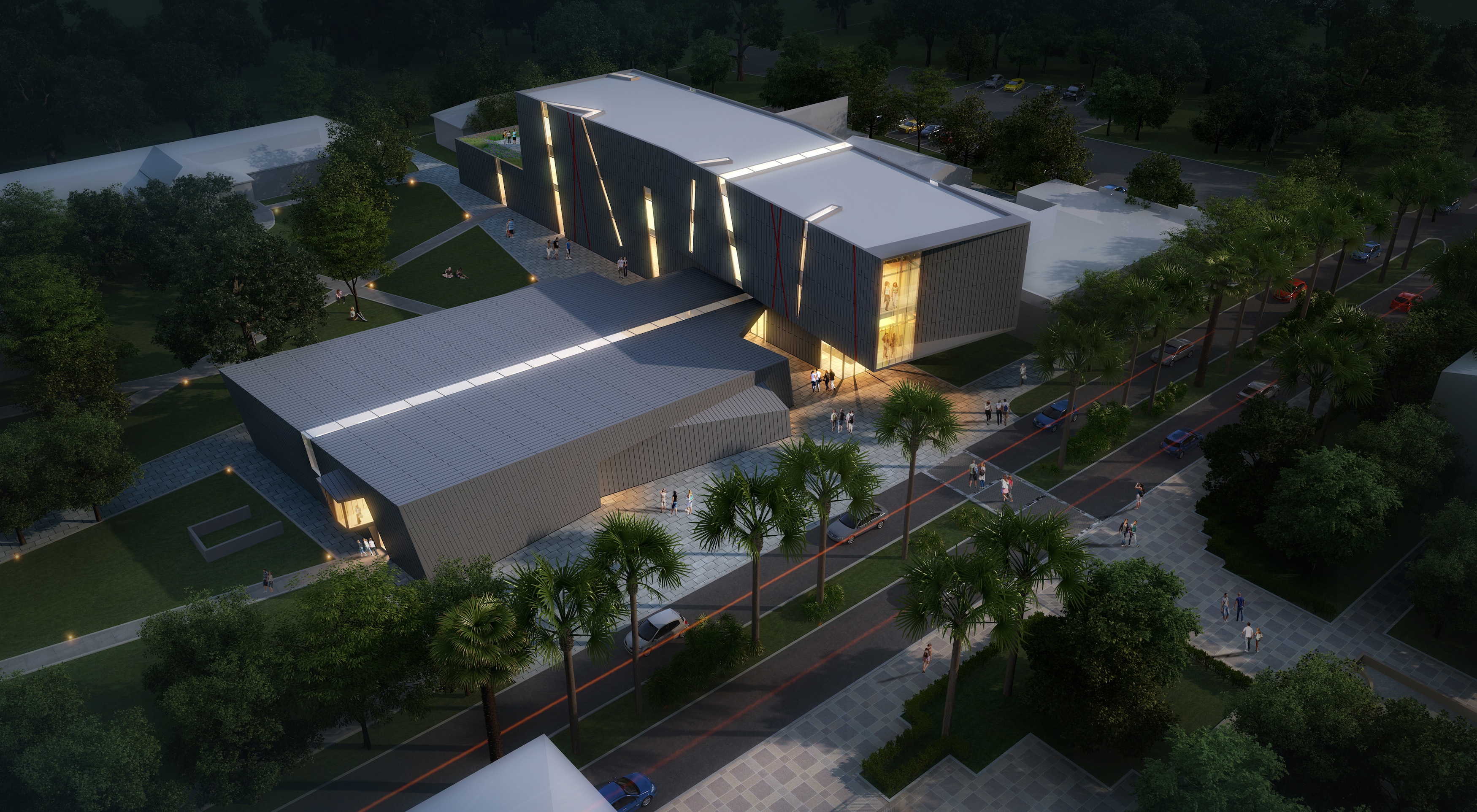 The Richard and Barbara Basch Visual Arts Center. Click image to enlarge.