The dominant healthcare system in the state, which has grown over the past decade mostly through mergers and acquisitions that have left it with some competitive and redundant assets, is considering purchasing an inner-city hospital complex.
The myriad real estate issues this not-so-hypothetical case study raises served as the starting point for a lively, if at times arcane, discussion among a panel of more than 20 medical professionals, politicians, real estate developers, technologists, and other experts during a Healthcare and Real Estate Symposium conducted in New Brunswick, N.J., on April 15 by Rutgers University Business School's Center for Real Estate.
The event, which drew several hundred people (including representatives from such AEC firms as Gilbane and Skanska), took place against a backdrop of seismic changes in the healthcare arena locally and nationally. New Jersey, like other states, is seeing significant consolidation, partly as a result of the Affordable Care Act.  A few weeks before the Symposium, Barnabas Health and Robert Wood Johnson Health System merged, creating New Jersey's largest healthcare system, with 11 acute-care hospitals and dozens of doctors' offices, labs, imaging centers, pharmacies, behavioral health centers, fitness centers, and specialty clinics.
In general, the number of in-patient hospitals is declining, and outpatient healthcare facilities are expanding, as the industry races toward a "population management" model that brings healthcare services closer to where community residents work and live, with one primary goal of keeping people out of hospitals in the first place.
"The future of what we do is going to have to accept a new way of providing and working with the communities we serve," said Marc Berson, Vice Chairman of RWJ Barnabas Health (the new name of the above-mentioned merged hospital systems) and the Symposium's keynote speaker. He saw this as part of any hospital's "survival."
All of this change is leaving healthcare systems with excess real estate assets, some of them in New Jersey more than 100 years old. On the other hand, the total amount of square footage under healthcare utilization could double, or even triple, over the next 15 years, predicted Zeyad Baker, MD, CPO, Assistant Clinical Professor at Columbia University's Department of Pediatrics.
Patients are demanding a one-stop-shop healthcare experience, said Baker, who pointed specifically to the proliferation of urgent care centers as "a pretty incredible statement" by both patients and real estate investors.
Mary Beth Kuzmanovich, who heads up national business development for Colliers, predicted more consolidation among providers, "even if that means walking away from real estate and leasing agreements.
However, there has been little if any planning to manage this transition in healthcare and real estate, or to inform the public about its impact on their lives, observed William Colgan, Managing Partner with Community Healthcare Associates, a full-service healthcare real estate development firm. 
RWJ Barnabas, with 32,000 employers, is New Jersey's second-largest employer. And the reshaping of healthcare real estate is no small matter to communities where healthcare systems are often viewed as "beacons" for the revitalization of urban centers, said Mary O'Dowd, who until last July was Commissioner of New Jersey's Department of Health. Conversely, the absence of healthcare services can have a devastating impact on a community's socio-economic development and perception of itself.
M. Teresa Ruiz, a State Senator representing New Jersey's 29th Legislative District in Newark, recalled the closings of St. James and Columbus hospitals in her district the same year she was elected (2008), neither of which has been replaced. Ruiz also lamented that there are no urgent care centers in her district.
Ruiz's solutions included tax credits to attract more healthcare services to her city, and more public-private cooperation to facilitate this transition in ways that benefit and educate the community at large. Otherwise, the community's residents will default to cost-ineffective hospital emergency rooms as their first—and sometimes only—healthcare option, agreed Eliana Pintor Marin, an Assemblywoman in that same district.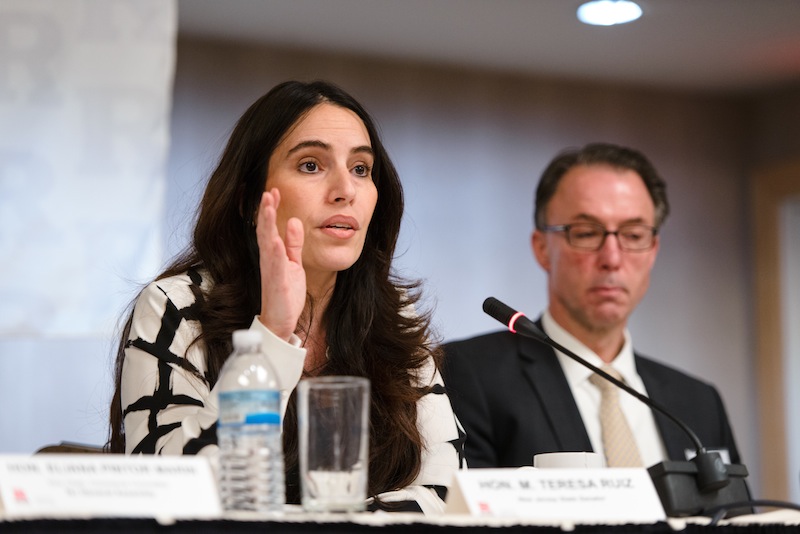 M. Teresa Ruiz, a State Senator in Newark, N.J., decried the lack of quality affordable healthcare in her district, and advocated for tax credits that would encourage more healthcare providers and professionals to open facilities in her city, as well as greater public-private cooperation. Image: Rutgers Business|Center for Real Estate
Reconciling different agendas
What the Symposium made clear is that reaching a consensus about what to do with excess healthcare real estate assets is not going to be easy, partly because developers and healthcare professionals don't always see the issue from similar vantages.
"Real estate would not be the highest priority" in considering the efficacy of the hypothetical case study's transaction, said Barry Ostrowsky, RWJ Barnabas' President and CEO. "The mission is quality of care and keeping people out of the hospital."
Ostrowsky received the loudest applause from the audience when he stated that the healthcare industry needs the "creativity" of real estate professionals who aren't limited to the conventional usages of property. He also said developers must relate better to healthcare providers' strategies. "I don't know how many people in real estate have taken the time to understand our cash flow."
Ostrowsky acknowledged, however, that any solution requires "group risk," and "a profitable revenue stream for our real estate partners."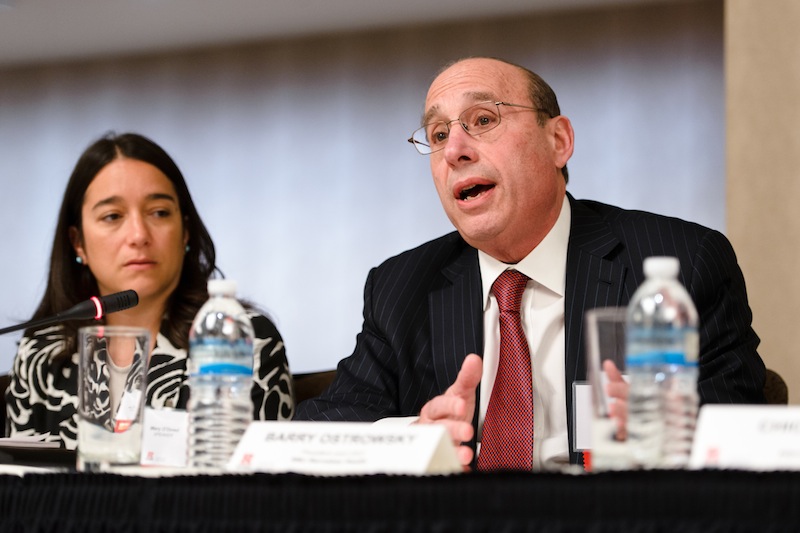 Barry Ostrowsky, President and CEO of RWJ Barnabas Health (right), said that real estate developers that want to partner with healthcare systems need to have a better understanding of those systems' revenue and cash flow needs. Image: Rutgers Business|Center for Real Estate
Jeffrey Le Benger, MD, Chairman and CEO of Summit Medical Group, which controls more than 1 million sf of healthcare real estate, said that considerations of mergers and acquisitions should take into account three Cs: the Consumer, at a time when insurers are moving toward high-deductible plans, and rationed care could be looming; Consolidation, at a time when service providers are looking to drive down costs and maintain a high-quality experience for patients (he sees more healthcare spending moving into the ambulatory space); and Cost Transparency, i.e., whether any transaction has the potential to be a market game changer.
The developers on the panel expressed varying degrees of interest in some of the assets that would be available in the case study, and suggested different scenarios for how those assets might be dealt with that, as often as not, seemed to include a mixed-use component.
Timothy Dragelin, Senior Managing Director for FTI's Corporate Finance practice, warned healthcare systems against trying to redevelop or resell properties on their own. He recommended sale leasebacks of core assets, and said that medical office buildings should be considered "real estate plays." 
Aole Ansari, Executive General Manager with Lendlease Healthcare, said that healthcare providers should think about how development or redevelopment of assets can support and expand their hospital's brand, and whether the services provided as a result of that development activity can become more commercial profit centers.
And don't forget about changing demographics, cautioned Francis Reiner, PP, LLA, a redevelopment consultant. Healthcare systems and their real estate partners are making decisions about how to manage, dispose of, or reuse properties to serve an America where 8,000 Baby Boomers turn 65 every day, 83 million Millennials are the majority in the workforce, and by 2040 only 14% of all U.S. households will have children in them.