Why does nature always need to be at odds with the built environment? Shouldn't we have a way by now to blend the two into one homogenous space so there is not much of a discernible difference between what is the city and what is nature?
Just look at the Ewoks on Endor. Their humble treetop abodes almost become invisible as they blend into the surrounding forest. Okay, so you might be pointing out that this is a fictional village inhabited by non-existent teddy bear-like creatures (that almost ruined "Return of the Jedi" for many), but fiction has constantly been a hotbed for innovation and creating ideas that one day become reality.
While it isn't exactly an Ewok village in the trees, the Örnsro Trästad, which is Swedish for "Timber Town," looks to create this blurring of city and nature in the real world. The Timber Town was designed by C.F. Møller Architects and C.F. Møller Landscape and won the competition to find the best design for a new residential quarter in Örebro, Sweden, ArchDaily.com reports.
The Örebro Municipality and the Swedish Association of Architects ran the competition to find a design that would become a social landmark within the city. Timber Town is made up of a small group of residential buildings, a series of public plazas, and a central green. The site is 18,000 sm and is divided by a central axis that will connect the development to a neighboring parkland area and another site that will foster future development. Everything is linked via walking paths and bike paths that wind their way through the buildings and plazas. In addition to the public plazas and a main public green, private gardens are also incorporated to retain some of the sought after qualities of traditional suburban living.
The development is strategically positioned between an urban landscape and parklands to act as an "organic threshold." Each building in the development will be strategically positioned so that it can take full advantage of both the urban and green landscapes and views. The buildings themselves will also reflect this blending of city and nature as they will be constructed of solid wood and will also use wood for the facades.
With its wooden structures, ample green space, and positioning as a threshold between urban landscapes and parklands, the Örnsro Trästad is a perfect representation of how nature and city can leave their positions at opposite ends of the spectrum and meet in the middle to become something else entirely.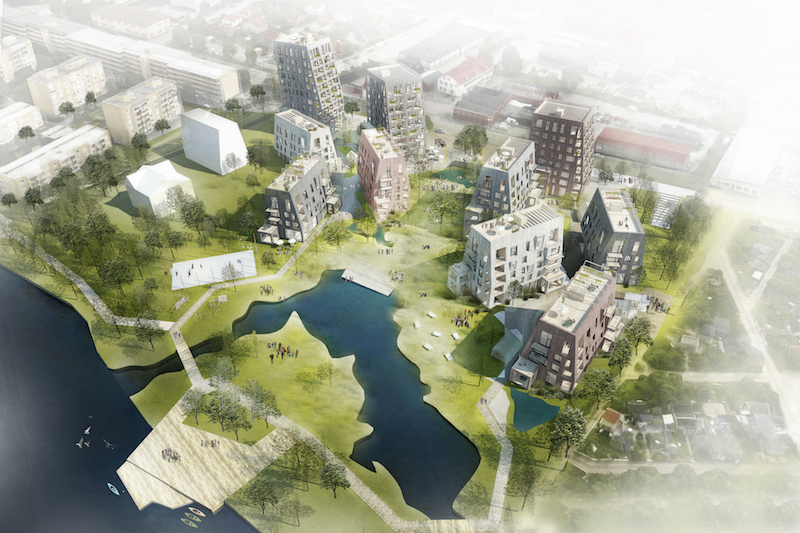 Rendering Courtesy of C.F. Møller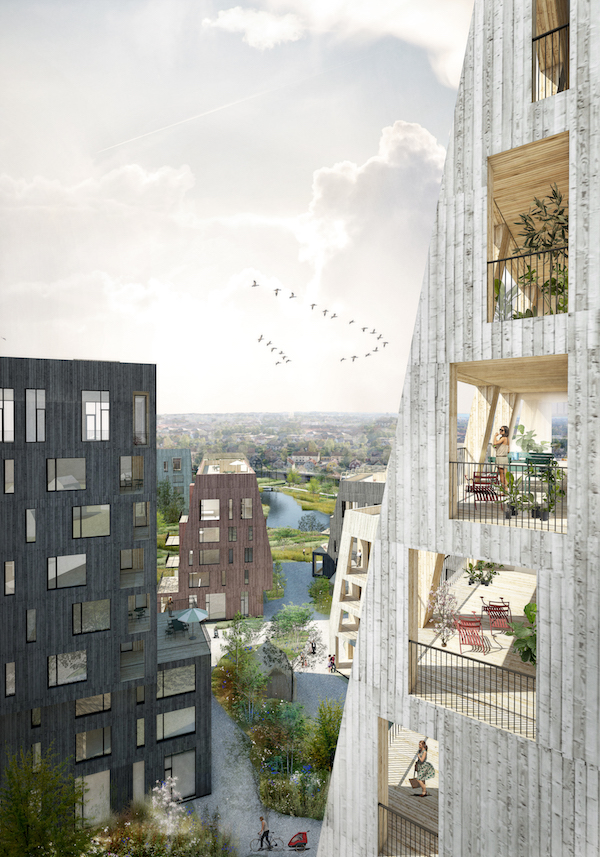 Rendering Courtesy of C.F. Møller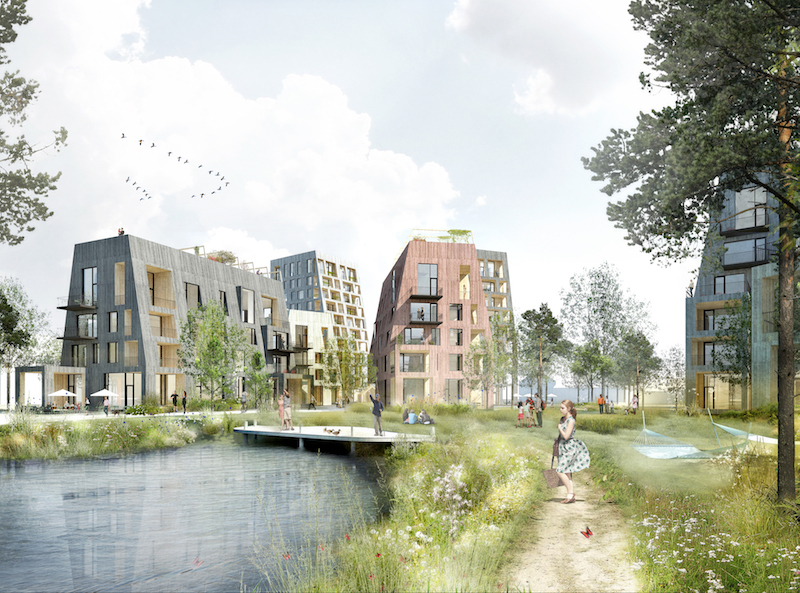 Rendering Courtesy of C.F. Møller