About a year ago, Stantec began testing the compatibility of virtual reality technology with its various design platforms. It tested the number of hours and costs to implement VR, and how this tool could be used to present projects to clients.
It appears that this initial research has convinced Stantec about the utility of VR in project design. This month, Stantec launched Phase 2 of its virtual reality research initiative, which will explore methods for integrating VR technology with building design modeling. 
Among the primary objectives, the initiative will include extended development of VR design testing as well as the creation of demonstrative VR showrooms in the firm's San Francisco and Vancouver offices, alongside staff training modules. Stantec's R&D Fund Program is providing financing for this research, the second phase of which is expected to wrap up sometime next year.
The firm is currently piloting VR at the revitalization of Vancouver's Robson Square; at Ohio's Cleveland Clinic Cancer Center; and at healthcare projects in Northern California and the State of Qatar. It has also purchased the equipment for the first two showrooms, which should be up and running by the winter, says Brendan Mullins, an architectural associate who is Stantec's VR Research Lead.
This phase will include extensive software product testing to assess which evolving VR technologies best complement use in buildings design. And once the showrooms are tested, Stantec will produce a manual.
Conference rooms in the Vancouver and San Francisco offices will be fitted out with roll-away cabinets in which the equipment and wiring can be stored, so these spaces won't look like showrooms when they aren't being used as such.
Mullins tells BD+C that one of Stantec's goals is to make these showrooms "as turnkey as possible," so they can be installed in some of its other offices seamlessly. "We want to democratize VR, so that any architect can use it," he says.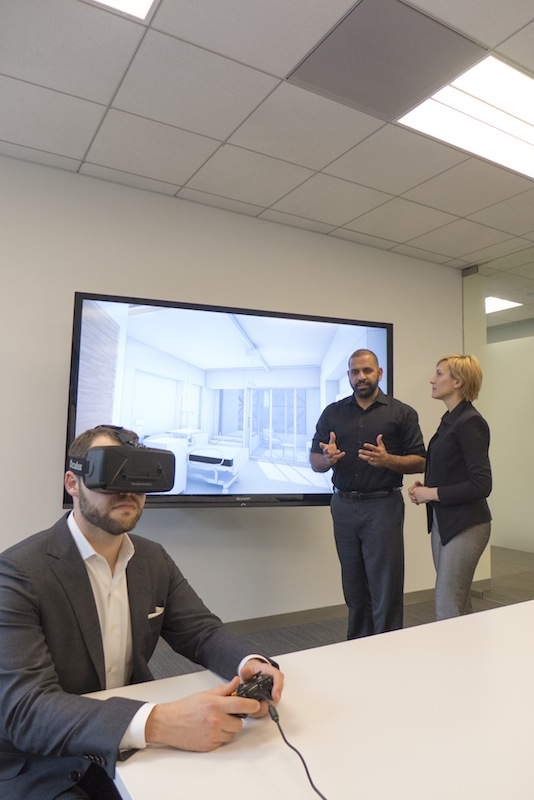 Several of Stantec's offices are already using Oculus Rifts in their design presentations to clients. The firm recognizes that some clients are still uncomfortable with this technology. Image: Stantec
Several of Stantec's offices already use Oculus Rifts. But, Mullins notes, some clients are still reluctant or embarrassed about mounting the equipment on their heads. The showrooms, Stantec is hoping, would minimize client anxieties, especially if the equipment is as simple as a Google cardboard VR viewer, which Mullins says produces high levels of image fidelity.
Mullins says that Stantec doesn't see VR as a substitute for modeling, but as an enhancement toward real-time design. He points, by way of example, to a healthcare client in the Middle East, where, he says, privacy is a primary concern. VR "allowed the client and our designers to see sightlines that we would have missed otherwise."
Stantec is testing VR "to make all of the mistakes first, so our people don't have to." It also wants to provide its employees with best practices for software, marketing, and client presentation.