Located in the heart of downtown Salt Lake City, 111 Main is the freshest face on the Crossroads of the West's skyline. The building, whose roof hat truss structure was just topped off in January, transferred its loads from a temporary shoring support system to the permanent structural system during a 12-hour period.
The building's architect and structural engineer, Skidmore Owings & Merrill, had to find a solution to a complex problem brought on by the building site's location: how to suspend a portion of the building over an adjacent structure.
111 Main is on a contiguous parcel with the new Salt Lake County Center for the Arts' George S. and Dolores Doré Eccles Theater, which overlaps on the lower four stories and basement level of the tower footprint. To accommodate the Eccles Theater under the southern portion of 111 Main's tower, a structural system was required that did not extend columns below the fifth level of the tower on the south side.
SOM designed the penthouse roof level of the 387-foot-tall building to be comprised of a balanced two-way steel hat truss system that supports the office tower's 18 perimeter columns in an integrated load-balanced structure. The central reinforced concrete core walls provide the only connection of the tower to its foundation and resist all gravity loads, as well as wind and seismic vertical and lateral loads. In fact, 111 Main was designed and built to withstand a 2,500-year earthquake event.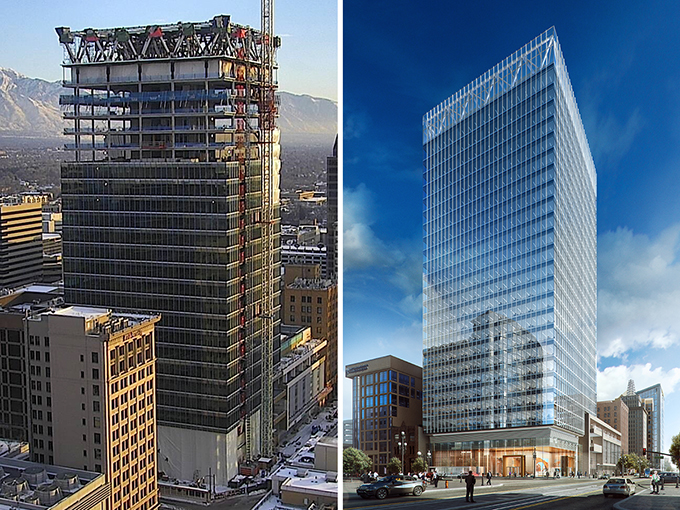 Photo: City Creek Reserve, Inc.; Rendering: SOM 
Conventional long-span, composite-steel floor framing construction connects the central core walls to the perimeter steel frame and suspended columns, providing open office spaces free of interior columns and a completely column-free lobby at the tower's base.
111 Main is looking to achieve LEED Gold certification by using less energy and water and reducing greenhouse gas emissions. Building operation is targeted to operate 15% below Utah's energy codes and will utilize fully automated, under-floor energy conserving HVAC systems with 16-inch raised floors.
The aforementioned lobby will consist of 35-foot-tall clear glass and span 5,876 sf. Overall, there will be approximately 440,000 sf available to rent.
Because of the unique hat truss structural system that allows for a column-free floor design throughout, the use of floor-to-ceiling glass offices stands out even more. One of the more unique amenities is the building lobby's connection to the Eccles Theater Grand Lobby, the building that 111 Main hovers over and fits with like a Tetris piece.
A combination of five low-rise elevators, four high-rise elevators, and one freight elevator will be used to get people where they need to go within the structure. 111 Main will feature state-of-the-art fiber infrastructure, redundant data feeds, and electricity sourced from two substations.
Joining SOM on the Building Team is Oakland Construction (GC) and City Creek Reserve (Developer).
The anticipated completion date for 111 Main is August 2016.