Holograms have been a standard trope in the world of science fiction for years. Without holograms, how would Obi-Wan Kenobi have known he was Princess Leia's only hope? How would Tony Stark have been able to design his Iron Man suits? And how would Minority Report's John Anderton have been able to efficiently predict crimes without all of those fancy hand movements and holograms? Holograms act as a quick way to let the audience know that the story being told does not necessarily abide by the rules of any world we know.
Unfortunately for writers of fiction, a new shortcut used to let people know they are in a fabricated world is going to be needed because holograms are quickly shedding the fiction aspect of their science fiction title.
The Microsoft HoloLens is a mixed reality, holographic headset that has just recently been released to developers and already has some pretty cool applications planned for it. Chief among them is Skanska's plan to use the technology to open what will become the "world's first holographic real estate leasing center," according to the Daily Journal of Commerce.
Working with Studio 216, one of seven companies chosen to participate in Microsoft's HoloLens Agency Readiness Program, Skanska created a multi-user, mixed reality holographic tour that allows people to look around and through a new building without having to be isolated from each other, as is currently the case with virtual reality tours, such as those paired with the Oculus Rift.
Mixed reality differs from virtual reality in the sense that, as the name would suggest, it mixes the real world and the virtual world. Physical objects and digital objects are able to interact. For example, while using a HoloLens headset you may look and see a potted plant sitting on a table. The table is real and actually in the room with you, but the plant sitting on top of it is not; the object is completely digital. When it comes to virtual reality, again, as the name suggests, everything you are seeing is a replicated image of somewhere else, be it a real or imagined place.
For Skanska and Studio 216's tour, the building in question is 2+U, a high-rise office project in downtown Seattle. The structure will offer around 690,000 sf of leasable space and will sit above an "urban village" complete with retail space, bars, restaurants, and other public spaces.
HoloLens will not just allow people to visually tour 2+U, but the auditory senses will be tickled, as well, as these tours will also include sounds of the people and activity occurring in the building's urban village.
The location of the leasing center has not yet been announced, but it is scheduled to open in June 2016 and Skanska has currently purchased three HoloLens headsets for about $3,000 each. 2+U has a target completion date in early 2019.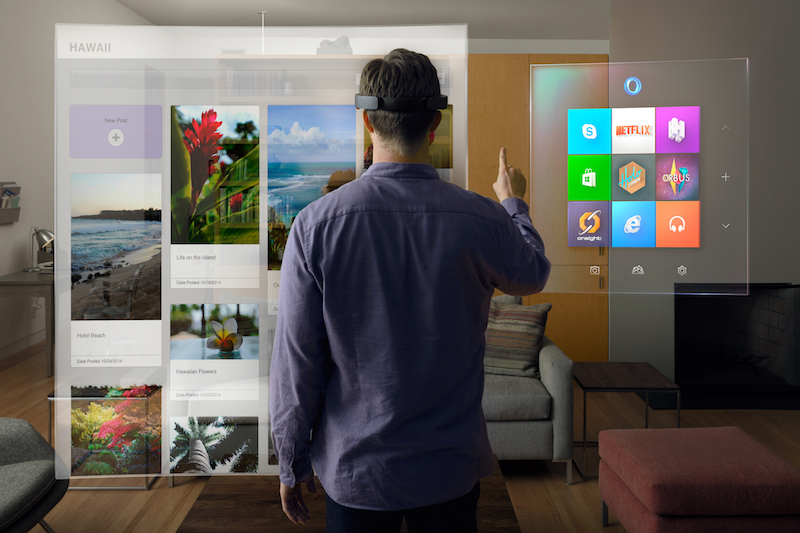 Photo Credit: Microsoft Sweden, flickr Creative Commons