Community hospital emergency departments have experienced an alarming spike in behavioral health (BH) cases recently, partly due to the rise in opioid misuse. For Day Kimball Hospital, Putnam, Conn., architect Shepley Bulfinch designed an ED that can be quickly closed off to segregate and secure a dedicated BH component.
The unit has five specially designed rooms that are ligature-proof and have no fixtures that can be used to inflict harm. The walls are made of impact-resistant drywall. A metal door can be rolled down to secure the headwall and lighting fixtures. Televisions are embedded and shielded with nonbreakable polycarbonate panels.
The sinks are securely anchored to the walls and have no sharp edges. Lighting is tamper-proof and anchored so that it cannot be dismantled. HVAC registers meet non-ligature requirements and have no sharp angles or corners. Each room has a hidden camera.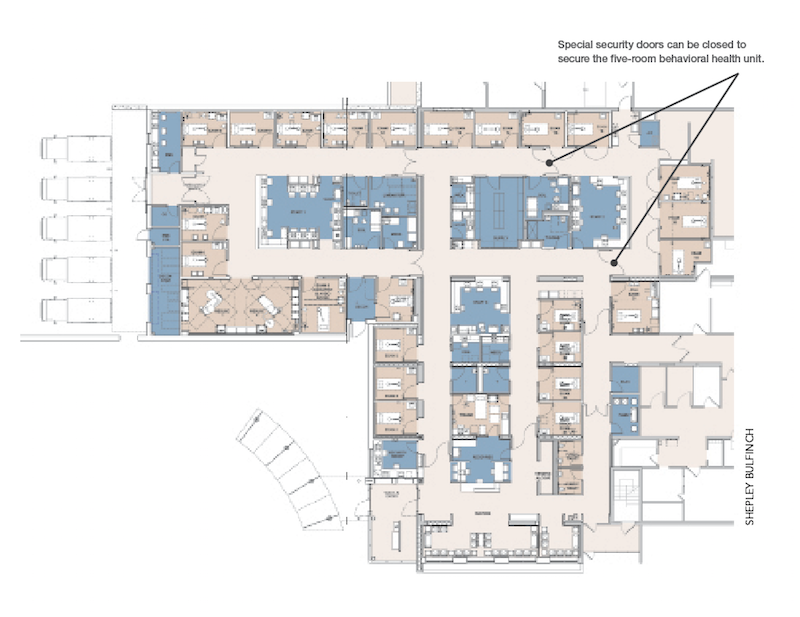 Shepley Bulfinch specified doors made of Acrovyn, which has a rich maple look but can tolerate abuse. Doors to the unit have card-only access. They can be left on magnetic "hold open" mode when the unit is not being used for BH segregation.
Delayed-egress controls give staff 20 seconds to assess the situation in case of fire or other emergency. Doors in the unit open outward so patients cannot barricade themselves in the rooms. 
The Building Team for the project, led by Shepley Bulfinch, included Souza True & Partners (SE), BVH Integrated Services (MEP), Source Atlantic (medical equipment planner), Brown Sardina (landscape architect), and Downes Construction Co. (construction manager).