The public can never get enough of death-defying diversions, from flagpole sitters in the 1920s to today's ever-crazier rollers coasters. The last two "Mission Impossible" movies—which featured Tom Cruise actually scaling the outside of the Burj Khalifi and hanging onto the wing of a jet in flight—combined did nearly $1.4 billion in box office sales internationally. And one of the attractions of "extreme" sports and recreation is that the participants live to tell about it.
Thrill-seekers who happen to be in Shanghai can now literally live on the edge by dangling off of a safety rope from a 3.9-foot-wide skywalk with a see-through platform that wraps around the 88th floor of the Jin Mao Tower in Lujiazui, a peninsula locality in that metropolis.
The 60-meter (197-foot) skywalk is touted as the highest fenceless and all-transparent walkway in the world. At 1,115 feet above ground, the skywalk, which opened on July 29, provides breathtaking views of the city from a tower that is one of the world's tallest skyscrapers.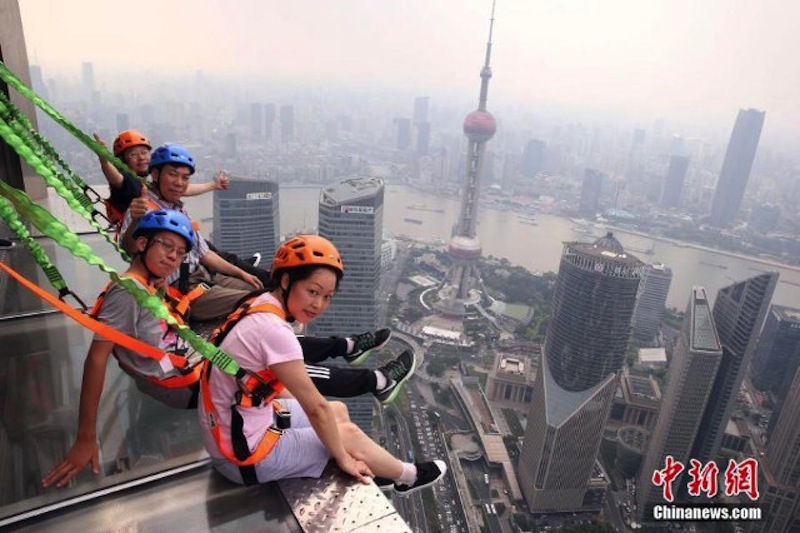 For the equivalent of US$58, visitors can spend up to 60 minutes in the open air, taking in Shanghai's modern cityscape. Image: 163.com via Mashable
Up to 15 visitors at a time can be harnessed to an overhead rail, and hang 10 over the ledge of the Jin Mao walkway for up to an hour. (They must sign waivers as a prerequisite, of course.) The height of the skywalk and time allowed on it outdo Macao Tower Skywalk X, which lets visitors take a 15- to 20-minute open-air stroll around the outer rim of the Macao Tower, 233 meters above the ground, according to China.org.
Skywalkers pay 388 yuan (US$58) for the Jin Mao attraction, with a discounted rate (298 yuan) for students.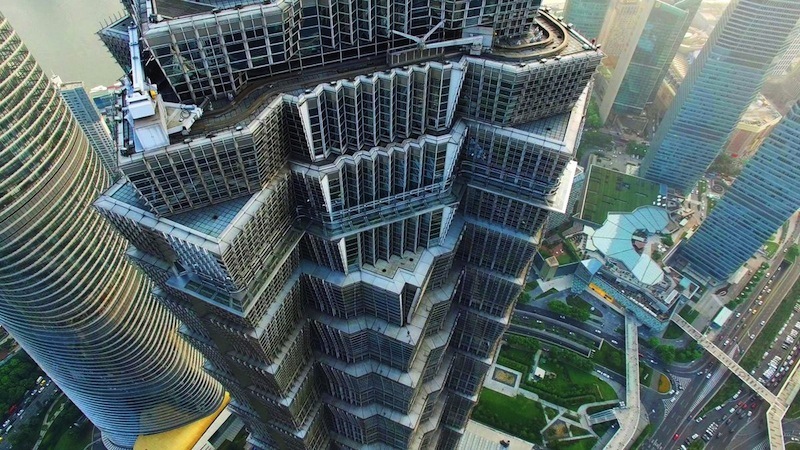 An aerial view of the 420.5-meter-tall Jin Mao Tower, one of the world's tallest skyscrapers. Image: BU BIAN/Imagine China/AP
The 402.5-meter-tall Jin Mao Tower, designed by architect Adrian Smith, was completed in 1999, according to the Wall Street Journal. It's owned by Jinmao Hotel and Jinmao (China) Investments and Mana