In October 2008, The Proximity, a 102,000-sf, 147-room hotel in Greensboro, N.C., became the first LEED Platinum–certified hotel in the U.S., a designation it received following its opening the previous November.
Centerpoint Architecture designed this hotel with 4,000 sf of solar rooftop panels. Weaver-Cooke Construction recycled 87% of the 1,535 tons of construction debris, one of more than 60 sustainable practices executed for this $28 million project. The hotel featured geothermal-powered refrigeration and the first regenerative drive elevators in North America. In its first full year of operation, The Proximity used 39% less energy than a conventional hotel/restaurant, and two million fewer gallons of water, saving $13,000.
Since then, only two other hotels have earned LEED Platinum—the WATG-designed Bardessono in Yountville, Calif.; and the previously LEED-certified College Park Marriott Hotel & Conference Center in Maryland, which earned Platinum in August after a massive multiyear renovation.
It cost Quaintance-Weaver Restaurants & Hotels $1.5 million to $2 million extra to achieve its environmental goals at The Proximity. But the developer took comfort that those upgrades would pay for themselves within four years and save the company at least $140,000 a year in utility costs.
"Almost every time we made a decision, we saw that there was a sustainable approach that was also practical," Dennis Quaintance, the developer's owner, said at the time.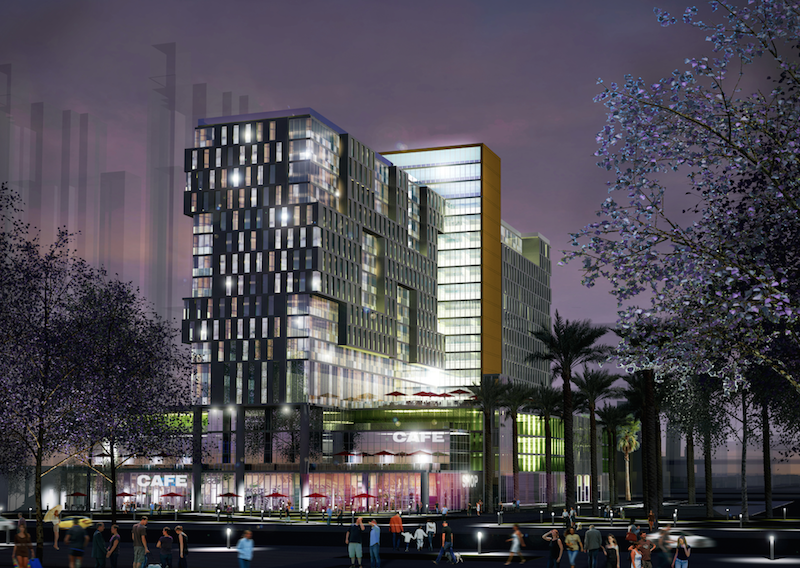 Lane Field North, a 253-key select-service hotel married to a 147-key extended-stay hotel on San Diego's waterfront, is cooled by a variable refrigerant flow system: VRF allows four rooms to operate off of one compressor. John Portman & Associates was the design architect, with Integrated Design Engineers (SE), Project Design Consultants (CE),Tk1sc collaborative (ME), Michael Wall Engineering (EE), McParlane & Associates (PE), and Hensel Phelps Contracting (GC). Rendering: John Portman & Associates 
Seven years later, developers and their AEC partners still talk about "sensible sustainability" as a guiding standard for their hotels. "Sustainability is a talking point, but everyone has been doing a substantial amount of this forever, because it simply makes sense," says Gordon Beckman, Principal/Design Director for Atlanta-based A/E firm John Portman & Associates. "Everybody's working from the same basic palette."
Portman's recent hotels include the first 180-room Hotel Indigo in Denver, part of the 200,000-sf Union Tower West mixed-use development that's scheduled to open next year. Among the sustainable features: proximity to transit (it's adjacent to Denver Union Station) and extensive use of recycled materials, which Beckman says "is probably the most environmentally friendly thing that we can do."
Mark Pratt, Associate Principal with VOA Associates, Chicago, says that marketing imperatives leave owners and developers with little choice but to incorporate sustainability into their hotels. "With the power of the Internet, the hotel guest has the ability to research and choose a sustainable experience," he says. "In a complex marketplace, sustainability can be a deciding factor for the consumer. The pressure is on hotels to do the right thing."
One reason Domaine Hospitality Partners is targeting LEED Platinum for its planned 160-room luxury hotel in Pacific Grove, Calif., is because the expectations of local residents and potential customers are so high. "In this market, there are several Internet companies that are building massive, sustainable headquarters and campuses, so sustainability is expected," says Michael Crall, Domaine's Chief Development Officer.
This Mark Hornberger–designed hotel, to be built on the site of the old American Tin Cannery, won the endorsement of an important neighbor, the Monterey Bay Aquarium, because its plan included sharing public space and attaining LEED Platinum certification.
One of the sustainable features being considered for the project is a water-recycling system similar to the one at Gillette Stadium in Foxborough, Mass., which reuses storm- and wastewater for flushing, irrigation, and cooling towers.
SCALING BACK ON ENERGY USAGE
Hotels are notorious energy hogs, and their branding companies, which set the parameters for how hotels get built, "are very conscious of utility consumption," says Dennis Mickeleit, Project Executive with Tutor Perini Building Corp., in Philadelphia. Energy usage, he says, is "the main driver" of design.
Mickeleit notes that improvements in lighting, plumbing, and HVAC have come the furthest in helping to dramatically reduce consumption. The biggest advancements come from the MEP field, such as the use of occupancy sensors.
"It's all about the rooms," says Dennis W. Davies, PE, SE, Senior Principal, Magnusson Klemencic Associates (MKA), Seattle. "A typical hotel room needs to be optimized and intensively evaluated in as many ways as possible before moving a design forward," he says. "This goes for system energy efficiency, as well as the consumptive materials that go into making the rooms."
MKA's latest hotel project is at 8th Avenue and Howell Street in Seattle. Developer R.C. Hedreen got the go-ahead to start construction in July; at 45 stories, it will be the tallest hotel in the Pacific Northwest. It will be constructed with "high levels" of off-site prefabrication, says Davies. Embodied carbon life cycle assessment is being factored into the project's design.
Portman is currently building two hotels in San Diego, Lane Field North and South, which will employ variable refrigerant flow systems, where the refrigerant comes on only when needed. "Four rooms can be run off of one compressor," says Beckman. "This system gives us more zoning options." VRF makes economic sense, he says, even if, from an architectural view, more condensers are needed.
Beckman, however, laments that energy modeling software still hasn't caught up with regulations and standards. "You can't legislate good design," he says, "you can only encourage it."
LEED AS 'AN ASPIRATIONAL GOAL'
VOA's Pratt thinks that the hotel sector still has a long way to go in terms of efficiency and sustainability, despite advances in energy and water management systems. "LEED is a good first step," he says. VOA's new 17-story, 206-key Hyatt Place, located in Chicago's Downtown Loop, achieved LEED Silver in part by favoring materials that were not on various red lists and by using recycled furniture, finishings, and equipment in its mix.
MKA's Davies contends that LEED is "an aspirational goal." He says that the most insightful developers and the best projects first devise a number of sustainability strategies, and that LEED is a second step to see how those aspirations measure up. Only then, he says, can adjustments be made to assess whether the hotel's design and construction can be stretched to a higher level of efficiency and sustainability.