For sheer massiveness, the restoration of New York's St. Patrick's Cathedral is hard to beat. It took Structure Tone (CM) seven months just to build the 335-foot-high scaffolding—all the while safeguarding an average 15,000 visitors a day.
The cathedral, dedicated in 1879, sorely needed work. Using BIM 360 Field to track its progress, the Building Team made 300,000 repairs. Thirty-seven hundred stained glass panels were restored; a new, invisible venting system to create air movement was installed to protect the glass. A 200-foot undercroft with eight tunnels was renovated. The two rusted-out main doors, weighing 8,800 pounds each, were conserved using a titanium let for structural support and a coating system derived from the oil industry to prevent future condensation.
The team designed a fire-suppressant system like one used in submarines that employs a nitrogen mist to propel a much smaller amount of water than a conventional system. Structure Tone used a hand-powered trolley to install the fire system in the attic, saving $1.3 million.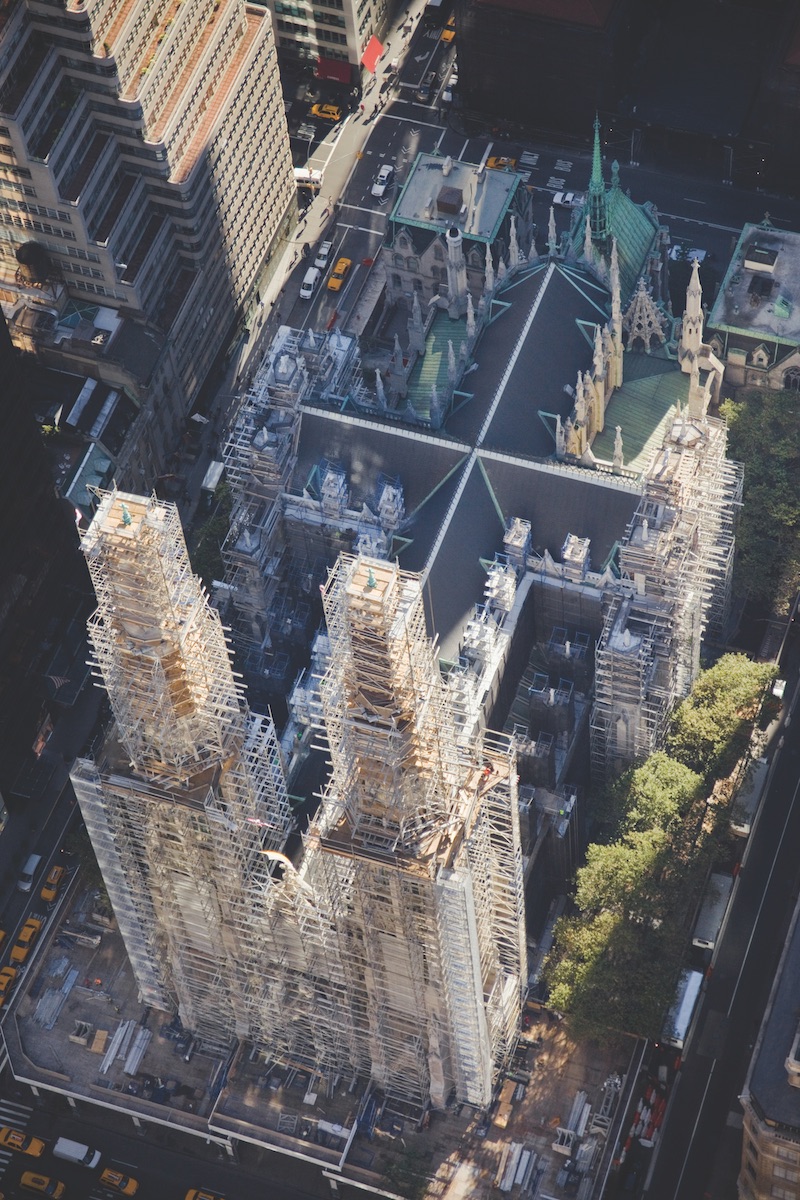 The 335-foot scaffolding that Structure Tone erected over a seven-month period. © John Baer / Building Images Photography.
PROJECT SUMMARY 
Silver Award Winner | New York, N.Y.
Building Team: Structure Tone (submitting firm, CM); Trustees for the Cathedral of St. Patrick (owner); Zubatkin (owner's representative); Murphy Burnham & Buttrick Architects (designer); Silman Associates (SE); Landmark Facilities Group (MEP); Langan Engineering, GB Geotechnics USA (geotechnics/surveying); Robin Key Landscape Architecture; Building Conservation Associates; and William Dailey Associates (codes).
Details: 160,000 sf. Construction cost: Confidential. Construction time: March 2012 to September 2015. Delivery method: CM at risk.