Marwen is a nonprofit visual arts education center on Chicago's Near North Side. Founded in 1987 by entrepreneur Steven Berkowitz, Marwen currently offers 100 studio courses to 850 underserved students (grades 6-12) from 295 schools and 53 zip codes. Two-thirds of the students are female; 95% of the students come from low-income families. Marwen also provides free college and career counseling to high schoolers: 91% of graduates get accepted to college.
Wheeler Kearns Architects led the Marwen renovation and expansion. The chief problem was a lack of public presence to the campus. The Building Team created a new vehicular entry courtyard  that allowed for the relocation of the main entrance and the addition of a 950-sf steel-and-glass loggia.
Integrated thermal breaks in the loggia's steel structure minimize energy loss. An underfloor air distribution system was installed to reduce energy consumption and improve indoor air quality. The new loggia provides a safe and visible gathering space for students and new public gallery space to showcase student work.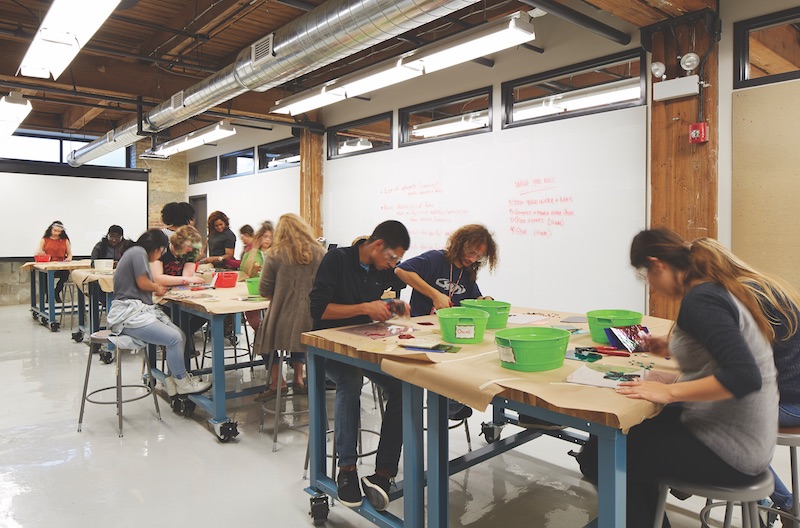 Basement Mixed Media Studio. Natural light is borrowed via clerestory windows adjacent to the Fashion/Fiber Studio. Steve Hall / Hedrich Blessing.
PROJECT SUMMARY 
Silver Award Winner | Chicago, Ill.
Building Team: Wheeler Kearns Architects (submitting firm, architect); Thornton Tomasetti (SE); Terra Engineering (CE); Wolff Landscape Architects; Lux Populi (lighting); and Power Construction Co. (GC).
Details: 16,060 sf. Construction cost: $3.4 million. Construction time: January to October 2015.  Delivery method: Design-build.