Upon completion in 1894, the 17-story Arc at Old Colony became one of the tallest buildings in Chicago. In more recent times, its stylistically antiquated spaces, outmoded technology, and deteriorating infrastructure made it unsuitable for commercial use.
But owner Campus/MCJ Development JV saw the building's 68-foot-wide vintage floor plans, voluminous lobby, and myriad elevators as perfect for redevelopment as a historically charming residential building.
The Building Team, helmed by design firm Pappageorge Haymes Partners, restored ornate turrets, a two-story terra cotta colonnade band, the projecting cornice, round oriel corner bays, and more than six hundred oversized windows.
Two exterior fire escapes were removed as part of the project, which meant that an enclosed staircase from the basement to the roof had to be built to provide a second means of egress. However, the building's existing skin had large protruding cornices and brick kneels, which made the use of an outside hoist impossible.
So the team cleverly used a one-ton hoist to lift unitized sections of stairs up through the building and stage them on individual floors in three sections.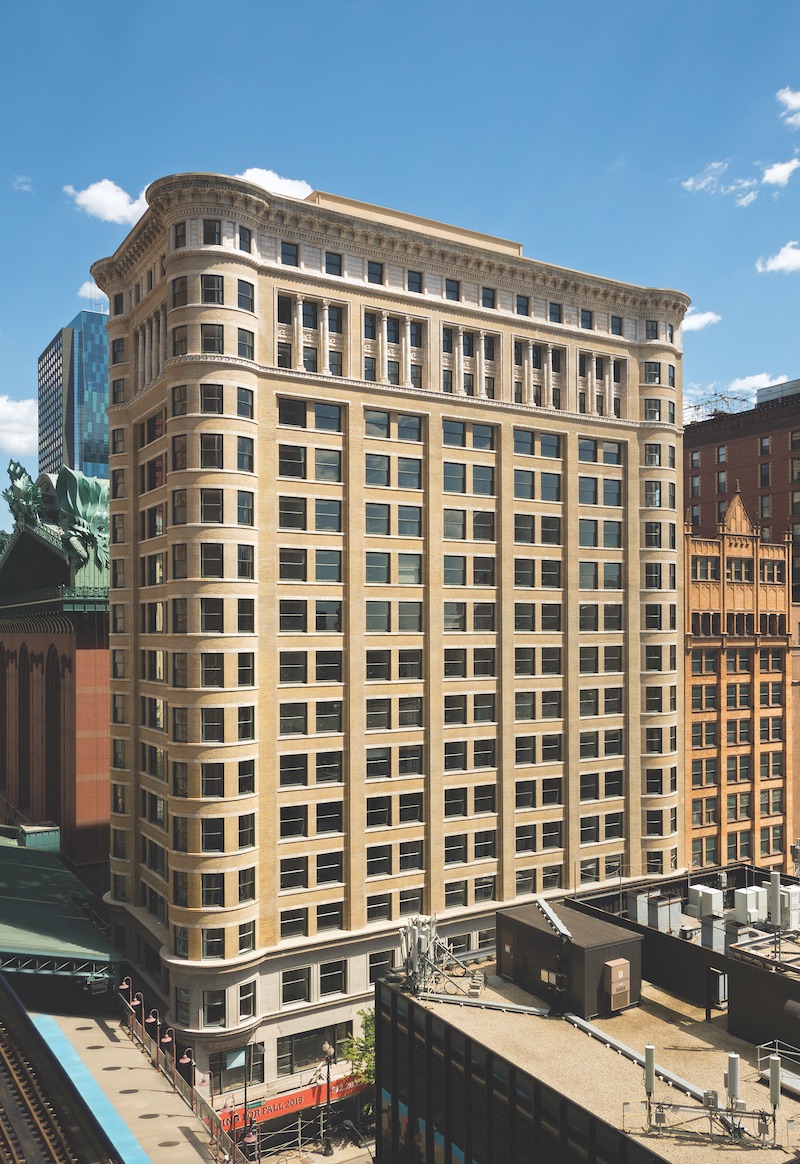 Courtesy Pappageorge Haymes Partners.
PROJECT SUMMARY 
Silver Award Winner | Chicago, Ill.
Building Team: Pappageorge Haymes Partners (submitting firm, architect); Campus/MCJ Development JV (owner/developer); BKV Group (interior designer); Stearn-Joglekar (SE); AMS Mechanical Systems (ME); JMS Electrical Engineering; O'Sullivan Inc. (plumbing engineer); James McHugh Construction Co. (GC).
Details: 198,484 sf. Construction cost: $60 million. Construction time: February 2014 to July 2015. Delivery method: Design-build.