If all goes as planned, the first phase of Riverfront Square, a seven-phase 5-million-sf redevelopment on 11.8 acres in Newark, N.J., could break ground next Spring.
The master plan for Riverfront Square—located on the site where the Newark Bears minor league baseball team once played—calls for up to 1,800 residential apartments, a 240-key 185,000-sf hotel and conference center, a 30,000-sf arts and cultural space, and up to 2 million sf of Class A office space.
Phase 1 would start a 733-unit apartment building with ground-floor retail, and possibly an office tower that Michael Green Architecture (MGA) has designed to be built with mass timber.
Developer Lotus Equity Group needs to find a tenant for this office tower, which if realized would be the largest mass-timber building in North America. (Cushman & Wakefield is handling the marketing.) It also needs to hurdle some regulatory and code roadblocks. If successful, Lotus Equity could start construction on the office building by next fall, says David Linehan, LEED AP, development manager at Lotus's New York office.
Linehan shared new details about Riverfront Square during "Timber in the City," a seminar on mass timber for urban construction held on October 5 at Parsons School of Design|The New School in New York City, and cosponsored by the Binational Softwood Lumber Council.
The seminar (which included an opening keynote address delivered the night before by Andrew Waugh of Waugh Thistleton Architects, whose mass timber projects include the nine-story Murray Grove residential building in London) divided its speakers into three panels that focused on the state of mass timber today, how the use of wood in construction contributes to occupant health, and how mass timber re-establishes the "interplay" between forests and cities.
Acceptance is still an exception
This seminar, while informative, didn't pretend to be a comprehensive exploration of mass timber's utility for construction. The cost factor was barely touched on, and there wasn't any discussion about the role that fabricators are likely to play in how mass-timber buildings are designed and produced.
It also wasn't surprising that many of the speakers turned to mass timber's greatest hits for examples, most prominently the 180,000-sf T3 office building in Minneapolis, designed by DLR Group and MGA; the 87,500-sf John W. Olver Building at the University of Massachusetts at Amherst, designed by Leers Weinzapfel Associates (LWA) ; and the 18-story Brock Commons residence hall at the University of British Columbia in Vancouver, designed by Acton Ostry Architects. 
But the seminar was also a sobering reminder that mass timber in residential and commercial construction is still an outlier, and that its broader acceptance faces many barriers. Several projects that speakers alluded to during the seminar haven't moved beyond their drawing boards. Two high-profile mass-timber projects—a SHoP Architects-designed 10-story condo building in New York's Chelsea neighborhood, and the 12-story all-wood high-rise known as Framework in Portland, Ore.—have, in the last two years, been shot down or put on hold.
"Bar none, it's the codes," responded Linehan when his panel was asked about the obstacles to using mass timber for mid- and high-rise construction, particularly east of the Mississippi River.
Lotus Equity has been in discussions with the New Jersey Department of Community Affairs about taking jurisdiction for plan review and approvals of the office building at Riverfront Square. This would depend on the International Code Council approving code changes to its 2021 International Building Code that an Ad Hoc Committee on Tall Wood Buildings has proposed. The changes would allow mass timber for three building types up to 18 stories. A vote on those changes is scheduled for December.
"We're at the precipice of looking at mass timber for all kinds of construction," said a hopeful Tom Chung, Principal with LWA, whose latest mass-timber project is the 202,027-sf Stadium Drive Residence Halls at the University of Arkansas.
Right now, however, "the future of tall timber is short timber," said Michelle Roelofs, a structural engineer with ARUP. What she meant is that certain municipalities will need to get comfortable with mass timber on a smaller scale first, especially when it comes to fire safety. And there's no guarantee that states and municipalities will adopt ICC's latest codes that address mass timber usage for taller structures.
Inevitably, though, Roelofs believes that specifying mass timber for construction and renovation projects is going to be an easier sell to cities' buildings and fire departments. She and Chung added that new codes would present opportunities for adding mass-timber stories to existing buildings.
Is mass timber healthier?
A number of the seminar's speakers argued that mass timber—which is produced in a factory and assembled onsite—could help reduce problems that construction grapples with, not the least of which being labor shortages and carbon sequestration. And because building with mass timber requires more preplanning at the design stage, more and higher-paid jobs would be created at the front end of projects, and job sites might be quieter, and less intense.
Bill Browning, a Partner with Terrapin Bright Green, a consulting firm that advocates for sustainable design, spoke of how wood connects the built environment to the natural environment. He went on to discuss biophilic design and how different amounts of wood in a building can alter occupants' perceptions. (Another panelist, Merritt Bucholz of Ireland-based Bucholz McEvoy Architects, said his firm is currently working on a mass-timber project in Toronto that would be surrounded by forest.)
But "it takes more than design to have a positive impact" on the environment and indoor air quality, cautioned Alison Mears, AIA, LEED AP, an assistant professor and director of Parsons' Healthy Materials Lab. Means noted that some manufacturers still bond mass timber products like cross-laminated timber (CLT) using polymers and monomers that include formaldehyde and melamine. Consequently, Means advocated for healthy design principles that "design out" common hazards, simplify their materials palette, and gauge the life-cycle impact of materials used. "When considering timber, make sure it's healthier for everyone."
Applying research to a Chicago tower
In some markets, the use of mass timber for tall buildings is a battle of attrition.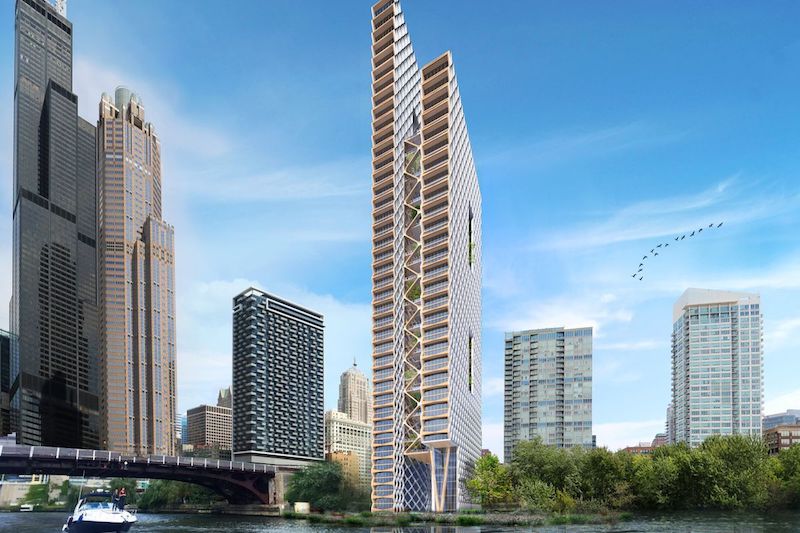 River Beech, a proposed mass-timber skyscraper in Chicago, is the result of a research project that engaged Perkins + Will, Thornton Tomasetti, and the University of Cambridge. Image: P+W
Case in point: Riverline, a 10-building master plan along the Chicago River in Chicago that could include River Beech, a Perkins + Will-designed 80-story, 300-apartment residential tower that would be made with mass timber.
Chicago's Central Business District, where this redevelopment is situated, prohibits the use of combustible building materials, and limits the use of heavy timber to five stories. But that didn't stop P+W, the engineering firm Thornton Tomasetti, and the Centre for Natural Materials Innovation at the University of Cambridge in England from engaging in a two-year-long design research project whose overarching goal has been to identify areas of mass timber research that could help advance the use of timber in tall building structures.
Part of this research entailed establishing mass timber as noncombustible. The team explored several different construction techniques, including a "diagrid" that would maximize openings for daylight and views while avoiding localized beam-to-column moment connections.
Todd Snapp, LEED AP, Design Principal, and Julie Michiels, AIA, Associate Principal and Senior Design Manager, in P+W's Chicago office, explained during the seminar that the building designs their team came up with would use different types of mass timber, including CLT for core walls and glulam for cross bracing. The façade would be a combination of laminated veneer lumber (LVL), aluminum, and glass.
Riverline is currently under construction, and P+W has received approval from the city for a small pavilion made from mass timber that's scaled to the module design of the proposed residential tower. While Snapp couldn't say if this pavilion would ever get built, he implied that its approval by the city was a positive step toward a broader use of mass timber in this metro.
The research team, in fact, has already done a study about how the mass-timber modules would be transported to the jobsite.  Cambridge is testing where a combination of mass timber and concrete could be used in River Beech. And last year, Autodesk built a full-scale mockup of a timber-concrete component. P+W has built a model of the high-rise and has produced a video of a rendering of its exterior and interior, whose highlight is a massive braced atrium amenity space, divided into 200-ft vertical sections.
Back in Newark, Lotus Equity wants to incorporate mass timber into Riverfront Square, explained Linehan, because of its "environmental sustainability," the quality of the building's interiors to attract and retain tenants, and the prospect of reducing construction costs through prefabrication.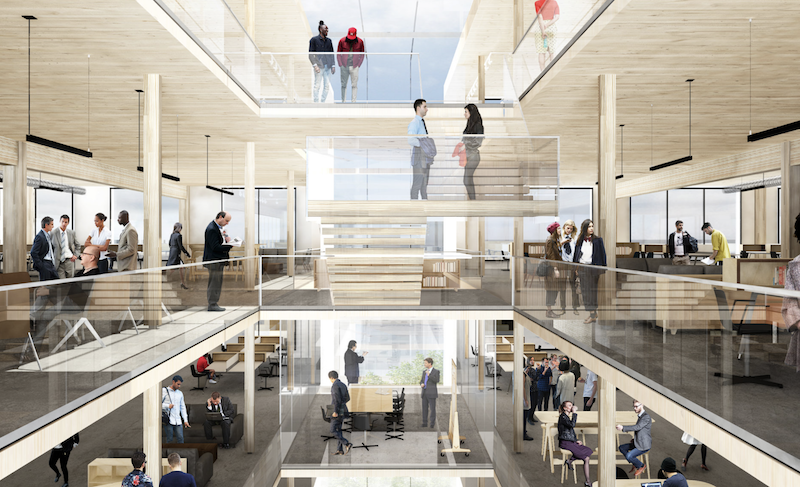 The quality of the interior environment to attract and retain tenants is one reason why Lotus Equity wants to build an office tower using mass timber. Image: Lotus Equity Group and Michael Green Architecture
MGA's design for the mass timber office tower within Riverfront Square is scalable to between 400,000 and 500,000 sf, in a three-part massing that could be either six, nine, and 12 stories, or eight, 10, and 12 stories.
Linehan couldn't say if this office tower project, were it to be built with mass-timber, would involve Katerra, which owns Michael Green Architecture, to design and prefabricate the components. "We'd love to work with Katerra, which is growing by leaps and bounds, but that decision hasn't been made yet," he told BD+C.
He added that Lotus is also considering using mass timber for some of the housing it would build at Riverfront Square, which would target renters with incomes of between $70,000 and $100,000.
Linehan admitted during the seminar that Lotus Equity wrestled with a number of issues—including safety and fire ratings, and the supply chain—in its investigation into mass timber. And regulatory restrictions have yet to be resolved. "Codes are changing, but not quick enough, and they still require a lot of the timber to be covered" with either drywall or fire-preventive coating. "We have to keep pushing the code aspect."
Snapp interjected that, for River Beech, P+W has met with Chicago city officials at least three times, and 18 months ago held a conference to explain its research findings and how mass timber would factor into the building's construction. He said that the city's main concerns were less with the construction than with future renovations.