Some additional features of the proposed football stadium for the NFL's St. Louis Rams have been released.
St. Louis Today reports that the stadium, located next to the Mississippi River, is slated to have plenty of plazas, gardens, bridges, and bike trails, and less space for parking lots and roadways. The HOK-designed venue will have a wall of public art, a brew pub, a 30-foot-wide observation deck, rainwater gardens, and glass-and-steel shades that extend over the top of the stadium.
Renderings were first released earlier this year. The stadium is estimated to cost nearly $1 billion. Construction would start in February 2016 and will be completed by the summer of 2019.
The Rams currently play in the Edward Jones Dome, a multisport facility built in the mid-1990s. A new stadium is essential for the team; If the Rams don't get the riverside stadium in St. Louis, they might head to Los Angeles, where the Rams played from 1946 to 1994. Team owner Stan Kroenke proposed a $2 billion stadium in Inglewood, Calif., in January.
HOK is also based in St. Louis and has designed other sporting facilities, including a stadium for the NFL's Atlanta Falcons that will open in 2017.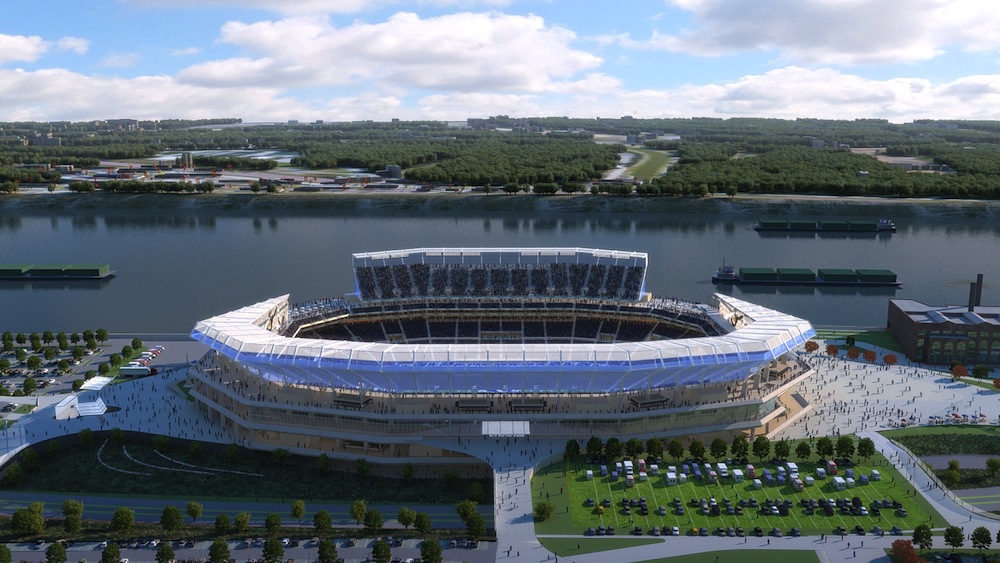 Renderings courtesy HOK