1. DensElement Barrier System
Georgia-Pacific Gypsum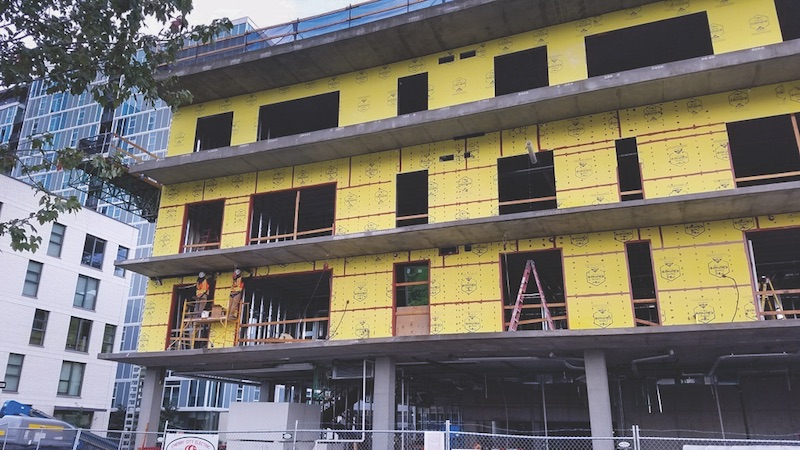 Project: Block 20 Condominium Tower, Portland, Ore. Problem: Needed a building envelope that could withstand Portland's rainy climate. Solution: DensElement Barrier System with AquaKOR Technology integrates a gypsum core and a fiberglass mat to form a hydrophobic, monolithic surface that blocks bulk water but allows vapor to pass through. On the team: Bora Architects (design architect), Western Partitions (subcontractor), Andersen Construction (GC).
2. Majesta windows, Ultra Series doors
Kolbe Windows & Doors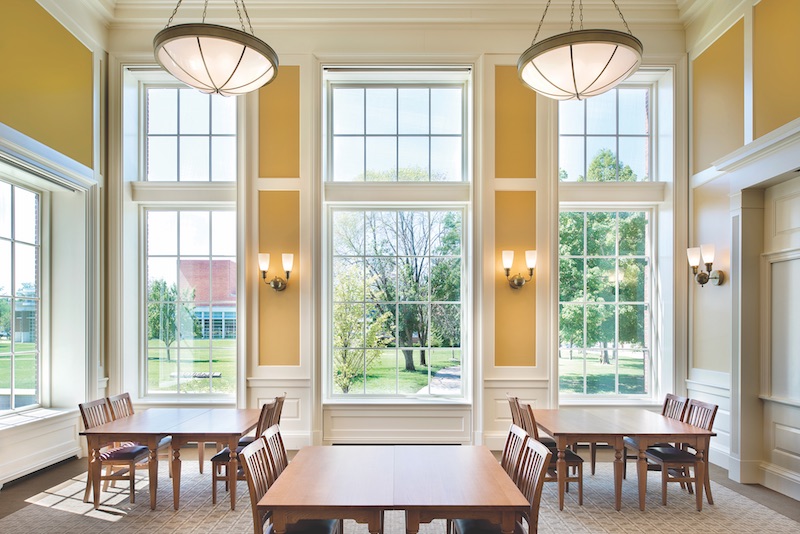 Project: Hoover Hall, DePauw University, Greencastle, Ind. Problem: The windows and doors needed to complement the aesthetics of the campus. Solution: Majesta windows were custom made to meet the large size specified. Ultra Series doors were pre-hung and included hand-routed grooves in the wood to simplify electrical connections. On the team: Robert A.M. Stern Architects,
JC Ripberger (exterior contractor), Turner (GC).
3. Cambridge Mid-Balance mesh
Cambridge Architectural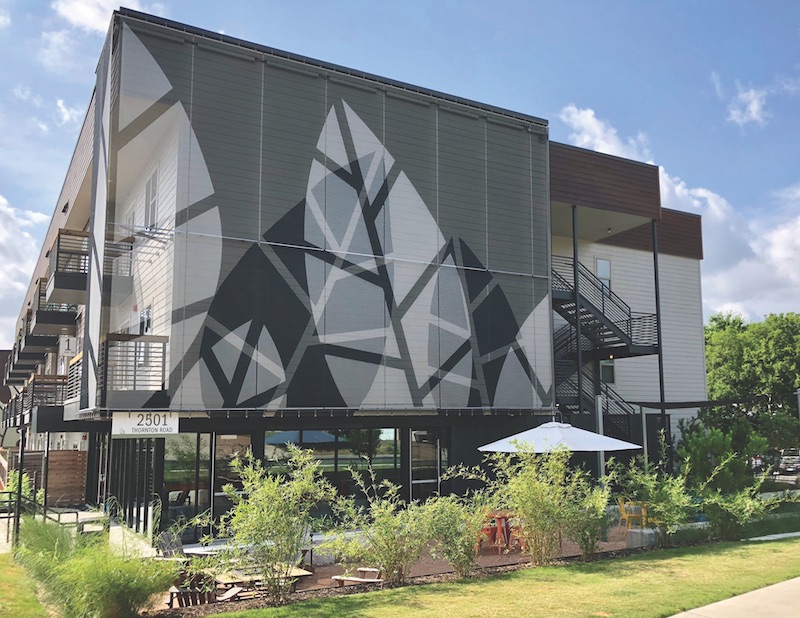 Project: Thornton Flats, Austin, Texas Problem: The builder desired a relaxed South Austin vibe and wanted to highlight the indoor-outdoor spaces. Solution: The façade was accentuated with a metal mesh leaf pattern. It was created by powder-coating the surrounding mesh in antique bronze, which appears black. A tan wall behind the 50%-opacity mesh creates a 3D effect. On the team: PSW Homes (developer, designer, builder), L&S Erectors (installer).
4. Zipwall dust barrier
Zipwall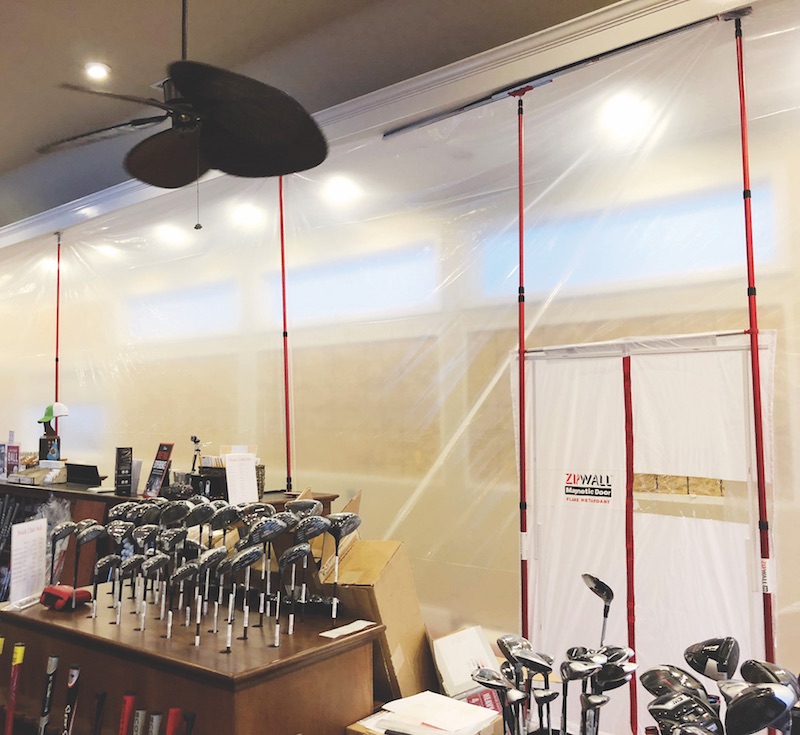 Project: King's Creek Country Club Pro Shop, Rehoboth Beach, Del. Problem: The pro shop needed to remain open during a dusty renovation. Solution: A ZipWall Dust Barrier System and Magnetic Door was installed to contain the dust and debris associated with an outside patio addition and drywall installation. The 50-foot barrier, deemed to be more practical than a temporary wall, was installed in less
than five minutes.
5. PAC-CLAD in Weathered Steel
Petersen Aluminum + Sherwin-Williams Coil Coatings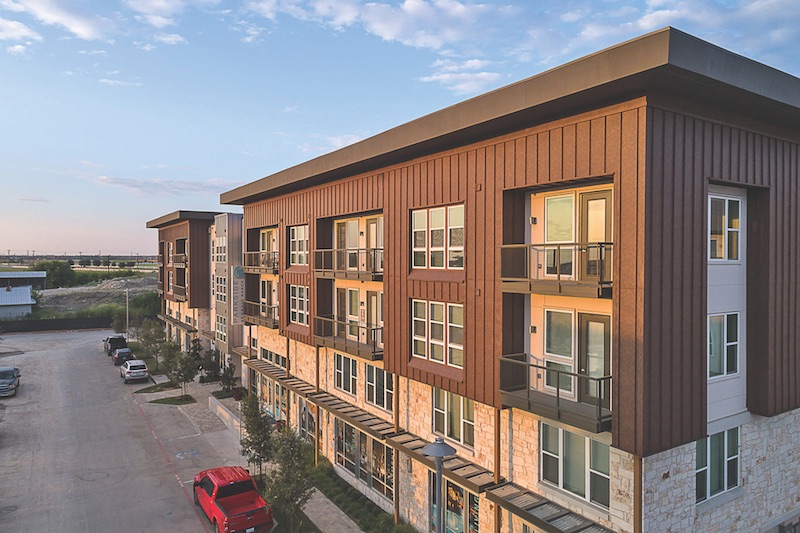 Project: The Parkside at Craig Ranch apartments and townhomes, McKinney, Texas Problem: The design team desired a weathering "corten steel" aesthetic, inspired by the canyons and countryside near El Paso. Color match, availability, and budget were critical. Solution: 11,000 sf of PAC-CLAD standing seam wall panels finished in Weathered Steel. The two-coat finish, by Sherwin-Williams Coil Coatings, replicates the multi-tone appearance of actual weathered steel. On the team: JHP Architecture, Stazon Roofing (metal fabricator).
6. bird-friendly Starphire Ultra-Clear Glass
Vitro Architectural Glass + Walker Glass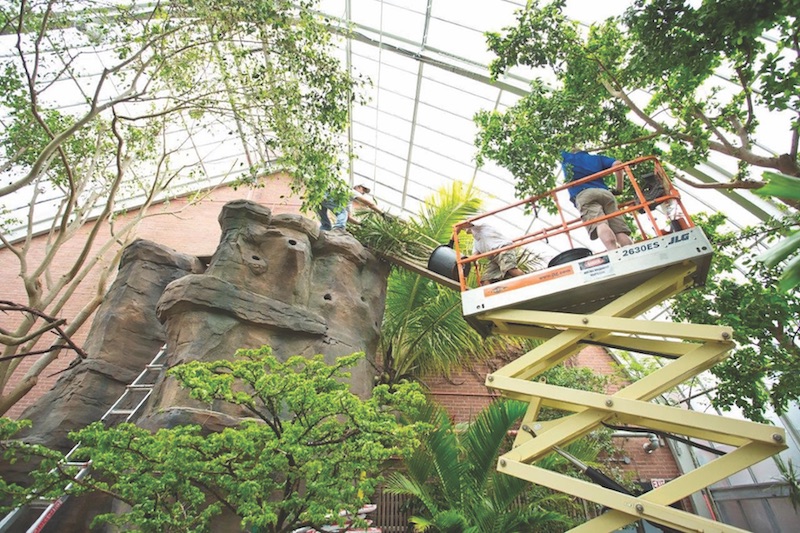 Project: The National Aviary's Tropical Rainforest, Pittsburgh Problem: Required a glass roof that would sustain wildlife and plant life throughout the year while keeping the spaces bird-safe. Solution: 3,100 panes of laminated Starphire Ultra-Clear Glass (from Vitro) with a bird-friendly AviProtek acid-etched finish (Walker). On the team: Montgomery Smith (preservation), Dlubak Specialty Glass (fabricator), Greenhouse RSI (installer).