On November 9, 3675 Market—a 14-story, 343,465-sf office building with space for lab, clinical, educational, and retail tenants—will open within uCity Square, a 14-acre innovation center in Philadelphia that, over the next decade, plans to more than double its leasable space to 6.5 million sf across 11 city blocks, from 2.5 million sf today.
3675 Market "is the first step in a 10- to 12-year process," says Steve Zarrilli, CEO of the Science Center, a nonprofit consortium of 31 university and private research entities that is one of the driving forces behind uCity Square. In 2015, the Science Center and Wexford Science + Technology formed a partnership to add 4 million sf to what was already available on Science Center's 17-acre legacy campus. That aggregate physical space was rebranded uCity Square.
Those assets currently include 3711 Market, a 154,845-sf building with offices and wet labs. The 14-story 3737 Market, which Wexford developed with the Science Center, has 334,000 sf of clinical, medical, wet lab and office spaces. It's anchored by Penn Presbyterian Medical Center of UPenn's Health System, and Spark Therapeutics, an offshoot of the Children's Hospital of Philadelphia. And the 28-story 3601 Market, created by Southern Land Co. and Redwood Capital Investment, includes 363 apartments and 15,600 sf of retail space.
Science Center is moving its headquarters into 3675 Market, where it will occupy 20,000 sf of office space. It will carve out another 5,000 sf specifically for First Hand, and educational initiative that combines STEM and the Arts. The west side of this building's ground floor will offer 11,000 sf for retail space. Quorum, an entrepreneurial hangout that had been in 3711 Market, will triple its available space by occupying two stories and 15,000 sf in 3675 Market for meetings and conferences. The building's anchor tenant will be Cambridge Innovation Center (a tenant at several other Wexford "Knowledge Communities"), which will lease 127,000 sf for offices and labs.
ZGF Architects designed 3675 Market, and Philadelphia-based Olin was its landscape architect.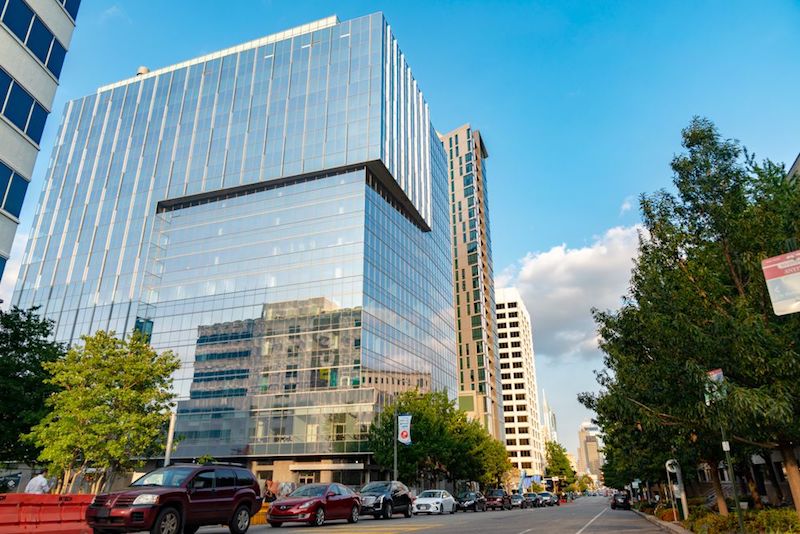 The 14-story 3675 Market is the first of several commercial and residential buildings planned for uCity Square. Image: University City Science Center.
Joe Reagan, Wexford's Vice President of Development, says that the development team is currently negotiating with an out-of-market pharmaceuticals company to take space in 3675. "The key is access to uCity's university and research facilities," says Reagan to explain the growing interest in uCity Square.
Right now, Philadelphia is a hotbed for innovation center development that includes Schuykill Yards, a 20-year $3.5 billion project to create a hub for technology and life sciences; and Penn Center for Innovation, which was created in 2014 and has facilitated at least 24 startup spinoffs.
Zarrilli doesn't see all this development as competition so much as a "vibrant community that is creating opportunities for innovation." Reagan adds: "We're all trying to bring companies to Philadelphia." Zarrilli notes, though, that while Life Sciences remains uCity Square's primary emphasis, the innovation center is also wooing companies that specialize in what he calls "digital healthcare."
uCity Square has several office, lab, and residential buildings in the works. The next building to open will be One uCity Square, a lab/office space whose features will include ground-floor visibility and a conference facility. Reagan and Zarrilli say that uCity's buildings are being designed for flexibility; One uCity Square, for example, will range somewhere between 350,000 and 450,000 sf, and will have larger floor plates (between 30,000 and 35,000 sf) to create uninterrupted spaces for any type of research.
Another new building, currently in predevelopment, is 3700 Lancaster, a low-rise residential building at the northern edge of uCity Square that would offer 320 market-rate 1- and 2-bedroom apartments, 85 parking spaces, and 16,000 sf of ground floor retail space.