The Lowline is a plan to use innovative solar technology to illuminate a historic underground trolley terminal on the Lower East Side of New York City. It would create an underground park in one of the city's most densely populated neighborhoods, and possibly become a revenue-generating component in an expansive urban renewal project that various community and political constituencies have been wrangling over since the mid 1960s.
The Lowline's co-founders—James Ramsey, 36, an architect and former NASA engineer, who at 25 years old started the design practice RAAD Studio; and Dan Barasch, who has worked for Google, PopTech, and the City of New York—recently opened a 1,200-sf Lowline Lab, an exhibition space with over 60 species of plants, where they are testing their hypothesis. The Spaces, a digital publication that explores live-work innovations, shared a video sneak peek at what Ramsey and Barasch are up to with ArchDaily. 
The website Atlas Obscura also ran a well-researched article that chronicles the history of the Lowline within the context of this New York neighborhood's evolution over the past several decades.
Ramsey believes that a lot of the most public spaces in cities are woefully underserved by green spaces. The Lowline, then, would create "a vibrant public space" by means of solar technology that would track the sun, magnify its light intensity 30 times, and then deliver natural sunlight channel to the subterranean area through a plumbing network.
"It's almost like turning light into a liquid that we channel where we need to get it," Ramsey says on the video.
He and Barasch founded Lowline, a not-for-profit advocacy group, in September 2011. Through a Kickstarter campaign, they raised $225,000 to build the lab, which is open to the public on weekends, and to school and community groups during the week.
The Lowline team enlisted Arup to evaluate the engineering practicality of this concept, and commissioned H&A Advisors—which helped get New York's Highline project off the ground—to do a feasibility study.
H&A estimated that Lowline would cost between $44 million and $72 million to develop and complete. Its yearly operating costs would fall somewhere between $2.4 million and $4 million. That expense, hypothetically, could be defrayed in part by concessions, advertising, admissions fees, and so forth.
H&A expected that Lowline would need to aggressively pursue private and public financing. It is not a city-funded project and has only received $8,500 in public money. It has raised $1 million in private donations. New York Mayor Bill DeBlasio endorses the idea, but no taxpayer dollars are committed to it.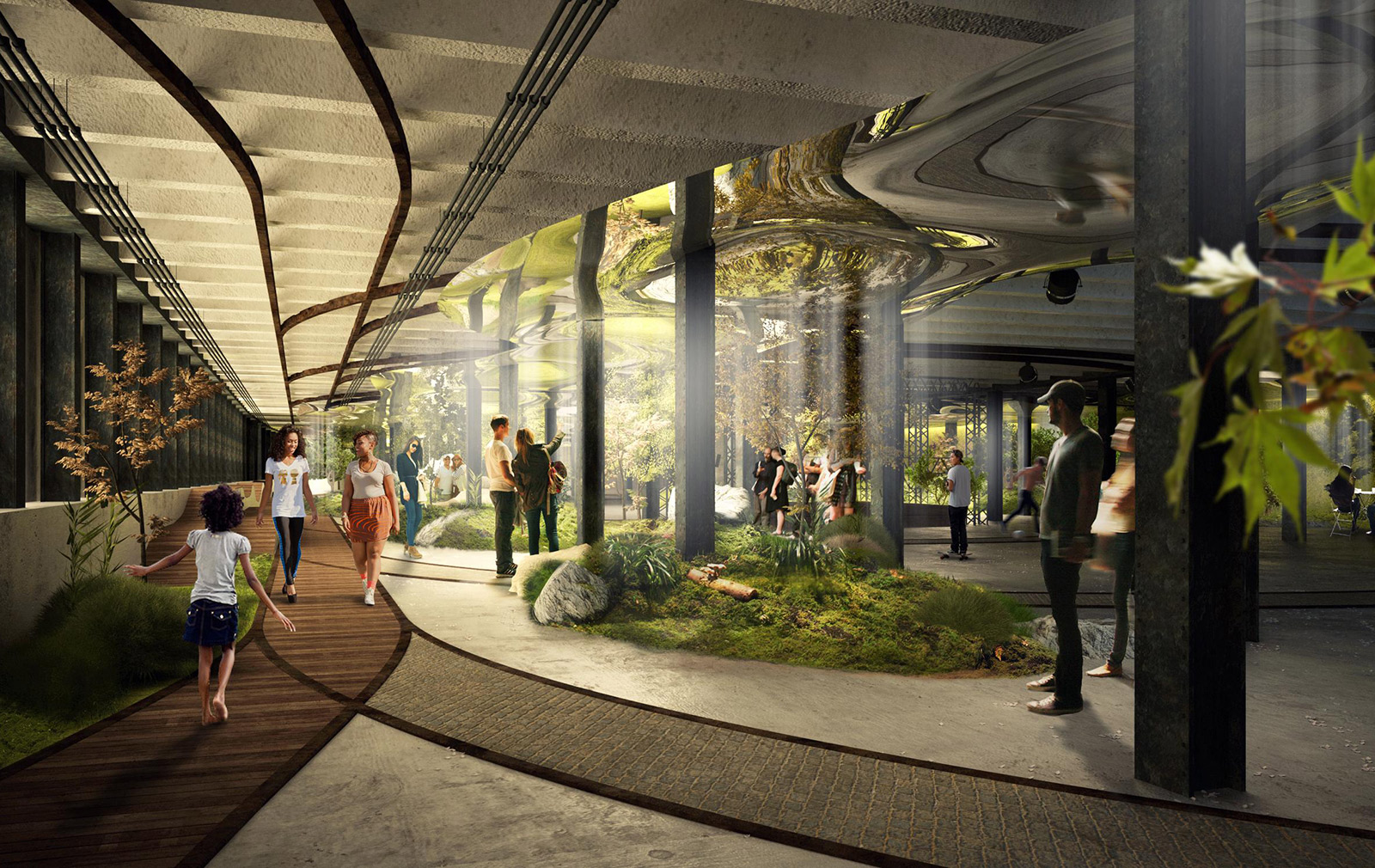 Atlas Obscura reports that Ravenal Boykin Curry IV, managing director of the hedge fund Eagle Capital, played a crucial behind-the-scenes role in this drama by brokering Lowline's initial audience with the mayor's office. And for a startup, Lowline has an impressive list of heavy hitters on its board of directors and advisory board.
Lowline's biggest obstacle could be convincing the Metropolitan Transit Authority (MTA) to relinquish control of the bottle-shaped underground trolley terminal near Delancey Street, which has been closed since 1948, and the city acquired in 1965. That terminal is 600 feet long, 100 feet wide, and 15 feet high.
Ramsey believes that Lowline has about five years to sway the MTA, which might require fundraising to purchase the property. H&A estimates that Lowline could raise up to $7 million in tax credits. If Lowline were actualized, it would provide 1.5 acres of green space.
The underground terminal is beneath an area on the Lower East Side that, in 2013, was approved for a massive mixed-use redevelopment. The 1.65-million-sf Essex Crossing Project, as it's called, broke ground last summer. It will be anchored by 1,000 units of housing, 15,000 sf of open space, and 250,000 sf of office space. The project will include a new bowling alley and movie theater, a rooftop farm, and a diverse mix of retail space. The developer, Delancey Street Associates—a JV that includes L+M Development Partners, BFC Partners, and Taconic Investment Partners—expects the last two buildings of this project to be finished by 2024.