The CEO of Ravenswood Family Health Center, Luisa Buada, wanted to create a medical facility that would rise to the same high standards as those provided by the largest healthcare institutions in Northern California, while still providing affordable care for thousands of low-income and uninsured families in San Mateo and Santa Clara Counties.
BRONZE AWARD
Ravenswood Family Health Center – John and Susan Sobrato Campus
Palo Alto, Calif.
The Building Team, led by Rudolph and Sletten (GC) and INDE Architecture, embraced Buada's vision. The result: Ravenswood Family Health Center's new John & Susan Sobrato Campus, an expanded community health center in Palo Alto. After 15 years of operating in modular buildings, RFHC finally has a site and structure to call its own.
The 38,000-sf, two-level multispecialty building is intended to meet the needs of the poorest residents in the community. It consists of 53 exam rooms, 13 counseling rooms, conference rooms, active team areas, offices, labs and imaging areas, a pharmacy, and support spaces. The new space, which is almost five times the size of the modular units, allowed RFHC to add pharmacy, optometry, X-ray, and mammography screening to its in-house services.
In 2014, RFHC served 13,426 patients. Thanks to these additions and improvements, that number is expected to grow to 25,000 within five years.
The clinic is designed to enable one-stop care and eliminate patient waiting lines, allowing more patients to be attended to at once.
CSDA Design created a cost-effective acoustics solution to maintain patient privacy: a system of partial-height partitions and electronic sound masking to manage speech privacy between exam and consulting rooms.
A memorial located on the premises is dedicated to a Native American tribe associated with archeological remains found during site excavation.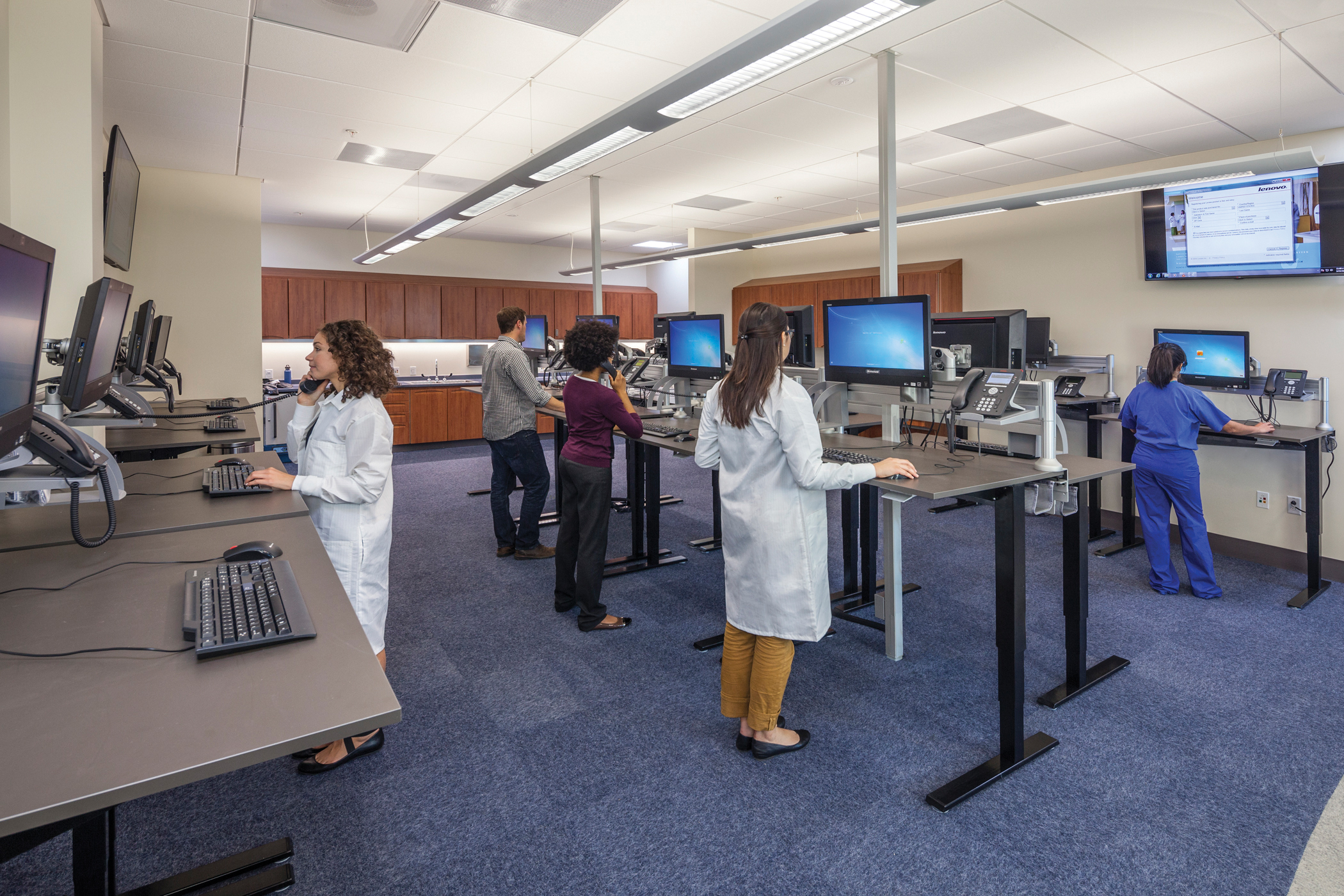 Photo: Donald Satterlee, Satterlee Photodesign. Click to enlarge.
BUILDING TEAM
+Submitting firm: Rudolph and Sletten (GC)
+Owner: Ravenswood Family Health Center
+Architect: INDE Architecture
+Structural: Hohbach-Lewin Inc.
+MEP: Interface Engineering
+Acoustics: CSDA Design
GENERAL INFORMATION
Project size: 38,000 sf
Construction cost: $18.4 million
Construction period: March 2014 to March 2015
Delivery method: Design-bid-build