A unique private-public cooperation allowed the city of Charleston, S.C. to build the new $142-million neo-classical Gaillard Center. Plans included a performance hall not unlike old European opera houses, a user-friendly convention center and various municipal offices, as well.
A massive undertaking of new construction and renovation "stripped" the then-prevailing Gaillard Auditorium and subsequently built the new center on its former framework. The "new construction" surrounds three sides of the original building, offering both a classic public structure and exquisite outdoor spaces—totally in synch with Charleston's heralded architectural tradition. Clearly, one of the focal points of this signature project was the selection of cladding, designed to wrap around the building's exterior façade. 
A decision was made to incorporate Thermocromex™ on the building's exterior. A unique, ultra-high-performance limestone plaster cladding, Thermocromex is an advanced technical re-formulation that can be applied to virtually any substrate, including CMU, frame/sheathing, tilt wall, poured-in -place concrete and lightweight blocks/cement.
According to Steve Knight, Design Architect from Washington DC's David Schwarz/Architectural Services, Inc. "It was of vital importance for the City of Charleston to make this building fit into the fabric of the City, and this meant a more traditionally-inspired aesthetic. That's why we absolutely needed the right cladding material.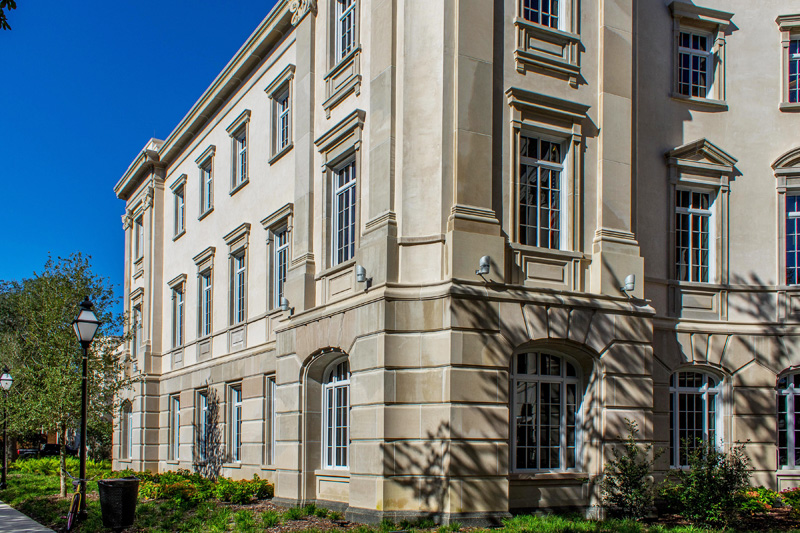 "The City wanted to make the building bigger, expanding it with a music hall, city offices, administration and hospitality/banquet facilities," continued Knight. "Turning the Gaillard into a state-of-the-art, multi­use building, while making it compatible with the surrounding neighborhood was a major mandate. Some features of the original building were grandfathered, including the stage house, which exceeded the height limit allowed by current zoning. Charleston has a lot of buildings covered in stucco. Why? Because in 1886, there was an earthquake and stucco was used to cover all cracks in the brick buildings. So, that stucco aesthetic was a major inspiration. Control joints are okay for maintenance," continued Knight, "but not for aesthetics. They would produce an undesirable, negative impact on the design. That's one main reason we selected Thermocromex!
"Thermocromex is limestone-based versus Portland cement-based stucco. Because limestone is softer than Portland cement, it allows for more movement without cracking… and, no need for control joints! Additionally, Thermocromex's integral color offers slight variation, which is great for the coverage of such a large building, offering a slightly mottled appearance adding warm visual interest. And, 'limestone-based' plaster is both new/old at the same time," Knight continued. "It's a material although used in Europe for hundreds of years, the spray-on application of Thermocromex is modern and efficient. "Thermocromex addresses movement, vapor and moisture barrier issues, as well. It provides clean, smooth and uninterrupted monolithic masonry look."
Thermocromex's highly professional technical staff traveled to Charleston and trained applicators from Horus Construction regarding best possible installation techniques. These speak for themselves.
"When it comes to delivering a professional application, we won't cut corners," stated James Reed, Thermocromex sales manager. "A main goal for the Gaillard, was that it was to last and be enjoyed for 'more than a century.' We were confident that lofty demand would be met, as Thermocromex will basically, last forever," he exclaimed. "It requires no other coloring or top coat. The alkali- and UV-resistant pigments will not fade over time, and the finish is both weatherproof and breathable. Almost no maintenance is required to keep the original appearance, year after year after year. We are very confident that Charleston's investment in the application of Thermocromex for the 'new' Gaillard will pay major dividends moving forward!"