The national arts centre is the jewel in Canada's cultural crown. Designed by Fred Lebensold (1917-1985) and completed in 1969 as one of Canada's Centennial projects, it is a key component of Ottawa's Confederation Square National Historic Site.
In more recent years, the NAC, marked by its heavy Brutalist style, came to be viewed as "disconnected" from its urban context. To make it more "lively" in character (as per the National Capital Commission's original charter), Diamond Schmitt Architects designed three new wings that lighten the overall effect.
The north wing provides two new floors of lobby, program, and audience amenity space. Enclosed by a custom-designed unitized steel-glass curtain wall, the pavilion opens up the NAC's cultural programs to visitors to the nation's capital.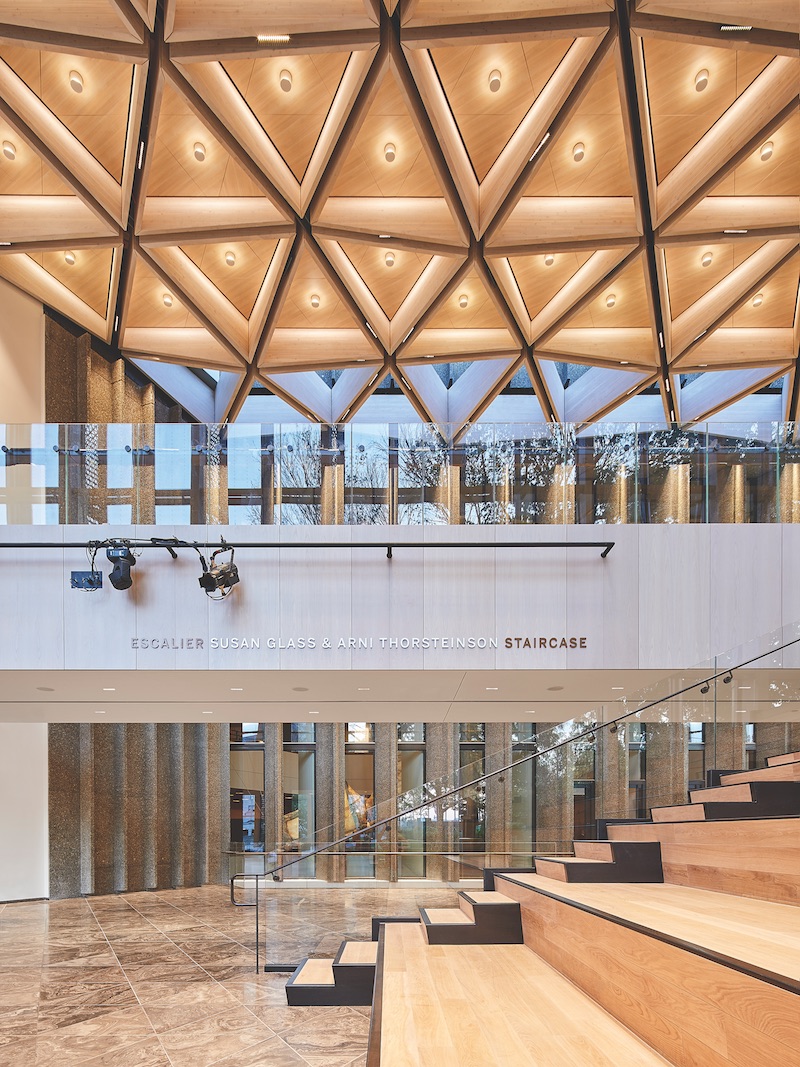 A hexagonal laminated timber coffer roof and decorative ceiling with built-in MEP/AV systems was built offsite by StructureCraft Builders. 
The new glass and bronze-paneled pavilion on the west adds the Fourth Stage—a community-oriented space for music—to the NAC's extant trio of performance spaces.
On the east, a new third wing bows toward the Rideau Canal, a UNESCO World Heritage site. Its Panorama Room can seat 600 guests.
The feature that really captivated the Reconstruction Awards judges was the Kipnes Lantern, a hexagonal tower that links the three new wings. The glazed structure is lined on four sides with an LED digital "scrim" that can display performances from within the NAC and livestream other performances from across the country.
It's a remarkable use of technology that furthers the NAC's mandate as a truly national cultural institution.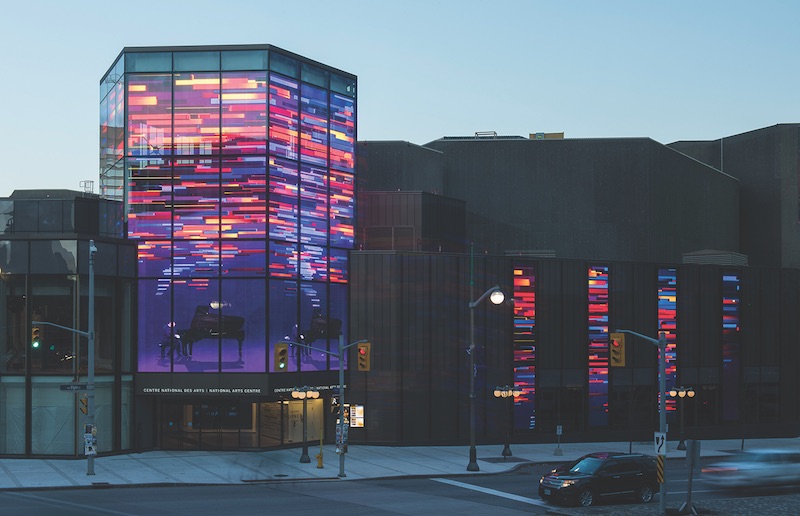 Gold Award Winner
BUILDING TEAM Diamond Schmitt Architects (submitting firm, architect) Fast + Epp (SE) Crossey Engineering (M/E engineer) Parsons (plumbing engineer) Morrison Hershfield (building envelope consultant) Verval (glass fabricator) StructureCraft Builders (roof fabricator) PCL Constructors Canada (CM) DETAILS 80,000 sf Total cost $125 million Construction time January 2015 to July 2017 Delivery method CM